Stunned by the national team's humiliating bottom-place finish at the London Olympics, Hockey India secretary-general Narender Batra, while taking full responsibility, ordered an internal inquiry into the debacle.
The internal reports of coach Michael Nobbs, the team manager and physiotherapist will be submitted within ten day to Hockey India.
- London Olympics 2012 - Complete coverage
Eight-time champions India finished last in the 12-team Olympic hockey competition, suffering an unprecedented wash-out, after being beaten 2-3 by South Africa in the 11-12th place classification match on Saturday.
Batra was appalled by the team's poor performance.
"Being the head of the family, I take moral responsibility for the debacle. I would like to apologise to the nation on behalf of the entire team," Batra said from London.
"The coaches, manager, physiotherapist all will submit their individual reports to Hockey India within 10 days. We will then analyse the reports internally with our Coaching and Development Committee and come up with our own findings within 30 days," he informed.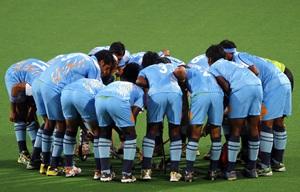 "We will also call some former players and take their suggestions before taking any decision. We will take all corrective steps necessary to get things in order."
Asked whether any heads will roll after the dubious campaign, Batra refused to pinpoint a particular individual.
"I won't like to put the blame on any single individual, hockey is a team game and we failed to deliver as a team.
"The players could not peak themselves up when they needed most. Frankly speaking, I never expected anything big from the Olympics, but I never expected the team to finish last. My realistic expectation was 6 or 7th-place finish," he said.
"I would personally talk to all the players after their return about what went wrong," Batra added.
The senior Jockey India official said Indian hockey needed more players like vice-captain Sardar Singh, who was by far the country's best player in the London Games.
"We need more players like Sardar in the team who can give more than 100 per cent on the field. Sardar was brilliant in all matches and all other countries and FIH (International Hockey Federation) people also praised him for his stellar performance," Batra said.
He also said that the performance of the players in the Olympics will have a bearing when the newly-introduced central contracts are finalised.
"Obviously, the performances in the Olympics and fitness will be taken into account before giving contracts to the players. So, don't be surprised to see some names losing out," he said.
He also thanked the Sports Ministry and SAI for their continuous support.
"I am thankful to sports minister Ajay Maken for his support. The SAI and ministry extended every possible help to the team," Batra said.