London 2012 officials have defended the preparation of the Olympic hockey pitch after one of Australia's players picked up an injury on the artificial blue surface that ruled him out of the Games.
Defender Graeme Begbie, who had recently returned after reconstructive knee surgery, tore an anterior cruciate ligament when he slipped and fell during a practice match against India at the venue on Tuesday.
Australia coach Ric Charlesworth was quoted by media as saying the surface, which has eye-catching pink surrounds, was too slippery.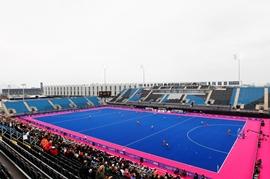 "Every Olympics it's the same thing, they put in new surfaces and don't wear them in before we play," he told the Daily Telegraph newspaper. "We've lost Begbie and it's heart-breaking for him."
James Bulley, the LOCOG head of venues and infrastructure, told reporters during a series of test events at the Olympic Park that the organisers had followed the exact instructions of the world body.
"We put down the hockey field of play a year before the Olympic competition starts," he said. "Before even the stands were built we've had players playing on that field. So it's had it's time to bed in properly.
"It's followed exactly the FIH requirements in terms of the bedding-in process, the specification. So that's the appropriate way to manage and build the facility."
While the 80,000-seat Olympic stadium will go into lock-down from May 12 until the Games open on July 27, Bulley said the hockey pitch would be played on right up to the start of competition.
Australian player Edward Ockenden told Reuters that he liked the 16,000 seat facility.
"It's a world class venue. We don't have many hockey venues like this around the world," said the bronze medallist from Beijing in 2008.
"We've put a blue pitch in Perth where we train back home. Now, once you've played on it a few times, it doesn't make too much of a difference."
Photograph: Paul Gilham/Getty Images