When Malaysian shooter Nur Suryani Mohamed Taibi takes aim with her rifle at the London Olympics it will not just be nerves she will be attempting to control inside her.
The 29-year-old from Perak, situated 200 kilometres north of Malaysia's capital Kuala Lumpur, is due to give birth to her first child on September 2, less than a month after the Games end.
"I will talk to the baby before I compete... 'no kicking, stay calm for one hour and 15 minutes only please'", Suryani said at her home shooting range in Kuala Lumpur.
"When I go to London, I will be 33 weeks, when I come back it will be 34 weeks.
"They (Malaysian National Olympic Committee) wanted to send me to London early because they are afraid, but what I hear from Malaysian airlines is that it is not recommended to travel for a pregnant woman from 35 weeks.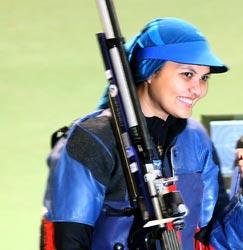 "I arrive around July 25th and I finish and come straight back, I won't be staying there very long. I don't think (I'll be attending the closing ceremony), we haven't planned anything."
While the sight of her swelling stomach on the range at the Royal Artillery Barracks in east London is likely to make her the most conspicuous of the 390 shooting competitors at the Games, there have been doubts from the Malaysian public about whether she should travel.
While shooting is not too physically taxing, the mental stress and pressure of Olympic competition are sure to have an effect on the her in the heat of battle.
Suryani said her family's health is imperative.
"They are thinking 'can you do that, can you do that'? I say 'no problem' because when you have some living things inside your stomach everywhere you go, you have company. You don't feel lonely, when I'm pregnant I don't have problems, I enjoy it.
"My aim is to compete. Maybe, at the end of June or whatsoever, if I have some problem that would jeopardise the baby inside me, I will reconsider whether I am going or not.
"But I feel I am strong and my husband says 'as long as you feel like that, energized to do that, it seems like that is your baby talking to you so you go'.
"The doctors say I am very good and very fit and it is OK for me to train up to eight months or nine months."
If, as planned, she does go, Suryani will not be there to just make up the numbers.
OVERCOMING STEREOTYPES
The tall markswoman won a bronze medal at the 2010 Asian Games in Guangzhou and she also claimed gold weeks earlier at the Commonwealth Games in New Delhi, partnering Nur Ayuni Farhana Halim for the air rifle pairs.
In November, she won two gold medals in the Southeast Asian Games in the 10 metre air rifle and 50m rifle three position.
She achieved the Olympic qualifying marks in both disciplines in January at the Asian Champions in Qatar, days after finding out she was to become a mum, but her pregnancy will limit her to just the 10m event.
"Yeah, I cannot do a prone position with this big stomach," she laughs, amid the deafening noise as guns fire at the Subang Shooting Range situated at the end of a long, dusty lane near the domestic airport south of the capital.
"At first yes, I was disappointed not to compete in that one (three position) but when I think back, this is still a great opportunity."
Her determined, positive attitude is engaging and was essential in helping her overcome the stereotype in Malaysia that shooting is a man's sport.
"I said, 'whoa! it's like a man's job'," she remarks of the time when as a 15-year-old schoolgirl, her dad invited her to the shooting range for the first time.
"But I like a rough job like that, not something girlie or feminine, I don't like those types of sports so I tried and it's been ok."
She hopes that her participation in London will help boost the profile of the sport among Malaysian women, but is she dreaming of becoming Malaysia's first Olympic gold medallist?
"Oh, I don't think about that yet," she added modestly.
"Anyhow, maybe they will say this is unfair because two persons shoot for one gold," she laughed, pointing to her bulge.