Olympic champion Lin Dan on Sunday became the first badminton player to clinch a hat-trick of world titles, beating fellow Chinese Chen Jin in straight games in the finals of the mega-event at the Gachibowli stadium in Hyderabad.
World number five Lin outplayed second-ranked Chen 21-18, 21-16 in a contest that lasted 46 minutes.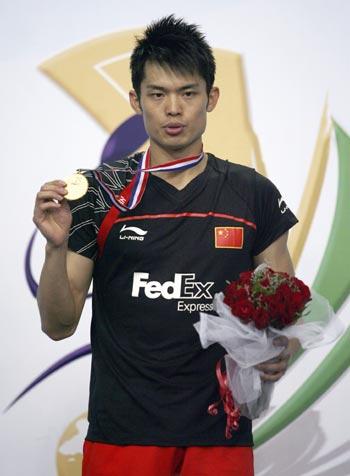 Lin had won the earlier World Championship in 2006 and 2007, apart from winning four All-England title in 2004, 2006, 2007 and 2009. 
In an all-Chinese clash, fifth seed Lin rode on his lightening smashes and long aggressive rallies to beat his higher-ranked opponent. 
He also outsmarted Chen on the nets, leaving his compatriot to rue a series of unforced errors in the match. 
Lin stamped his authority right from the start as he pushed Chen on the back-foot after an initial neck-and-neck competition at 6-6.
The left handed maestro opened up a five-point lead, leaving Chen to do the catch up job. 
The second game was no different as Lin surged into lead immediately. Although Chen bounced back, a flurry of unforced errors cooked his goose.
"This is the first time, I am here in India and it has been a great experience. I am happy to win the title," Lin said. 
"I am no genius, I just worked hard like my other teammates and I believe all my teammates can win the title as they work hard too," he added.
Asked if he is aiming for the London Olympics, Lin said, "That is too far. For the moment, I just want to play better in all the tournaments of this year." 
Lin has previously helped China win three consecutive Thomas Cup championships in 2004, 2006, and 2008 and has also been a major contributor to Chinese teams which won the Sudirman Cup in 2005, 2007 and 2009. 
Meanwhile, Chen, who was playing his first World Championship final, said he wasn't disappointed as the gold medal has stayed with his country. 
"There is no point in getting disappointed as the title will go to China's pocket," he said. 
Asked about the match, Chen said," Before the match, I felt I had a chance but he is much more experienced than me.
He has played in three world championships now. For me, it is my first and I know with time I will play better in future." 
"I was nervous before the match and Lin seized more opportunities in crucial moments, which I couldn't," he added.
Lu upsets Xingfang to win women's  title
In the women's singles final, Lu turned the table against the 2005 and 2006 world champion Xingfang to win her maiden world championship title.
Lu relied long rallies and strong smashes, and didn't allow her rival to come back into the game after winning a see-saw first game.
In the second game, Lu led from the start. Although Xingfang tried to come back, equalling at 9-9, she soon ran out of steam as Lu kept the momentum going.
"I finished the long rallies quickly and smashed hard and didn't give her a chance to come back. The first game was a really tough game but I didn't expect the second game to be so easy," Lu said after the match.
Asked if she fancies to be the number one, Lu said, "May be some day I will but I have to practice harder and win more such tournaments."
Xingfang said he was feeling a lack of energy after playing so many tough matches.
"I was feeling a lack of energy after playing some tough matches. After the Olympics, I feel with so many young Chinese players coming up, the drive is not that great," she said.
More medals for Chinese shuttlers...
China also won the men's and women's double titles.
Eighth seeds Yawen Zhang and Tingting Zhao outlasted their compatriots and second seeds Shu Cheng and Yunlei Zhao 17-21 21-17 21-16 in the men's doubles final that lasted over an hour.
Later, fifth seeds Yun Cai and Haifeng Fu beat fourth seeded Korean pair of Jae Sung Jung and Yong Dae Lee 21-18 16-21 28-26 in an edge-of-the-seat women's doubles final in 75 minutes.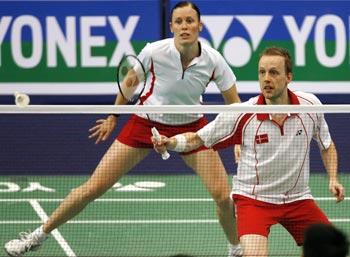 ...And a Danish delight
However, the Danish combination of Thomas Laybourn and Kamilla Rytter Juhl prevented a clean sweep by China when they pulled off the biggest victory of their career beating defending champion and second seeded Indonesian pair of Nova Widianto and Liliyana Natsir in straight games.
Seventh seeded Thomas-Kamilla pair brushed aside their opponents 21-13, 21-17 in 38 minutes.
Thomas and Kamilli, who broke the Asian hegemony in the tournament, said it was the biggest day of their career and they were pleasantly shocked after the win.
"It's an amazing feeling. I am still shaking with the excitement. It got to be the biggest day of our career," Thomas said.
"I can now imagine what it means to be a world champion," he added.
Kamilla said this win will help Europeans to take the game to a new height. 
"It is a great feeling. I hope this will inspire a lot of people in Denmark and Europe to take the game," she said.