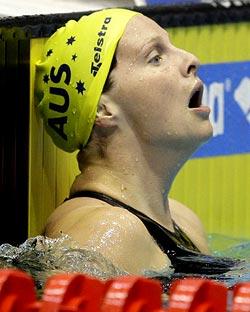 Olympic champion Leisel Jones and former world champion Geoff Huegill will lead a 52-strong Australian swimming contingent, including 31 debutants, in the Delhi Commonwealth Games this October.
Head coach Leigh Nugent on Friday said Melissa Gorman, Grace Loh, James Magnussen, Kenrick Monk, Mitchell Patterson, Kyle Richardson and Tessa Wallace are among the new additions for the October 3 to 14 event.
Star swimmer Stephanie Rice's pullout due to a shoulder injury and Ryan Napoleon's doping ban had weakened the squad slightly but Nugent said it is still strong enough to sweep the medals in Delhi.
"Australia has a fantastic tradition at the Commonwealth Games and with the swim team getting the chance to compete at the start of the Games, we know we have a responsibility to start well," said Nugent.
The Australian team also features teen sensation Emily Seebohm, who clinched two medals at the Pan Pacific Championships.
The 18-year-old will take part in eight events at Delhi -- 50m, 100m, 200m backstroke, 100m freestyle, 50m butterfly, 200m individual medley and two relays.
Apart from the veteran Jones, who is a seven-time Commonwealth Games gold medallist, former world record holder Eamon Sullivan is also a part of the team.
Former world champion Huegill, who gave up swimming after the Athens Olympics before making a comeback in 2008, will be aiming to add some more medals in his third Commonwealth Games after winning two golds in 1998 and three in 2002.
The 31-year-old is a former world record holder in the 50 metres butterfly.
"This is a strong team and a team that is looking forward to competing well in Delhi. The Pan Pacifics last week were a great hit-out for the majority of the team, and the athletes and coaches now know exactly what they need to work on and fine-tune, to be at their best come October 4 when we start the meet in Delhi," he said.
Squad:
Men: Daniel Arnamnart, Ben Austin, Leith Brodie, Craig Calder, Ashley Callus, Blake Cochrane, Matthew Cowdrey, Nick D'Arcy, Ashley Delaney, Tommaso D'Orsogna, Nick Ffrost, Thomas Fraser-Holmes, Jayden Hadler, Geoff Huegill, Robert Hurley, Andrew Lauterstein, Peter Leek, James Magnussen, Kenrick Monk, Andrew Pasterfield, Mitchell Patterson, Cameron Prosser, Kyle Richardson, Brenton Rickard, Christian Sprenger, Hayden Stoeckel, Eamon Sullivan, Chris Wright.
Women: Bronte Barratt, Ellie Cole, Alicia Coutts, Sophie Edington, Blair Evans, Felicity Galvez, Katie Goldman, Melissa Gorman, Marieke Guehrer, Samantha Hamill, Belinda Hocking, Leisel Jones, Sarah Katsoulis, Yolane Kukla, Grace Loh, Samantha Marshall, Alice Mills, Meagen Nay, Kylie Palmer, Leiston Pickett, Jessicah Schipper, Emily Seebohm, Tessa Wallace, Annabelle Williams.