It was the perfect example of getting inspired in the wrong way.
The manner in which Leander Paes and Mahesh Bhupathi played in their semi-final at the Chennai Open on Saturday made one feel like watching the Indian cricket team in action.
The men in blue have, over the years, acquired an intrinsic and unparalleled ability to make an otherwise insipid match exciting.
And the top seeded duo's performance, even though they eventually booked their berth in the final with a 6-1, 6-7 (3), 10-5 win over the Croatian pair of Marin Cilic and Ivan Dodig, was on similar lines.
The ace doubles pair looked to be in complete control when they broke their opponents twice -- Dodig in the fourth game and Cilic in the sixth -- to pocket the opening set even before the crowd had settled in.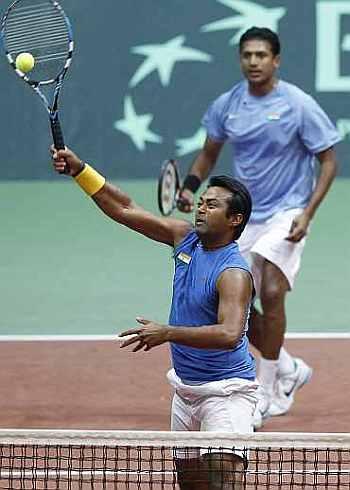 And when Cilic dropped his serve again in the third game of the second set, the stage seemed set for an early finish.
In any case, the proceedings at that stage were so lackadaisical and one-sided that an early end would have come across as a relief to the spectators who had, just before the match being mentioned here, witnessed an equally vapid and one-sided semi-final (between Wawrinka and Berdych)
However, it was at this juncture that the Indian pair decided to follow in the footsteps of their much-adored cricketing counterparts.
They allowed their opponents back into the match.
Cilic and Dodig, who had till then looked very the makeshift pair -- showing no signs of coordination whatsoever, were given an opening they could never have contemplated at that stage.
However, blame it on the Indian pair's (rather Bhupathi's) generosity, or call it a good comeback by the Croatians, the latter broke back (to 2-2) and carried forward the momentum to win the second set tie-break.
And when the Croatians went 4-3 up in the super tie-break, no one could deny they had a fair chance of scoring what would have been a huge upset.
It took the Indian duo all their experience to pull out of the quagmire that they had put themselves into.
To their credit, though, they did so with aplomb, something befitting their stature.
"We played two very good singles players," explained Bhupathi, in the post-match conference. "They came back well after we had won the opening set," he added.
His partner took it as a wake-up call.
"We'll have an equally tough match tomorrow," warned Paes, adding, "We have to play very aggressive tennis if we are to win."
The Indian Express will be firm favourites to win their fifth Chennai title -- after wins in 1997-99 and 2002 -- on Sunday. And even if the inevitable happens (and they lose), their run to the final would have served their purpose -- the perfect preparation for the year's first major, the Australian Open.