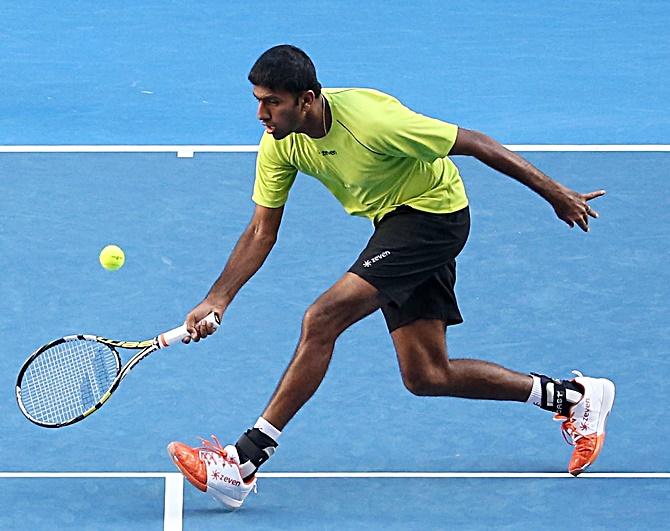 IMAGE: India's Rohan Bopanna made his choice of nominating his doubles partner for Rio Olympics . Photograph: Michael Dodge/Getty Images.
The decision is made.
India's tennis star Rohan Bopanna has picked young Saketh Myneni over the legendary Leander Paes as his choice of partner for the men's doubles at the Rio Games.
The All India Tennis Association is scheduled to meet on Saturday to decide India's Olympic teams but a consensus seems to have already been built.
In a letter to the AITA on the Olympics team selection, Bopanna conveyed his choice of nominating his doubles partner.
Bopanna, India's highest ranked men's doubles player, has secured a direct entry to the Rio Olympics courtesy his top-10 ranking.
"Proud to have earned a direct acceptance to men's doubles," the world number 10 Bopanna said.
"I have earned the right to exercise my judgement on my partner for Rio Olympics. Look forward to AITA supporting me in the lead up to the Rio Games," Bopanna wrote to the AITA.
This means Leander Paes's hopes of a record seventh Olympics appearance seem to have ended.
Paes won the mixed doubles title at the just-concluded French Open, partnering Martina Hingis and is the highest-ranked Indian doubles player after Bopanna.
He is ranked 46 in men's doubles while Myneni is 125.
Paes had categorically said that his pairing with Bopanna is the best option available for India.
"We definitely don't want a repeat of London," Paes had said, when asked numerous times about his participation in the Olympics.
He was denied his choice of partner for the 2012 London Games and forced to play with rookie Vishnu Vardhan since Bopanna preferred to partner Mahesh Bhupathi in the men's doubles.
A lot of bad blood was created and India returned without any medal.
India have won only one Olympic medal in the tennis discipline, though Paes, who a bronze in the men's singles at the 1996 Atlanta Games.
"I have full confidence in the AITA and selection committee and I am sure they will do the right thing. They will speak to right individuals and make sure India sends its best choice (team) for a medal," Paes had said.