Unseeded players, Lathika Prem Kumar of Tamil Nadu and Rajasthan's Udayan Bhakar, caused the biggest upsets in the girls' under-12 and boys' under-16 singles respectively, in the semi-finals of the Cricket Club of India (CCI) 6th Ramesh Desai Memorial All India Ranking National Tennis Championship 2012, played , at the (CCI) courts, Mumbai on Friday.
Enjoying a superb run in the tournament, Udayan, who had sidelined third seed Vishu Prasad of Delhi in the quarter-finals on Thursday, produced another stellar performance to send second seed Sachin Kumar of Chandigarh packing out of the competition.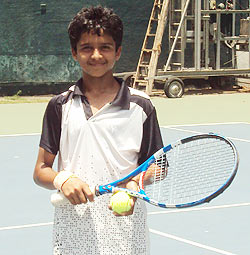 After warding off the initial challenge from Sachin in the first set, Udatan was in cruise control mode as went on to close out the match in straight sets at 7-6(3), 6-1. In Saturday's final, he will meet top seed Tamil Nadu's Akshay I.B., who swamped qualifier Paramveer Bajwa also from Chandigarh 6-0, 6-0.
Lathika continued her giant killing spree as she came up with a strong display to topple yet another higher ranked and seeded player. The tall and well built girl from Chennai, who is ranked 24th in the country, served well and hit some powerful forehand winners to outplay Maharashtra's 16th seed Ishwari Seth 6-2, 6-0 without much ado and progress to the summit round.
She had earlier conquered 15th seed Tanvi Hatangadi (Ktk) in the second round, second seed Rutvi Shah of Gujarat in the pre-quarters and eight seed Shivani Ingle of Maharashtra the quarters.
Lathika now runs into Andhra Pradesh's top seed Sathwika Sama, who tamed third seed Kaaviya Balasubramaniam of Tamil Nadu 6-2, 6-2, in the final.
Delhi's Karman Kaur the top seed in the girls' under-16 singles also fell by the wayside going down to ninth seed Akshara Iska (AP) 2-6, 6-4, 5-7. Andhra Pradesh's second seed Abhimanyu Vannemreddy (AP) joined the casualty list as he lost in straight sets to fourth seed Vikash Singh (WB) at 3-6, 1-6.
All the doubles finals will be played from 9-30 am and the singles finals from 3.30 pm at the CCI courts.
Semi-final results (prefix number denotes seeding):
Boys' under-16 singles: 1-Akshay I.B. (TN) beat Q-Paramveer Bajwa (Chd) 6-0, 6-0; Udyan Bhakar (Raj) beat 2-Sachin Kumar (Chd) 7-6(3), 6-1.
Boys' under-12 singles: 1-Adil Kalyanpur (Ktk) beat Megh Patel (Guj) 6-2, 6-2; 4-Vikash Singh (WB) beat 2-Abhimanyu Vannemreddy (AP) 6-3, 6-1.
Girls' under-16 singles:  9-Akshara Iska (AP) beat 1-Kamran Kaur (Del) 6-2, 4-6, 7-5; 2-Pranjala Yadlapalli (AP) beat 15-Vasanti Shinde (Mah) 7-5, 6-3.
Girls' under-12 singles: 1-Sathwika Sama (AP) beat 3-Kaaviya balasubramaniam (TN) 6-2, 6-2; Lathika Prem Kumar (TN) beat 16-Ishwari Seth (Mah) 6-2, 6-0.