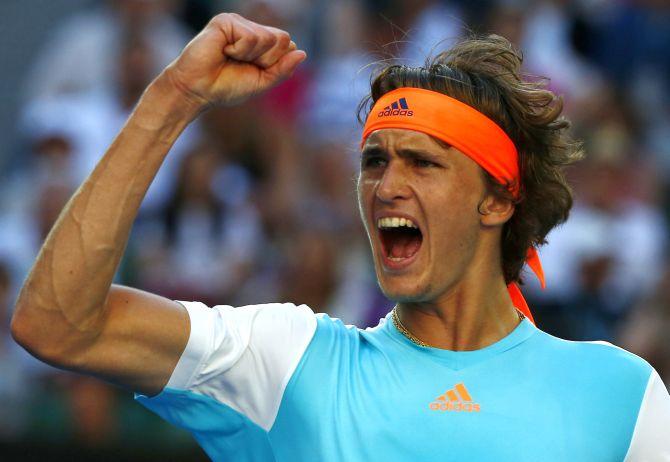 IMAGE: Alexander 'Sacha' Zverev is a hot favourite for this year's French Open title. Photograph: Thomas Peter/Reuters
Nick Kyrgios and Alexander Zverev represent the future of men's tennis but there current fortunes could hardly be more different as the French Open looms a few days away.
While 20-year-old German Zverev has rocketed into the top 10 after winning his first ATP Masters 1000 by beating Novak Djokovic in Rome on Sunday, Kyrgios, 22, is struggling with a hip injury, poor form and still battling his temperament.
Australian Kyrgios was beaten in his first match in Lyon on Tuesday by Argentina's 94th-ranked Nicolas Kicker -- serving nine double faults during a 2-6, 6-4, 6-2 defeat.
He was also warned for smashing a ball into the crowd as his frustration mounted.
Tellingly Kyrgios, who has hired former French world number four Sebastien Grosjean as his coach, spoke of his respect for Zverev who could be a dark horse for the Roland Garros title.
"He's been playing great tennis," Kyrgios, who has never gone past the third round at Roland Garros, told the ATP website.
"He has a massive future ahead. I actually envy him in a way. He does all the right things. He's very professional. That's obviously something I don't quite tick the box for.
"He's done all the right things. He's going to have a great career. He's younger than me as well. It's going to be exciting to watch him play. I'm sure I'll play him a lot more times."
Zverev has now won three titles this year, adding Rome to Montpellier and Munich and is the first player born in the 1990s to win a Masters 1000 trophy.
Seven-times grand slam champion John McEnroe has high hopes for both but believes Zverev is making faster progress.
"Zverev is top 10 already and people can see he is going to be a champion in the future," the American told Reuters.
"It's a question of how long it's going to take before he wins one but he's getting closer."