Seoul City Amazones jumped to the defence of forward Park Eun-seon on Thursday after rival managers in the South Korean women's top flight threatened to boycott the league unless she takes a gender test.
Park, who played for South Korea at the 2003 women's World Cup and has won 19 caps, said she was "humiliated" by the incident while lawmakers have called for an investigation into whether her human rights had been violated.
The Korea Football Association said Park took and passed a gender test at the age of 15, though they did not reveal specifics of the result.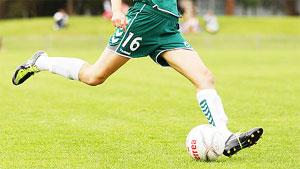 After news of the boycott threat emerged this week, the six coaches were the target of a social media backlash and tried to downplay the matter as a joke made at a private meeting.
Lee Sung-kyun, the coach of Suwon, told Reuters by telephone on Thursday he had resigned to apologise but maintained there was no real threat of a boycott and the issue of a gender test was merely to get Park back into the national team.
At a news conference held at SeoulCity Hall, however, irate Amazones coach Seo Jung-ho lashed out at his rivals and said they were undermining Korean women's soccer.
"This should not have happened," he said, his voice rising with anger. "It is just so terrible to see the coaches, who should be mustering wisdom for the future of Korean women's soccer, colluding to hurt one of our best players."
Local media reported that six of the WK-League's seven coaches held an informal meeting on October 19 and subsequently filed a complaint with the KFA that if Park did not take a gender test they would boycott next year's competition.
The 26-year-old, who played at the 2003 women's World Cup and won her last cap two years later, is the top scorer in the league this year with 19 goals.
"Excessive competition, selfishness and sexist insults (from the coaches) are plaguing this young player," continued Seo.
"She is older now and managing the situation in a more mature way than before. It looks like she is immune to it."
Jun Byung-hun, floor leader of the main opposition Democratic Party, has called for Korea's National Human Rights Commission to look into the matter, while a "Save Park Eun-seon" petition on one of the nation's most popular Internet portals has received more than 14,000 signatures.
Park did not attend the news conference but said on her Facebook wall: "I can't believe this is happening again. I have gone through the gender examination thing several times. I did it in a World Cup, in an Olympics and in several others and there were no problems.
"I did it when I was young and I was mortified by them.
"I will try my best to make you feel dirty, just like I do," Park added in a comment apparently aimed at the coaches.
NO JOKE
Suwon's Lee said the comments from the meeting had been misinterpreted and that they only had the best interests of Korean women's soccer at heart.
"I feel so sorry that it got leaked and spread in a distorted manner," he told Reuters.
"All of the coaches there that day were talking about how sad it is for us and Park, who is one of the best players in the world, not to make it to the national team since 2005.
"We were making a proposal to the KFA to make better use of her for women's soccer."
Local media said the issue of Park's gender was raised by China ahead of the 2010 Asian Cup and that she was omitted from the team because of it.
Lee continued: "Then we thought, if she makes it back to the national team another country might file a complaint again about her gender identity like China did in 2010.
"So we were merely saying it'd be better for her to take a gender verification test in Korea in case it becomes an international issue."
Lee said he was sorry Park had been hurt by the incident.
"During lunch I tendered my resignation to apologise to Park for this matter."
While Lee tried to downplay the comments, Kim Joon-soo, the secretary general of Seoul Sports Council which overseas the running of sports teams in the Korean capital, said the matter was no joke.
"This is a serious violation of human rights," he said at the news conference.
"The coaches later played down their statement saying they were making a joke at an informal meeting but I have here the official document they submitted to the KFA," he added, pointing to papers.
"We have no intention of accepting the gender verification test just to stop the boycott, but if it is needed for Park to compete in an international game and under specific regulations of FIFA, we will consider it."