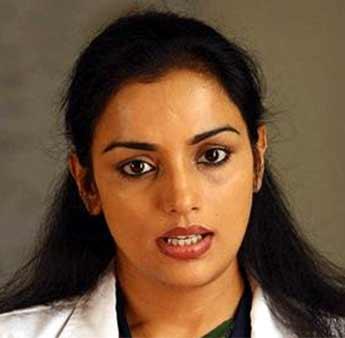 I have no idea how the whole controversy surrounding Shweta Menon and N Peethambara Kurup shall play out. But if the publicity encourages even one other woman to speak up against molestation, the actress deserves our thanks, says T V R Shenoy.
What happened on Friday, November 1, 2013 during the President's Trophy boat race at Lake Ashtamudi in Kollam?
The first news reports said that actress Shweta Menon, the chief guest at the event, had been 'groped' -- a delicate way of saying that she had been touched inappropriately -- by a local 'elected representative'. This apparently took place on the dais, where other dignitaries included the district collector, B Mohanan.

The actress says she was not aware at the time exactly who had touched her. She does say that she spoke about it to B Mohanan, who was not just the district collector -- thus sworn to uphold the law -- but also her host -- thus obligated to protect a guest.
According to reports, the district collector denies that Shweta Menon complained to him. (One might. of course, draw a fine distinction between 'mentioning' an incident and formally 'complaining' about it.)
The actress did take up the matter with the media, and her fame was great enough that the television footage was played repeatedly. Many concluded after seeing it that something unsavoury had indeed happened.
Shweta Menon also asked the media for its help in identifying her alleged assailant, and reports named the MP for Kollam, a Congressman, N Peethambara Kurup.

The fact that the accuser was an actress and the accused was a politician was enough to create a sensation in Kerala, and even succeeded in creating headlines in an insular national media that rarely looks beyond Delhi and Mumbai.

In Kerala's polarised polity any hint of a scandal involving a Congressman will be played up by the CPI-M, and vice-versa. True to form, the Kollam district committee of the Democratic Youth Federation of India, DYFI, filed a complaint with the police. The police commissioner responded by forming a special squad to look into the matter.

At this stage Shweta Menon said she would not pursue the matter because N Peethambara Kurup had offered 'repeated private and public apologies'. She said she was doing so on the advice of her husband, of her father, and of her guru.

The case may thus well be dead in the water. But it holds up a mirror to Kerala, and the image it reflects is scarcely a pretty one.

By some accounts Shweta Menon was harassed from the very moment that she reached the venue, and what happened on the dais was more in the nature of the proverbial last straw. Which is to say that more than one man felt perfectly free to misbehave with a woman even in broad daylight.

Now, imagine what the situation would have been had this happened to someone who was not Shweta Menon, but just an ordinary woman going about her business.
Would the media have taken up the case with such alacrity, or followed it up so zealously? But if Shweta Menon's fame ensured that her complaints could not be ignored even that celebrity was no shield against men who believe that it is their divine right to grope.

Bear in mind that Shweta Menon might have been under some pressure when she said that she would not continue with the case. Some men, reportedly associated with the Congress, had already taken to burning her effigy in the streets. (If her husband or her father advised her to step back they could well have been scared for her safety.) Others suggested that the actress had brought it upon herself because she had acted in 'provocative' roles.

Does this make any sense at all? If Shweta Menon had played the part of, say, a Marie Curie would that have made her an expert on physics? If not, why is the reverse true? How is it remotely rational to say that playing a flirtatious woman in cinema or on television makes the actress herself an 'easy woman' as the phrase goes?

But that is actually a minor point. It does not matter how 'provocatively' a woman dresses or acts, nobody has the right to molest her in any way whatsoever. Why is it so difficult to drive that into the skulls of some people?

Again, what does the incident say of the sensitivity of the authorities at large when it comes to the safety of women?
Why didn't the district collector of Kollam anticipate that there would be many people waiting to see a celebrity, and that some of them might misbehave with her?
One can understand that there were no security guards on the dais because he would never have thought that a member of Parliament in his seventies would misbehave in public, but surely he should have posted some policemen at the entry point.
Kerala is one of India's most literate states. (The Marxist ministry in Tripura claimed in September 2013 that their state had overtaken Kerala, a question that has not yet been resolved.) But mere 'literacy' is not the same thing as 'education', which involves conceding that others have rights, and that one of those prerogatives is a woman's right to dignity.

In 2012 -- the statistics for 2013 are obviously not yet fully available -- the Kerala police registered 1,474 cases of rape, of which 455 victims were children.
When it comes to incestual rape over the past decade the state reportedly beats even giant Uttar Pradesh (which has over four times the population) according to the National Human Rights Commission's data. Given that women are generally uncomfortable coming forward to report rape, or even molestation, the numbers are possibly even more horrifying.

I have no idea how the whole controversy surrounding Shweta Menon and N Peethambara Kurup shall play out. But if the publicity encourages even one other woman to speak up against molestation the actress deserves our thanks.
For more columns by Mr Shenoy, please click here.
Image: Actress Shweta Menon.