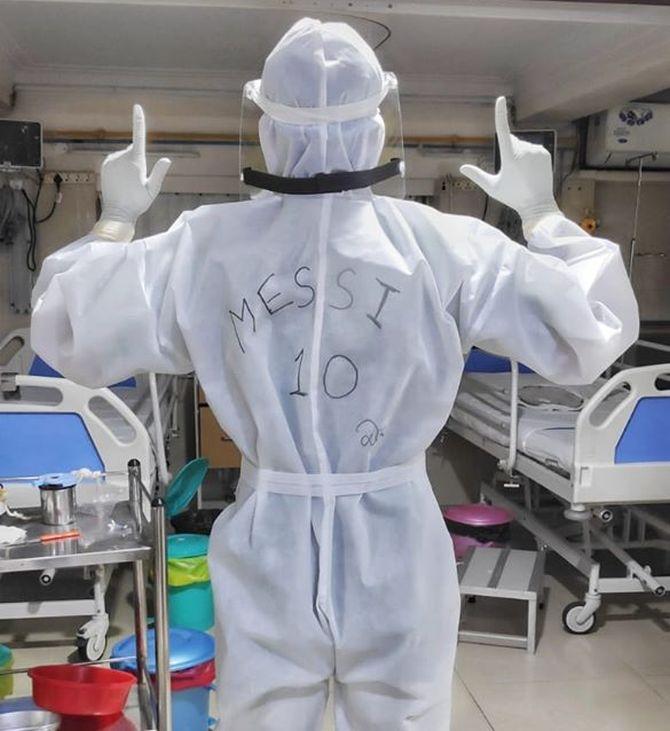 Lionel Messi has fans around the world with his talent and work ethic inspiring many.
Dr Arup Ratan Mallick from Kolkata, who is one of the thousands on the frontline fighting the dreaded COVID-19 disease, is one such Messi maniac.
And taking inspiration from the FC Barcelona captain, Dr Mallick goes about his job fearlessly. His Personal Protective Equipment (PPE) kit is also special – it has Messi and No 10 written on it.
On Friday, Mallick received a lot of good wishes after his girlfriend, Dr Debarati Rana, also a medical professional, posted a picture of him wearing the Messi and No 10 inscribed PPE kit.
The Facebook post by Dr Rana that has been viewed and shared numerous times reads: "The way Leo Messi tackles every obstacle in football ground... The way he scored in football.... He becomes undefeated.... This Messi will also defeat obstacles in his medical profession... And definitely will be the winner.... After all 10 is his lucky no... He has to win. Very much proud of you My Pushpa... Be safe n healthy & make others healthy."