Olympic medallists Vijay Kumar and Yogeshwar Dutt will be jointly conferred the Rajiv Gandhi Khel Ratna award -- the country's highest sporting honour -- while an unprecedented 25 sportspersons will be bestowed upon the Arjuna awards this year.
The choices were made by a selection committee headed by 2004 Olympics silver-medallist shooter Rajyavardhan Singh Rathore and comprising noted sportspersons such as Akhil Kumar (boxing), Khajan Singh (swimming), Bhaichung Bhutia (football) and Ravi Shastri (cricket) in a meeting on Saturday.
Pistol shooter Vijay won a silver in the 25m rapid fire event at the London Olympics, while Yogeshwar bagged a bronze in 60kg free style event.
"Normally only one award of Rajiv Gandhi Khel Ratna is given every year to an individual sportsperson. However, the Scheme provides that this condition can be relaxed in exceptional circumstances viz, winning of an Olympic medal," the Sports Ministry said in a statement announcing the final list of awardees.
Cricketer Yuvraj Singh, who is preparing to stage a comeback after recovering from a rare germ cell cancer, is among the 25 sportspersons, who have been picked for the Arjuna award.
Hockey mid-fielder Sardar Singh, wrestler Geeta Phogat, and Narsingh Yadav, shooters Annu Raj Singh and Omkar Singh, shuttlers P Kashyap and Ashwini Ponappa, archers Deepika Kumari and Bombayla Devi are among Arjuna Award winners this year.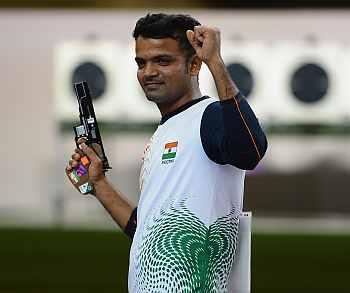 "...for the Arjuna Awards, normally not more than 15 awards are to be given in any calendar year. However, the Scheme of Arjuna Awards also provides that keeping in view the performance of Indian sportspersons in the Commonwealth, Asian Games and Olympic Games during a particular year, Arjuna Awards exceeding 15 in number may be allowed with proper justification and approval of the Minister for Youth Affairs & Sports," the Ministry said.
"The Selection Committee noted that 2012 is the Olympic year and India has won 6 medals in the London Olympics, which is country's best performance in Olympic Games, and recommended that the condition of one award in case of Rajiv Gandhi Khel Ratna and 15 awards in case of Arjuna Awards may be relaxed and the number of Rajiv Gandhi Khel Ratna Award may be increased from 1 to 2 and Arjun Awards may be increased from 15 to 25."
Apart from a medal and a citation, Rajiv Gandhi Khel Ratna Awardees will receive a cash prize of Rs 7.5 lakh each and Arjuna Awardees will receive statuettes, citations and cash prize of Rs 5 lakh each.
The awardees will receive their awards from the President of India at a function at the Rashtrapati Bhawan on August 29.
Rajiv Gandhi Khel Ratna Award: Vijay Kumar (Shooting) and Yogeshwar Dutt (Wrestling).
Arjuna Awards: Deepika Kumari (Archery), Laishram Bombayla Devi (Archery), Sudha Singh (Athletics), Kavita Ramdas Raut (Athletics), Ashwani Ponnappa (Badminton), Parupalli Kashyap (Badminton), Aditya S Mehta (Billiards and Snooker), Vikas Krishan (Boxing), Yuvraj Singh (Cricket), Sardar Singh (Hockey), Yashpal Solanki (Judo), Anup Kumar
(Kabaddi), Samir Suhag (Polo), Annu Raj Singh (Shooting), Omkar Singh (Shooting), Joydeep Karmakar (Shooting), Deepika Pallikal (Squash), Sandeep Sejwal (Swimming), Ng. Sonia Chanu (Weightlifting), Narsingh Yadav (Wrestling), Rajinder Kumar (Wrestling), Geeta Phogat (Wrestling), M. Bimoljit Singh (Wushu), Deepa Mallick (Athletics – Paralympics), Ramkaran Singh (Athletics – Paralympics).