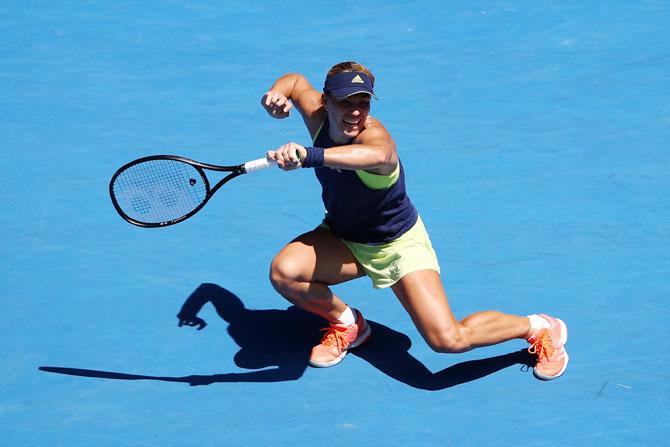 IMAGE: Angelique Kerber plays a forehand in her fourth round match against Su-Wei Hsieh. on Monday. Photograph: Cameron Spencer/Getty Images
Madison Keys faces a brutal test against former champion Angelique Kerber in the quarter-finals of the Australian Open on Wednesday but the American is in a "great place," said her coach Lindsay Davenport.
The 17th seed has been in no-nonsense mood so far in Melbourne, moving through the rounds with the minimum of fanfare, but faces her biggest test against the German.
"It's something that we always stress – being really solid, learning to win when you're not playing your best, handling adversity in the early rounds against players that played great that are ranked 33 through 100 ... and she's doing that," Davenport, who won the title in 2000, told reporters.
"But Kerber will be a brutal test. She is back playing her best tennis. I love to see a player who is so good and went through some struggles, not really physically but more emotionally and mentally, come out with such fire."
While Kerber already has two grand slam titles to her name, in Melbourne and Flushing Meadows in 2016, Keys is still to make that jump after losing to compatriot Sloane Stephens in last year's US Open final.
That came after a season interrupted by injury, but Davenport said her charge is now better equipped physically and mentally to claim a debut slam.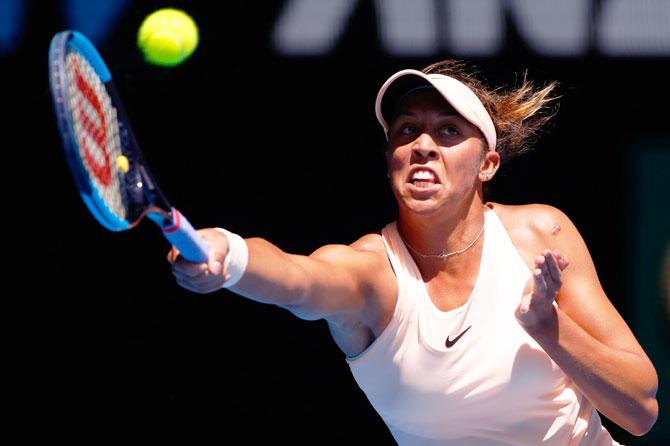 IMAGE: USA's Madison Keys plays a forehand in her fourth round match against France's Caroline Garcia. Photograph: Darrian Traynor/Getty Images
"She has really wanted it, she is in a great place," Davenport said of Keys's run in Melbourne where she is looking to reach the semis for the second time.
"In the off-season it was apparent she is going down the right path, whether that means it's here that it all happens or in a few months. But she is doing all the right things. It's going to happen for her.
"She is a great player anyway and when you do all the things off the court you need to be doing, great things are going to happen for her. The crucial thing is she feels healthy and right now she is the best she's felt in probably three years."
Keys, 22, missed last year's Australian Open after having wrist surgery and despite sitting out for a chunk of last season she still made it through to the U.S. Open final where all four semi-finalists were American.
This time she is the last American woman standing after Stephens, Coco Vandeweghe and Venus Williams all lost early.
"Before her semi-final in the US Open she was so nervous about being the one American to lose (in the quarters) and this time we have had the opposite conversation," Davenport said.
"She's tried everything not to join them."