Shiv Kapur braved tough conditions to manage an even par 72 to be tied third while Jyoti Randhawa fired a flawless five-under 67 to jump to sole fifth after the third round of the Panasonic Open India, in New Delhi on Saturday.
Manav Jaini (68) rose from tied 22nd to the sixth spot, which he shares with defending champion Digvijay Singh, who played a third straight one-under 71, and was the only player with three sub-par rounds.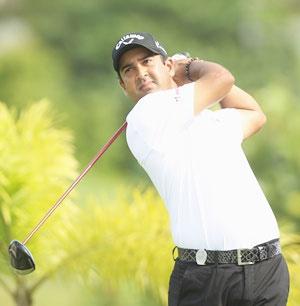 Shamim Khan, the No. 1 golfer of 2012 on Indian PGTI Tour, also catapulted up the leaderboard with a 67 with seven birdies and two bogeys as he is lying tied tenth.
Randhawa described his round as one the best he has played in more than a year as he moved from one-over for two days to four-under for 54 holes and leapt from tied 22nd to sole fifth.
Kapur battled to an even par 72 and then likened the conditions to the ones that are generally seen at the US Open.
"It's like the US Open conditions out there. I have never seen conditions like this at the DGC. Not even during an practice days. Par seems a good score in these conditions," he said.
A huge cricket fan that he is, Kapur quickly rushed off to see the IPL cricket match in town. "I need to relax," he said with a laugh.
Shamim said, "I was not finishing well earlier on. I made double bogeys on the 17th and 18th in second round and thought I might miss the cut. But today's round was better as I finished well with birdies on the last two holes. I also had 15 regulations today and was solid with my iron shots landing the ball pretty close."
SSP Chowrasia (77) had a horrendous round with a five-over 77 that included four bogeys and one double bogey and just one birdie on eighth. "It was probably my worst round at the DGC," said Chowrasia, who had a double on the last.
Australian Wade Ormsby survived a nightmarish front nine to keep a one shot lead over Lam Chih-Bing (73. Ormsby is eighth-under 208, while Lam is seven-under 209.
Kapur shared the third spot with veteran Boonchu Ruangkit (73).
Ormsby opened with a birdie, just as his playing partner Lam Chih-Bing (73) did, but then bogeyed four of times over the next eighth to drop from the lead.
But the tenacious Aussie still looking for his maiden win on Asian tour, birdied the last hole to take sole possession of the lead, just as Lam Chih-Bing, crumbled on the back with four bogeys in last five holes.
Ormsby has held at least a share of the lead since the first day, when he and Singaporean Lam shot 67 each. Lam at one stage was threatening to win away at three-under for the day and 11-under for the tournament with five holes to play. But then things unraveled for him, while Ormsby held his nerve.
Even as leaders struggled in the wind, which has been a feature for the last three days, Ormsby said, "I started fantastic but my putter was a bit dry today and I hope to get it going again tomorrow. I hit it pretty solid in my back-nine and I'm feeling good as it was kind of surprising to see myself leading at the end."
Lam, who has a win on the Indian Tour in 2007, a year before his only Asian Tour title, was relieved to stay on in contention despite a collapse at the end.
"I'm in contention and I'm in a pretty good position. I'm thrilled as it has been a while and although it was a rough finish, I'm still in it. I definitely had some positives that I could take out of today and I need to work on my finishing as it hasn't been that great."