Frederic Kanoute, former Sevilla and Tottenham Hotspur footballer, is in Mumbai to watch the baap of all club football matches -- the El Clasico.
On the eve of the big game, the Malian footballer tell Rediff.com's Norma Godinho, why Real Madrid are the favourites and what is plaguing Barcelona this season.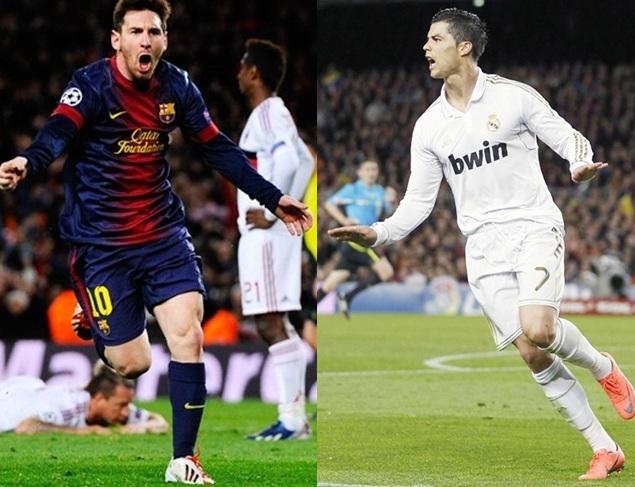 IMAGE: FC Barcelona's Lionel Messi, left, and Real Madrid's Cristiano Ronaldo will be the toasts of the night in the El Clasico on Saturday, December 3.
Photograph: Getty Images
European and World football has been dominated by Spain for the last 8 to 10 years.
With the national team having won Euro 2008 and two years later being crowned world champs at the FIFA World Cup, Spain's dominance was unquestionable.
Undoubtedly, their strong club culture is responsible for this success.
Be it Atletico Madrid or Sevilla, FC, Barcelona or Real Madrid, the triumphs of Spanish clubs in European competitions (Champions League and Europa League) as well as in local leagues/tournaments, attract massive eye balls and TVC deals.
There is no rivalry that can match the intensity of an El Clasico -- epic encounters between FC Barcelona and Real Madrid that bring out the best and worst of players and supporters alike.
A day before the famed rivals kick off yet another classic tie, former Sevilla star and African Player of the Year Frederic Kanoute landed in Mumbai to witness the El Clasico frenzy and vibe with fans.
Going into Saturday's Clasico, unbeaten in all competitions this season, Real Madrid lead Barcelona and 3rd placed Sevilla by 6 points at the top of the standings.
Kanoute backs the Madrid Masters to continue their dominance.
"Real Madrid come in as my favourites even though they are playing away at Camp Nou," the Malian said.
"They have had a fantastic record over the last few months. The final score will read 2-1 in their favour," he predicted.
Kanoute also reckons that Barcelona Captain, Iniesta, who is likely to return from a 6 week injury layoff is "good for the show."
"I personally like Iniesta but it will be difficult for him because he is out of shape. His presence on the field makes a big difference and he livens up the game. So I hope he plays," Kanoute said.
Regardless of Iniesta's absence this season, Barca have so far failed to light up any competition.
Amplifying the problems over Barcelona's stuttered start to the season, Kanoute said: "There are different elements that have put Barca in this position -- firstly, they are over-reliant on (Lionel) Messi. So when he is missing games (due to injury or otherwise) the team finds it difficult to adapt."
"They have fantastic players but maybe the way they play -- they are so used to playing with Messi -- so when he is not there they struggle to fill that void in his absence," Kanoute added.
"Secondly, people know their way of playing football. I'm a fan of their (tiki-taka) style but sometimes they have to find an alternative in their game," Kanoute felt.
"They have a fantastic coach, but from the outside the opposition knows how they play. Other teams know how to block them and prevent their strengths to develop the game. Even though you have one style of play (the style of the La Macia Academy) they have to surprise the opposition by changing their game plan," Kanoute pointed out.
In sharp contrast to Barcelona's sagging form is Kanoute's old club, reigning Europa League champions Sevilla.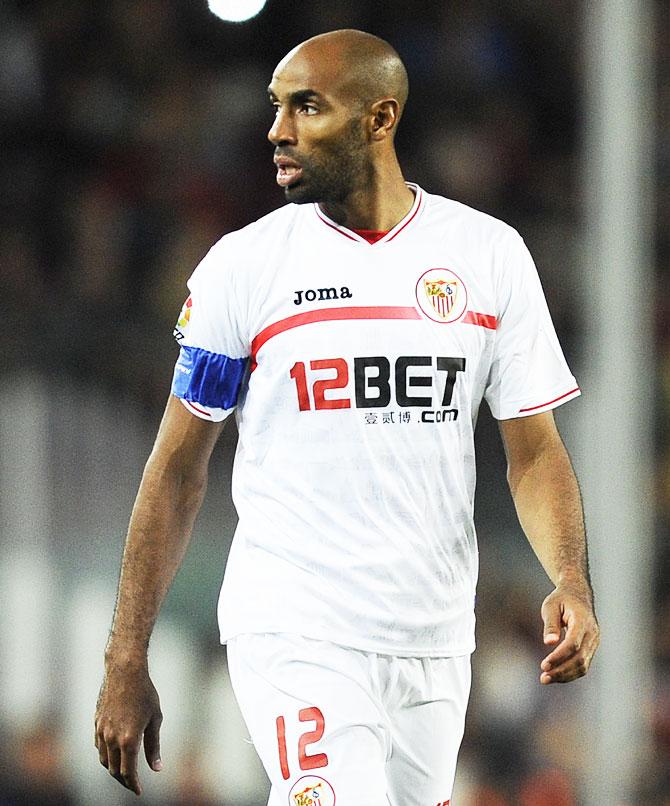 IMAGE: Former Sevilla captain Frederic Kanoute.
Photograph: David Ramos/Getty Images
The Andalusian club has played attractive football this season to leapfrog former La Liga champs Atletico Madrid to go to third.
With 8 matches won they are equal on points (27) with Barca, but the goal difference has put them behind, and their away results are uninspiring.
Kanoute diagnoses the problem.
"I like Sevilla's game because they play daring football. They take risks, it's enjoyable to watch them, that is why they are at this position."
"They have always had a great record at home because the stadium and the fans are unbelievable, but away they have to improve. They are part of the big teams in Spain now and when they play away they have teams waiting for them -- teams that are stoked and highly motivated. So it's never easy to win away," the former Sevilla skipper said.
"I think they can fix that because they have an offensive game and because of that sometimes they can just lose cover at the back."
"Sevilla are hungry for away wins so they try to counter-attack and sometimes when they play too forward they leave gaps at the back, leaving the oppostion with opportunities to score" Kanoute said.
Whether there be a shake-up in the top 4 of the La Liga table will be known on the weekend.
The El Clasico is scheduled to start on Saturday, December 3, at 2045 IST.
La Liga weekend schedule:
December 3
Granada vs Sevilla, 1730 IST
Barcelona vs Real Madrid, 2045 IST
Leganes vs Villareal, 2300 IST

December 4
Atletico Madrid vs Espanyol, 0115 IST
Real Betis vs Celta Vigo, 1630 IST