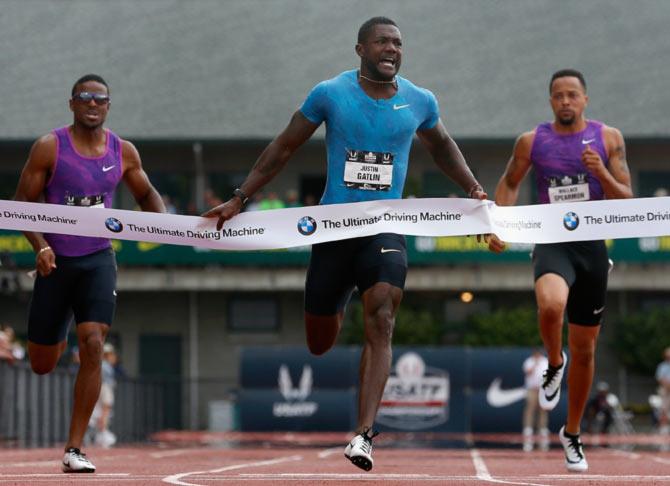 Justin Gatlin (centre) crosses the finish line to win the 200 metres. Photograph: Christian Petersen/Getty Images
Controversial Justin Gatlin set the stage for a World Championship showdown with Usain Bolt when he won the 200 metres in a blazing 19.57 seconds at the US trials in Oregon on Sunday.

Only four people, including world record holder Bolt, have ever run faster than the 33-year-old, whose previous best was 19.68 seconds.

"I wanted to come out and make a statement, and that's what I did," said the fast starting Gatlin.

"I would say it's the most complete, technically 200m I ever ran," he added.

"A lot of people were asking me what could I run if I ran through the finish line, so obviously I went out there and ran 19.5 so I hope I can do better than that."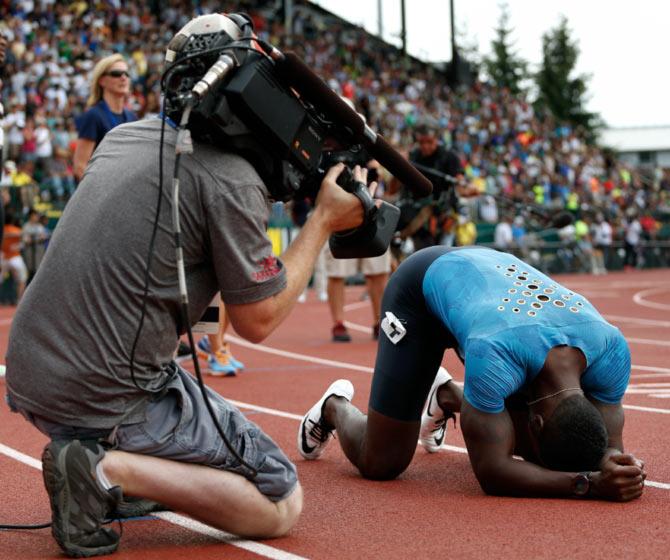 Justin Gatlin after winning the 200 metres. Photograph: Christian Petersen/Getty Images
Gatlin was so exhausted he bent over after the race.

"It hurt," he said. "My body has never been there before. But it felt great."

Only Jamaicans Bolt and Yohan Blake and Americans Michael Johnson and Walter Dix have gone faster.

Training partner Isiah Young was second in 19.93 with the 30-year-old Wallace Spearmon taking third in 20.10.

The wind was an allowable 0.4 metres per second.

Gatlin, the year's fastest at 100 and 200, had a bye in the 100 at the trials, but plans to challenge Bolt at both distances in the August World Championships in Beijing.

They have not met since 2013 with Gatlin, who has served two doping bans, piling up a two-year unbeaten streak.
Olympic champion Jenn Suhr was equally dominant, soaring to the best pole vault performance of the year, 4.82 metres, and Jenna Prandini captured the women's 200m in 22.20 seconds on the University of Oregon track where she competes collegiately.

Candyce McGrone and Jeneba Tarmoh joined her on the team for the world championships.
DOMINANT RUN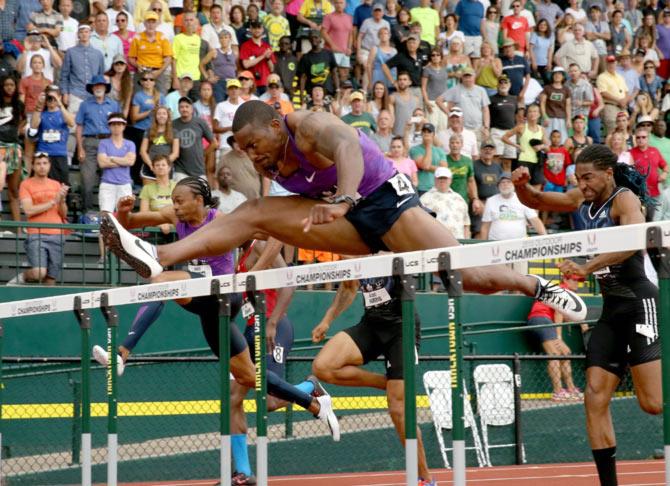 David Oliver clears the last hurdle on the way to victory in the 110 metres hurdles. Photograph: Andy Lyons/Getty Images
David Oliver showed he will be ready to defend his world 110m hurdles title with a dominant run of 13.04 seconds.
Ronnie Ash, world record holder Aries Merritt and Aleec Harris took the next three spots, giving the US four hurdlers in Beijing since Oliver has a bye.
Olympic 10,000m silver medallist Galen Rupp, caught up in doping allegations involving his coach Alberto Salazar, made the US team in a second event, the 5,000m.
Ryan Hill broke through to win in 13:50.69 with Ben True second in 13:51.09. Rupp finished third in 13:51.54.
Salazar has been accused in a BBC programme and ProPublica story of giving Rupp the banned steroid testosterone as a teenager and encouraging athletes to misuse prescription drugs.
He has denied all allegations but is under investigation by the US Anti-Doping Agency (USADA), a source told Reuters.
Rupp said, "I've got nothing to hide. I'll do whatever I need to do to cooperate with them (USADA)."
But fellow distance runner Kara Goucher lashed out at a report Salazar issued denying the allegations.
"I understand if you read it through, it looks like I am a liar. I don't like being labelled a liar," an emotional Goucher, among those making allegations against Salazar, said after her race.
She has been talking to USADA about Salazar since 2013 and would welcome a chance to testify under oath, she said.
Former world champion Jenny Simpson won the women's 1,500m in 4:14.86 and Alysia Montano claimed her sixth 800m title in 1:59.15.