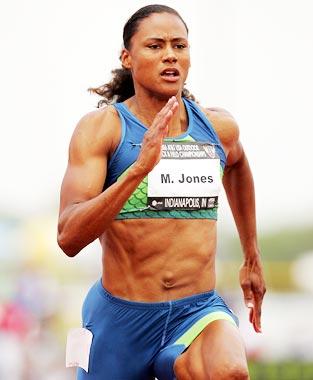 American sprinter Marion Jones is down to her last $2,000, says a report in
The Los Angeles Times
.
Jones won a record five medals at the 2000 Sydney Olympics, including three golds. She became a huge rage thereafter, signing multi-million dollar endorsement deals and adorning magazine covers the world over.
Seven years on, Jones is broke, according to recent court records reviewed by the Los Angeles Times.
The records state her millions of dollars are gone and that she has 'total liquid assets throughout the world' of about $2,000.
Last year, a bank took over her mortgaged $2.5 million house in North Carolina. She was also forced to sell two other properties, including her mother's house, to raise money to pay her lawyers.
Court cases have been a problem for Jones since 2003 when suspicions of drug use emerged after she was linked to the controversial Bay Area Laboratory Cooperative, BALCO.
Her financial troubles were revealed after she filed a breach-of-contract suit in Dallas, Texas, against coach Dan Pfaff, accusing him of disclosing confidential information to Nike and undermining her endorsement contract.
Pfaff counter-sued and won. Jones had to pay him about $240,000 for unpaid training fees and legal expenses.
The Pfaff case is not the one Jones fought/is fighting, notes the Los Angeles Times. She has to testify before the grand jury investigating the BALCO case. She is also contesting the US anti-doping agency's plan to ban her from competing in events. And oh, she has filed a defamation suit against BALCO founder Victor Conte who accused her of taking performance-enhancing drugs.
Last year, a Jones urine sample tested positive for the performance-enhancing drug EPO. She then quit the European track tour and returned to the US.
By the time she was cleared of foul play -- a backup sample tested negative -- she had missed about five international meets and lost around $300,000 in appearance and performance fees.
Jones, now aged 31, lives in Austin, Texas, with her new husband, Obadele Thompson of Barbados, the Olympic bronze medalist in the 100 metres at the 2000 Games.
She was once one of athletics' first female millionaires, earning about $80,000 a race plus another $1 million in bonuses and endorsement deals.
Photograph: Matthew Stockman/Getty Images