India's Jitu Rai staged a grand recovery after a poor show in qualification to win gold in the men's 10 metre Air Pistol event at the Commonwealth Games on Monday.
In the process the 30-year-old armyman from Lucknow also set a Games record with an effort of 235.1.
His younger teammate Om Prakash Mitharval, a 22-year-old armyman from Rajasthan, who led the field in qualifying, won bronze with a score of 214.3.
Australia's Kerry Bell took the silver medal with a score of 233.5.
Rai, who won a silver medal at the World Championship, led the final round with scores of 100.4 at the end of Stage 1, while Mitharval was third with 98.1.
In Stage 2 elimination, Rai started off with scores of 10.3 and 10.3 to take the lead, even as his compatriot moved up and displaced Bell in second place with two 10.1s.
Rai continued to stay ahead with a 10.2 but an 8.4 disturbed his momentum somewhat, as the next shot fetched him only 9.2.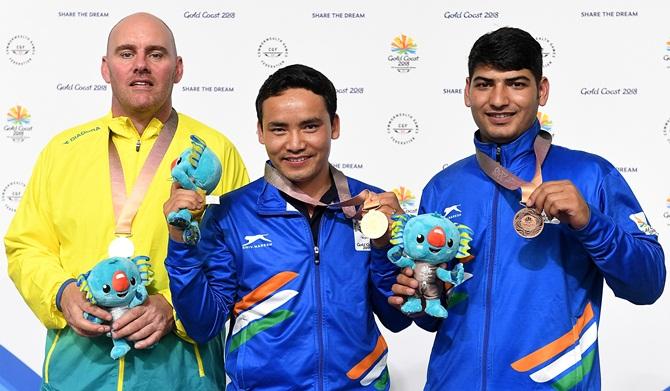 Meanwhile, Mitharval closed the gap, as Rai scored just 8.8 on the 18th shot to Mitharval's 10.0.
However, Mitharval slipped after that even as Rai managed another 10.0 and maintained the lead thereafter to emerge triumphant.
Mitharval, who had established a new qualification record with 584, had to eventually settle for third place after aggregating 214.3 in the eight-man finals at the Belmont Shooting Centre.
He scored an impressive 584 points to top qualifying. With a series of 96, 96, 98, 99, 96 he equalled the Commonwealth Games qualifying record, which was set by compatriot Omkar Singh at the Delhi Games in 2010.
Jitu Rai was only fourth best in qualifying, a series of 92 and 94 bringing his total down to 570.