Jeev Milkha Singh was torn between two major decisions ahead of the Scottish Open beginning on Thursday -- defending the title he won 12 months ago at the same course or stay back at home to attend the premiere of Bhaag Milkha Bhaag -- the film made on his father, the legendary athlete Milkha Singh.

"It's a big week for the family. Me winning last year and defending this week and the movie on my father's life coming out on Friday," said Jeev.
- Jeev has Major dream to step out of dad Milkha's shadow

Jeev would have loved to spend the week with his family, not just because of the premiere but also because of the finger that is still bothering him. If Jeev is successful in
defending his title, he will qualify for the British Open at Muirfield next week, otherwise he plans to take five weeks off from competition in order to finally heal his troublesome finger.

Talking of the movie on his father, he said, "It's a movie on his life history. It's an inspirational movie - it's not only for sporting people. It's for people from any area in
life. It's a movie on a person who has a struggle in life but he's still come out successful and made it."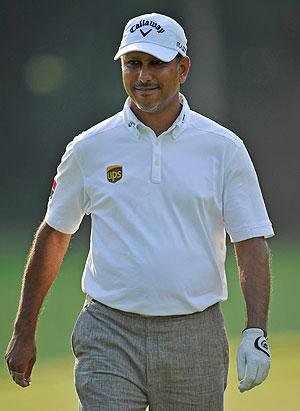 "I've seen the movie and I personally feel that it's going to be one of the best movies India produces this year. It's going to get a lot of awards, and it's a message to the
youths and everybody out there that has hardships in life, but if you hang in there, you work hard, you still can make it.

"There was a private screening on Friday last week in London for a few people. The director was very happy; even my father was happy, because most of the people cried in the movie. My father was a friend, a very good friend; when he needed to be a father, he was a father. In fact, last week he was talking to me, and I said 'Dad, I'm 42', and he said 'no, for a sportsman, you've got to maintain a standard," he said.

Egged on by his father, Jeev decided to come here to defend his title and then go back to celebrate the release next week. He hopes to shrug off some indifferent form as he prepares the Aberdeen Asset Management Scottish Open title at Castle Stuart Golf Links.

Jeev won his fourth European Tour title with a play-off victory over Francesco Molinari 12 months ago, but has had only one top-ten finish since and missed the cut in his last four starts.

Jeev's game has not been helped by a finger injury, but he believes the fond memories of his last visit to Scotland could help to recapture his form.

"The respect, the feeling you get when you get back is fantastic, and everybody is congratulating you, and a year later, it's amazing, the feeling you can't explain - that's
the way I would put it," said Jeev.

"I'm glad I'm back and I'm looking forward to this week. My game has not been good, but my last round in The French Open was fantastic, and I'm just going to think about the 17 holes I played on that tough course, not the 18th; I had a bad finish.

"The right index finger is not 100 per cent, and I just feel that I'm going to stop thinking about it now. It just hurts when I hit shots, but I've got to go with the flow, and
it's been a while," he added.

The addition of golf to the Olympic schedule in Rio in 2016 has given Jeev a chance to replicate his father's accomplishment of representing his country, and it is one he
is keen to grasp.

"I think the best gift I could give my father would be to represent India in the Olympics. If I can do that in 2016 - and my goal is that - I would like to work hard and make sure I'm in the top 100 so that I can represent India in the Olympics and if I can win a medal, I think that would be fantastic. That's in my mind and I would like to do that in 2016," he said.
Photograph: Stuart Franklin/Getty Images