'Physically, I feel good as a player and coach. I want to play, touch the ball and score goals. Football is my life'
Delhi Dynamos unveiled Brazilian World Cup winner Roberto as its marquee manager-cum-player for the second season of the Indian Super League in Delhi on Wednesday. Manu Shankar/Rediff.com reports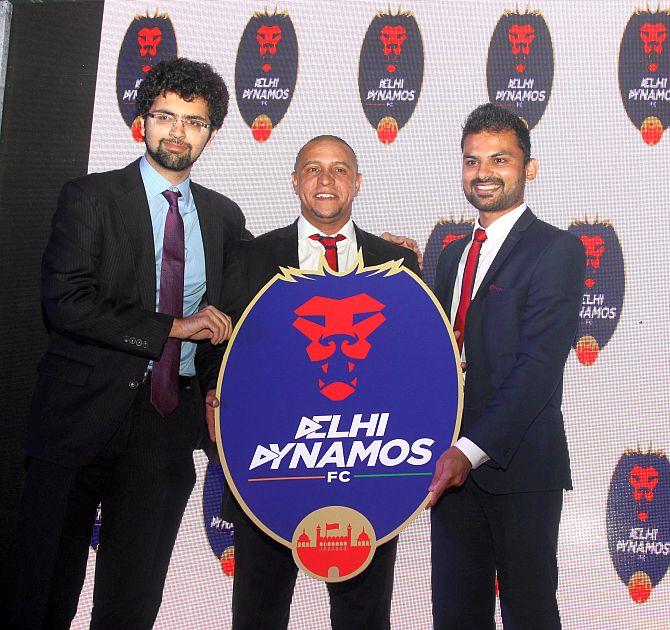 Roberto Carlos (centre) being unveiled as Delhi Dyamos's marquee manager-cum-player. Photograph: Depo Photos/EuroFootball/Getty Images
It's not every day that one finds a World Cup winner come to the country and speak positively about Indian football. So you could be excused for being in awe of free-kick specialist Roberto Carlos while he was unveiled as Indian Super League franchise Delhi Dynamos's marquee manager-cum-player in New Delhi on Thursday.
The former Brazilian ace, who will replace Dutchman Harm Van Veldhoven who coached the team which finished fifth in the inaugural edition last year, asserted that it is his endeavour to make the Dynamos a champion outfit.
"I'm delighted to be part of the Delhi Dynamos team and confident that we will be able to play an aggressive, skillful and positive game. I am looking forward to this stint as an opportunity to impart new playing techniques to the players, hone their skills and raise their fitness levels," he said.
Known for his curling free-kicks, Carlos was one of the greatest left-backs to have graced the game and part of the Real Madrid and Brazil squads that won the UEFA Champions League, Super Cup, La Liga, Copa America and Confederations Cup.
He believes the ISL has revolutionized the game in India and one of the main reasons why he chose to be part of it.
"It's the revolution in Indian football that has made me come here; all things are positive! We have done great things for football in history and for the growth of football we will be there," he declared.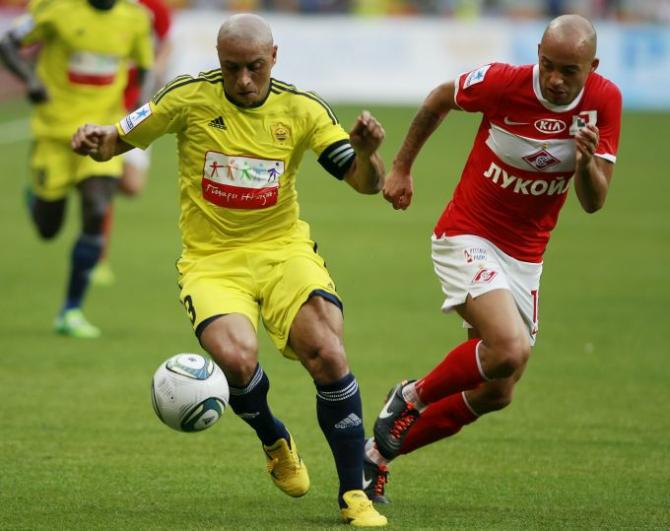 Roberto Carlos (left) during his playing days at FC Anzhi Makhachkala. Photograph: Dmitry Korotayev/Epsilon/Getty Images
Quizzed about his fitness to play in the league, he replied that he is well-prepared for the season ahead.
"I know I can play. I believe if I wasn't able to get ready physically, mentally and psychologically I wouldn't have played. My last game was 20 days ago and I scored two goals.
"So, physically, I feel good as a player and coach. I want to play, touch the ball and score goals. Football is my life."
Delhi Dynamos boasts of some exciting players, like Hans Mulder, Alessandro del Piero, Mads Junker and Gustavo dos Santos, and will be looking to fortify the squad at the Players' auction in Mumbai on Friday.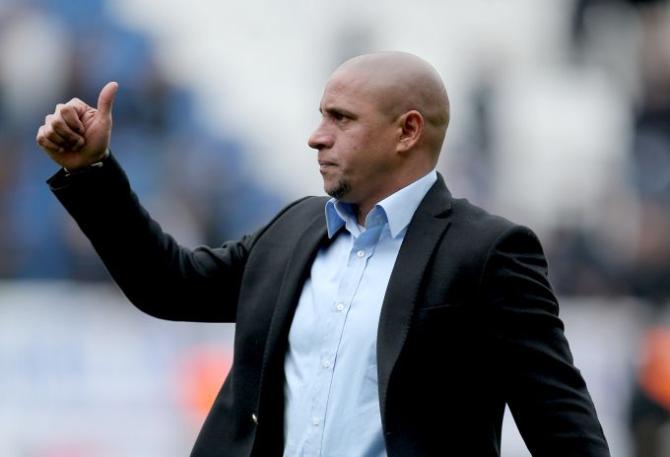 Roberto Carlos. Photograph: Depo Photos/EuroFootball/Getty Images
Carlos, who won the World Cup with Brazil in 2002 before quitting international football in 2012, has managerial experience with Turkish sides Sivasspor and Akhisar Belediyespor and is looking to use it during his stint in India.
Asked about his coaching style and the difficulties that come with it, the two-time 'UEFA Defender of the Year' kept the reply as simple as he did with his free-kicks.
"I am a very easy coach. The biggest coaches in the world work simple. It's for Indian players to understand the philosophy of Dynamos.
"I believe that always the most difficult task is the easiest. You have to be intelligent and know how to work."
He echoed Sepp Blatter's 'sleeping giant' sentiment of India being a 'sleeping giant', saying the country will one-day be among the world's best.
"I believe the Indian national team can be among the best in time to come. Indians have always been passionate about soccer and Brazil has always enjoyed tremendous support here. I feel happy that I will make a meaningful contribution towards building a world-class team in the ISL."