'Saketh showed tremendous heart, he played like a warrior'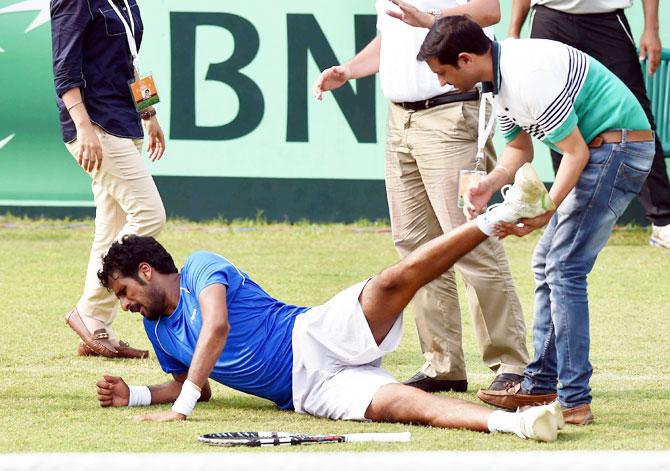 IMAGE: India's Saketh Myneni receives treatment after sustaining an injury during his Davis Cup singles match against Korea's Yong- Kyu Lim at the Asia/Oceania Group-I tie at Chandigarh on Friday. Photograph: Atul Yadav/PTI
India's captain Anand Amritraj said it was "initiation by fire" for both Saketh Myneni and Ramkumar Ramanathan as they pulled off victories in the opening singles of the Asia/Oceania Group I Davis Cup tie against South Korea, under testing conditions, in Chandigarh on Friday.
Both the Korean players -- Seong Chan Hong and Yong-Kyu Lim -- conceded their matches when they were on the verge of losing after suffering cramps and spasms in severe hot and humid conditions.
"Saketh showed tremendous heart. It was initiation by fire for the boys. It was mind-boggling. I have never seen in my 25-year career that both the guys (Saketh and Lim) are on the ground. It was a matter of just standing up. I knew whoever would stand, will win," said an elated Amritraj, at the post-match press conference.
The non-playing captain said he had thought of withdrawing Myneni from the match since he was in severe pain but the gritty Indian player wanted to continue and finish the job at hand.
"He (Myneni) played like a warrior. The break of serve in the first game of the final set certainly helped," Amritraj said.
The 28-year-old Myneni, who played his first ever five-setter, said he never thought of quitting despite intense pain.
"I wanted to finish it off in three sets. It was very humid but never I thought of giving up. I just need to keep moving. The support staff played a great role. Without them I would not have been able to continue. They kept me going, they were pulling the socks up," a much-relieved Myneni said.
He said there was not much he could do with the way he trains to avoid such a struggle under humid conditions.
Ramkumar, who made his Davis Cup debut, said he handled the pressure of playing for the country well.
"I believed in myself. There was small pressure but I handled well. When you are playing Davis Cup, it's not just tennis after a limit," he said.
Ramkumar also praised his opponent Hong.
"He played smart in the second set but in the third, I played the way I wanted. Rohan and Leander were helping me from the lines. They asked me to enjoy and I gave my all."
Ramkumar said the groundsmen did a "great job" by making the court play-ready after heavy rain on Thursday.
"The bounce was low but no regrets. It was same for him (Hong) also."