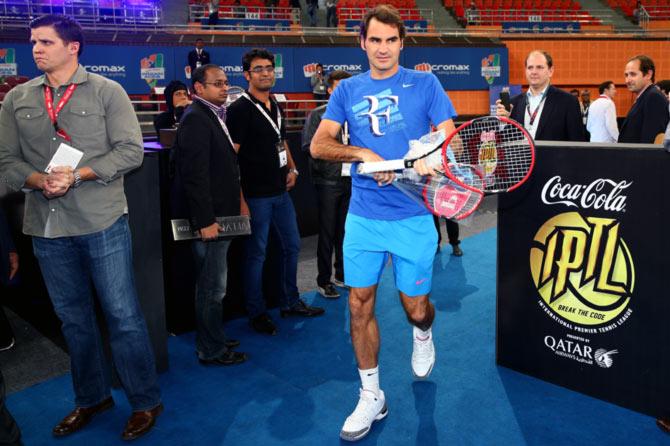 Roger Federer walks out on to the court for a practice session. Photograph: Clive Brunskill/Getty Images for IPTL 2014
A billion hearts are waiting with bated breath as Roger Federer gets ready to wield his racquet for Indian Aces in the International Premier Tennis League and the Swiss tennis legend said it is a "pleasure and privilege" to play for the first time in India.

The 17-time Grand Slam champion will turn up for Indian Aces against Singapore Slammers in the third leg on Sunday.

"It is special (to be in India) to say the least. I have played in many places in the world, but there is nothing like playing somewhere for the first time. India is a big country with lots of history, tradition in culture or sport and to come and finally play here is really a pleasure and privilege. I can't wait to really start and feel the crowd and see how it is going to be like. It is a different place," he said.

"Hopefully they will be excited to see me, see tennis. I think it is wonderful to see tennis is a big sport in the country and the potential is there with all the great players India has produced over the years, so for me to come here and feel the crowd and see them get involved and excited, it is all about that really."

Talking about the concept of IPTL, Federer said: "I have been following IPTL. I have been seeing how the Aces have been doing. I have been checking out the scores a bit, I have been trying to understand the format before I step into the court because there are a few rule changes and you have to be aware of them or else you might lose because of the rules. You have to play in the right way.

"But I think it is very exciting. It definitely has a place in tennis, something more fast-paced, more exciting. In tennis, everything goes very serious and professional, the way it is supposed to be, and it is not going to go away but I do believe we have more potential, opportunities. IPTL is entertaining, the players seemed to be unbelievably excited and very pumped up and happy to be here and it carries over to the crowd. I am very happy at the success of IPTL so far," he told Headlines Today.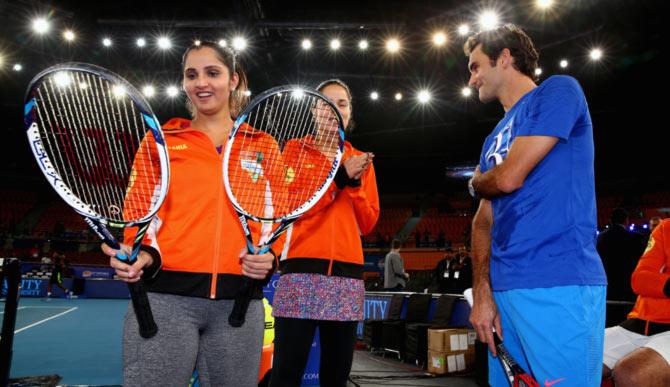 Sania Mirza (left) speaks to team mate Roger Federer during the practice session. Photograph: Clive Brunskill/Getty Images for IPTL 2014
Asked if IPTL has given tennis something new, Federer said: "Yes, absolutely. You know we analyse everything at the very end, once the tour is over. So far, it seems very good and promising. It is wonderful that in a big continent like Asia you have something like this. It is at a time when players don't want to practice, if they want to play, they can or can go on vacation.

"It is an opportunity for everybody to be involved. It is nice that top players are showing up and this is a good opportunity and it seems it could be around for a long time and for me, personally, it is very exciting to be here."

Struggling with some serious back injuries sustained in March and again in July, Federer had a tough season last year as he dropped from second to sixth position in the world ranking. However, he bounced back with good performance to end the season on a high and reclaim the No. 2 ranking.

"After the tough last year, I could not play to my potential. It was frustrating. But at the same time, it was an opportunity to come back and take the right decision. Trying to figure all that out was interesting. I actually quite enjoyed that. I thought it will go up from there on rather than down but you don't know. So the unknown makes you anxious, a bit nervous and insecure.

"At the same time when the game kicks back in, the pleasure of winning again was greater and I felt this year I was happy, this year on the tour there were no setbacks. I have two more kids now, I play great, so overall wonderful season. I could not have been happier."

Talking about the ups and downs in his career, the 33-year-old said: "I don't think any player goes through a career where he wants to tick off stuffs, it is too mechanical, there is no emotions. It is not about to getting rid of things. I think it is about experiencing the moment, celebrating it with thousands of Swiss people in a square at Lausanne. It is not about ticking boxes. I know it sounds good for press and statistic.

"But my experiences has been amazing because my team is just full of best friends in my life, to share that moment with them. It is very especial. To play in front of record crowd, it was special. It is hard to get beaten by Gael Monfils on the first day on a record breaking number and then I could bounce back. Thanks to Stan (Wawrinka). I think he played really well on first day and gave me that opportunity to play better again and thankfully I did. The celebration was great, epic and long and we had a great time."

Asked about his friendship with India's cricket icon Sachin Tendulkar, Federer said: "I only met him a few times. So friendship is big word because I have not spent that much time with him. But I feel very much comfortable speaking to him. He is super nice, humble, and polite.

"It's great to be able to look up to someone like him. He has been in the game for so long. So every time I meet him, I feel like spending more time as he is so comfortable. He also came to Wimbledon which was very nice."