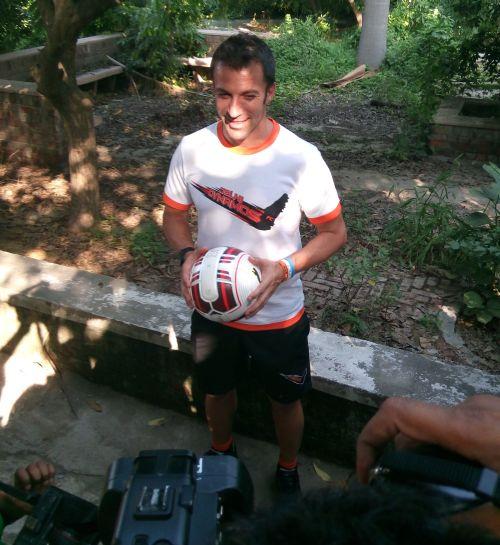 Alessandro Del Piero during a media interaction. Photograph: Manu Shankar/Rediff.com
Alessandro Del Piero is undoubtedly the top billed player in the Indian Super League.
It was no surprise then, that when Delhi Dynamos FC played hosts Mumbai City FC on Wednesday, the DY Patil stadium was packed to capacity.
The Italian World Cup-winner and Delhi's marquee player was cheered on by fans all through the evening, right from warm-up till the time he came on to the field – Del Piero played in the last 30 minutes of the match.
Whenever the ball kissed his feet a roar would be heard. But the decibel levels increased when he took a corner for the Delhi outfit.
Unfortunately, the Juventus veteran failed to put his name on the scoring sheet and Delhi Dynamos lost to Mumbai by a solitary goal that came off the boot of Frenchman Nicholas Anelka.
Del Piero was again not included in Delhi's starting line-up for the match but head coach Harm van Veldhoven dismissed any concerns regarding the 39-year-old's fitness.
"There is always pressure to make a star player sit out. But you have to take care of everybody in the team. I think Marmentini (Gustavo Marmentini dos Santos) played very well. May be Del Piero has got to start the next game. But as a coach I need to see what is the best and to give everybody the minutes that they deserve. I would like to play with all the 26 players but I will have start with only 11," Veldhoven said.
"Sometimes he likes to do something extra and sometimes he likes to rest. That's important as you need to find balance. I am satisfied with that," Veldhoven said of the Juve legend.
In an exclusive chat, Del Piero tells Rediff.com's Laxmi Negi of his urge to entertain fans and his interest in understanding India and its culture.
How have you been preparing for the matches?
Football is a team game. We have to be focused and prepare in the best way for the games. When we have a lot of games in a row, you need to work and improve on a day-to-day basis.
Everyone is awaiting a goal from Del Piero.
I have been scoring goals all my life. In the ISL, I haven't had the opportunity (to score). I have not had much time too on the field. But I am confident to surely entertain the fans.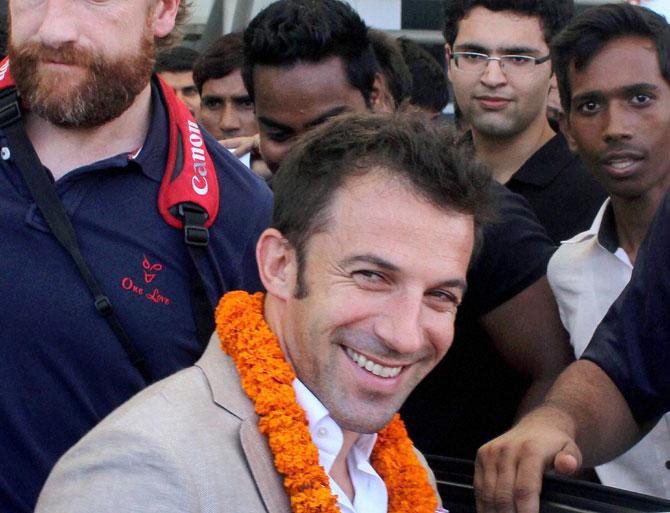 Alessandro Del Piero at Indira Gandhi International airport on Thursday. Photograph: PTI
How have you been making the adjustment to the ISL?
I would like to wait until the end of the tournament to answer this question.
I want to understand this country and its culture in the best possible way. It will be quite strange for me to jump to conclusions, as this is a short tournament of just three months. It is a big challenge to come to any conclusions therefore I would like to wait.
But until that day, for me and everyone around, we need to push ourselves to do our best. This is the fundamental thing. There is nothing special about it but it is important to try and do our best on the pitch.
So you think it would have been in the best interest of the players had the tournament been spread out?
I think we cannot change this situation. But what we can do is go in and enjoy ourselves in the best way.
Let's forget about what could have been or what should have been. All I am interested is in giving my best shot.
You have played at the top level in European football. How would to compare that to the ISL?
It is difficult to compare. I played 19 years in Juventus and the last two years in Sydney. It had its own unique flavour and competitiveness. I am very happy to see that the ISL is quite competitive. Let me tell you, the equation among the players is good. They love football here and are eager to learn. ISL is on its first step, there is a lot to come in over the years.
You have been on the road during this tournament and this is your first visit to India. Which city has attracted you the most?
Well, I have mostly been in Delhi and therefore I think my loyalties lie there. Delhi suits me the best!
Which Indian players have caught your fancy?
Like I said, they all look eager to learn, which is heartening to see. All my Delhi Dynamos' teammates have been fantastic.