Having missed out on lucrative offers in the inaugural edition after his I-League club, Bengaluru FC, refused to release their players for the tournament, Sunil Chhetri is raring to go in the second season of the Indian Super League, which kicks-off on October 3.
The cash-rich league's most expensive Indian player recounts those anxious moments when he was waiting to join the ISL bandwagon with Rediff.com / Laxmi Negi. Read on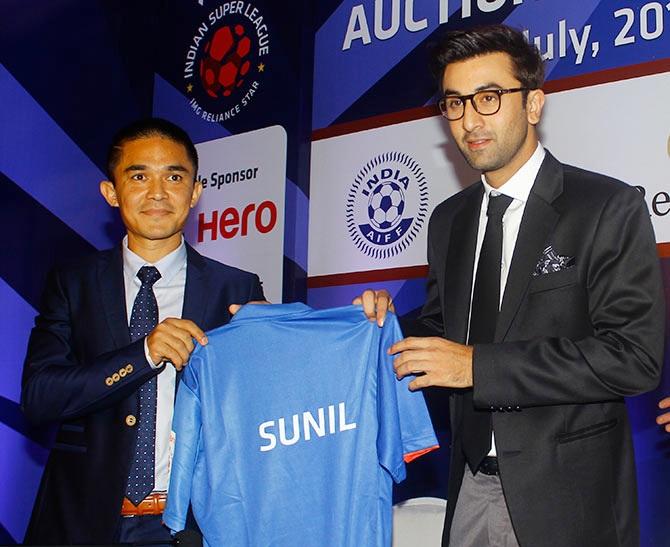 Sunil Chhetri, left, with actor and Mumbai City FC owner Ranbir Kapoor. Photograph: Hitesh Harisinghani/Rediff.com
I was gearing up for the most exciting day in Indian football. Yes, exciting, in the terms of glamour and glitz, fans and media. It lived up to the hype around it.

It's the Indian Super League auction we are talking about.

It was just the second year of the cash-rich league and its popularity had already hit quite a high. It was a far change from the days of putting on the match kit and boots. We were all suited up for the occasion.

There was quite a buzz created by the media about the ten Indian players, including me, who were supposed to be auctioned that day.
The boys were definitely nervous and I was trying to calm them down. All wondered which club would buy them and how much they would fetch. I asked them to enjoy the moment. There was a sense of camaraderie in the room, each pulling the other's leg.

For me, it was a different feeling altogether, having missed out on the auction for the inaugural edition of the league. (Chhetri missed out on lucrative offers in the inaugural edition after his I-League club, Bengaluru FC, refused to release their players for the tournament).
Financially, I knew exactly how much I would get. It was just a about who would go to which club; the money was secondary. In the end I was the costliest buy at the auction, at Rs 1.20 crore!
The wait ended and I was happy to embrace Mumbai City FC. I have played all over the world, including the United States and Portugal, but not in Mumbai.
I cannot wait to play alongside former French international Nicholas Anelka up front and add teeth to the Mumbai City FC attack.
There were Bollywood stars, big people and media all around but, honestly, I was just trying to be a footballer at the glamour-filled event.

My life is not so glitzy always. My job is to be on the football field, working out in the sun. It is always an early morning rise and early dinner for me. I am a sportsman and discipline is my core.
I generally wake up at 6 am and from then I am on my feet. I have breakfast, which is supervised by a dietitian, with my teammates. I then hit the training ground around 9.30am. Sometimes I go to the physio to get treatment for any spasm or injury-related issues.

There are times when we have a double session on the ground or gymnasium. It's so much physical on the field and tough out there in the sun. The value of a minute is felt most when you are almost finished and the coach says 'last minute boys'.
Dinner is as early as 7.30pm.

Indeed, a sportsman's life is very monotonous. Monday to Saturday I do the same thing, at the same time. Sunday breaks that monotony. We take our liberties on that day. Sometimes the players unwind together; a movie and coffee is a stress buster. I feel every now and then it is nice to sit back and see someone else involved in all the action.

Sometimes I go to the swimming pool. If there is something I am passionate about after football, it is driving. Some Sundays are spent on long drives.
A sportsman always has difficulties choosing what to eat. Ice cream, samosa, rasmalai, jalebis won't be a problem, or will it be? We have to make small sacrifices to achieve desired goals in life.

Every time I play for India it is a special moment. I cannot express in words how I felt when when India won the Nehru Cup (2011) under my captaincy. I may sound very clichéd, but every time I wear the captain's armband I feel it is the greatest moment of my life. How many people get that kind of opportunity?
In the FIFA rankings India cuts a sorry figure at No. 158 in the world. The ISL is not a magic wand, it cannot change that. It is one of the aspects of football. It is a very professionally-run league but to improve India's ranking on the world stage all the football bodies of the country need to jointly work together.

The ISL has managed to garner so much popularity and interest. The organisers are putting the right foot forward. There is a great future for ISL but for Indian football to come together everybody needs to gel well.

I have played football with many foreigners as teammates and they keep wondering how, with so much diversity of language, culture, traditions, we Indians stay together.

I just tell them that it is a wonderful feeling with the kind of landscape we have from Kashmir to Kanyakumari.
But there are times when my heart reaches out to young kids who go without a proper meal every day. They are our future; how I wish I could arrange a proper meal for them.

All said, now I am impatient to get on the field and do what I love doing, play!
Also read:
- ISL auction: Chhetri, Lyngdoh fetch a crore!
- Why John Abraham's North East Utd picked Seityasen
- PHOTOS: Ranbir, Hrithik, John hog limelight at ISL Auction