'I will sleep very well because I know there is no formula to stop Messi, he is magnificent'
'Messi is fantasy football, he is what every child dreams about, because he is proof that when you have character, determination and talent you can make history'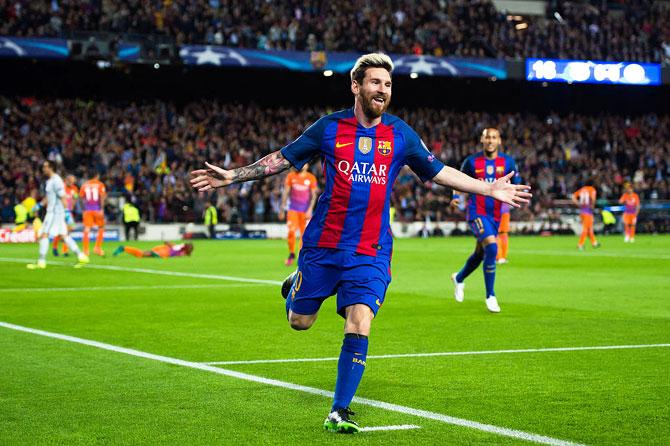 IMAGE: FC Barcelona's Lionel Messi celebrates. Photograph: Alex Caparros/Getty Images.
Valencia coach Cesare Prandelli has conceded there is no point trying stop Lionel Messi as he prepares to face the in-form Barcelona talisman when his side host the La Liga champions on Saturday.
Former Italy coach Prandelli got off to a winning start in his first game in charge of the struggling six-times La Liga champions, overseeing a 2-1 win at Sporting Gijon to move clear of the relegation zone.
Prandelli, set for his first game at the Mestalla stadium, admitted he was facing an impossible task to tame a rampant Messi, who scored a hat-trick in Barcelona's 4-0 thrashing of Manchester City in the Champions League on Wednesday.
"I will sleep very well because I know there is no formula to stop Messi, he is magnificent," Prandelli said.
"Messi is fantasy football, he is what every child dreams about, because he is proof that when you have character, determination and talent you can make history. All the children in the world want to be Messi and I'm proud to face him."
Barcelona are fourth in the La Liga standings on 16 points, two behind leaders Atletico Madrid while Valencia are 14th on nine.
"We'll need to maintain concentration throughout the game and be organised tactically. Whenever we lose the ball we need to press Barca quickly," Prandelli added.
"When you face Barcelona you know you're going to suffer, but in certain moments of the game we have to know how to make them suffer."