Come May, the Deltin Royale, which boasts of the country's largest poker room, will play host to India's first Poker Sports League, reports Veenu Sandhu.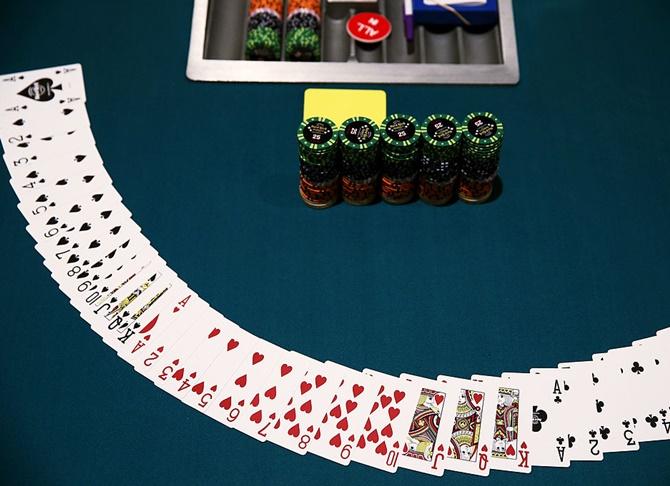 IMAGE: Season 1 final of the Poker Sports League will be available for viewing on Facebook and YouTube. Photograph: Joe Raedle/Getty Images
Anchored in the Mandovi river in Panjim, the Deltin Royale is India's largest casino ship.
It is a favourite haunt of both amateur and professional gamers, many of whom make a living playing poker.
Come May, this five-storey vessel, which boasts of the country's largest poker room, will play host to India's first Poker Sports League.
The game of poker has for long been associated with gambling. But Amit Burman, the vice-chairman of Dabur India and the brain behind the league, looks at it as a mind sport.
"The Massachusetts Institute of Technology and the University of Berkeley actually have a course on poker," he says.
It teaches a person mathematics, probability, the game theory and psychology -- skills that successful businessmen rely on.
It is not surprising then that many corporate honchos have put their money in the league and are participating in it as team owners: Aditya Munjal of Hero Cycles, Rishabh Jhunjhunwala of the Bhilwara Group, Jitendra Gupta of PayU and Kunal Shah of FreeCharge, to name some.
Burman has gone a step further to eliminate the tag of 'gambling' by designing the league as a team-based event.
So, 12 teams of nine players each will compete with one another without any money being involved and whoever wins in the final will walk away with the prize money of around Rs 3 crore.
Burman has worked out an off-beat format not seen in any of the other leagues, whether it is the Indian Premier League, the Pro Kabaddi League or the Indian Super League.
Each team will have a captain, or mentor, and two professional and four amateur players who will be chosen from the thousands who are currently competing in offline and online events being held across cities like Delhi, Mumbai, Bengaluru, Kolkata, Goa and Ahmedabad.
Then there will be two "fun players," says Burman.
A team owner can play if he or she chooses to or get a highly-rated international player or even a celebrity like Shane Warne, Chris Gayle or Boris Becker, all of who play poker.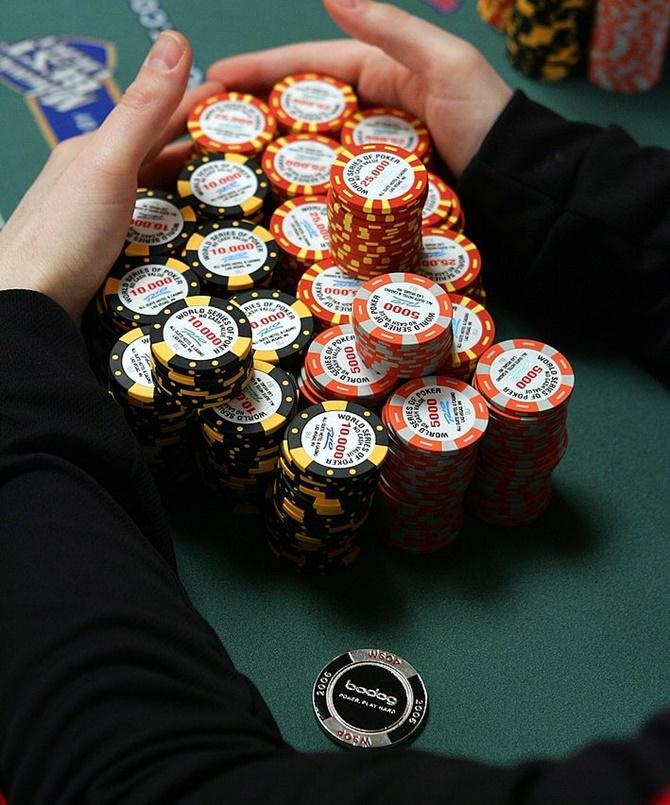 IMAGE: Chip leader Jamie Gold gathers a stack of chips. Image posted only for representational purposes. Photograph: Ethan Miller/Getty Images
That the league has been conceptualised by Burman has inspired confidence in many.
"Because it's him, one can be sure that everything will be done the right way," says Rishi Kajaria, joint managing director, Kajaria Ceramics who owns the team called Delhi Dragons.
"He's constantly looking for new ideas and fresh ventures."
Burman is known to turn his ideas into winning ventures through sheer foresight and a practical approach.
That, at 47, he is today India's biggest restaurateur is an outcome of this foresight and discipline.
These qualities are also reflected in his fourth floor office at Punjabi Bhavan in Delhi. This is the Dabur family office -- a functional, no-frills place with a staff that is part of the extended family.
A framed bungee jumping certificate sits on the windowsill of his spacious, and again functional, cabin as a reminder of the adventure holidays he likes to take every year with his children.
From skydiving in Kansas to flying -- he holds a private pilot's licence -- Burman enjoys an adrenaline rush.
"But I no longer get the time to fly," he says. "There is simply too much going on."
The day-long stubble on him is perhaps a result of these busy days.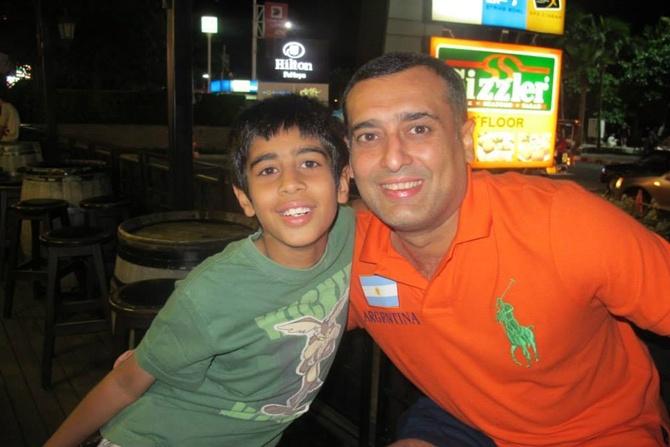 IMAGE: Amit Burman with his son. Photograph: Kind courtesy Divya Burman/Facebook
Burman routinely shuttles between his Delhi office and the one in Gurgaon, at least 30 km away.
That one is his Lite Bite Foods office -- the umbrella company for his 12 core restaurant brands.
That office is almost like a lab where cooks experiment with different dishes.
Food, for Burman, is his business of passion.
Some years ago, all member of the Burman family had decided to give up their executive responsibilities at Dabur.
By that point, Burman had built a thriving Rs 350 crore food business for Dabur with Real fruit juices and Hommade pastes. He handed it over "to the professionals at Dabur" and ventured out to do his own thing.
He started a birthing boutique named Cradle in Delhi and also brought Audi to the city. But neither of these really clicked with him.
"When I was studying in the US and was very health conscious, I used to like this brand called Subway," he says. He decided to bring it to India, so he wrote to Subway to become a franchisee.
"But they wanted me to first come to Connecticut to train."
That two-week training proved to be a sound learning experience for the industrialist.
"From chopping vegetables and making a sandwich to mobbing the floor and working out how to control the food and rental cost, I did it all, right from opening the shop to closing it," he says.
A lot of retail spaces were coming up in India at this time. Many big businessmen wanted to get into the hyper markets, like Walmart and Big Bazaar.
"I, being fond of food, knew that every mall would have an entertainment and a food zone. And these food zones would be in the mid-market segment."
He was also wise enough to see that a majority of Indians like to eat Indian (north Indian and south Indian), Chinese and Italian cuisine. He started developing his brands around these four cuisines.
Today, he has Punjab Grill in casual dining, Fresco for Mediterranean, Asia Seven for pan-Asian cuisine, Zambar for south Indian and Pino for pasta and pizza, besides the Subway outlets.
Then he thought he should also have a bakery. So, Baker Street was born.
After this, a high-end neighbourhood bakery called Artful Baker came up.
From Real fruit juice, which was distribution and marketing led, Burman had moved into food retail. Today, he runs close to 130 quick-service and casual-dining restaurants, kiosks included, mainly in Delhi, Mumbai and Pune.
Along the way, he also started looking at travel retail. By this time, he was running 25 to 30 restaurants.
The Delhi airport Terminal 1D was coming up and he made a pitch to open his restaurants there.
"The magic of having the footfalls in that airport was so great that we thought we really had to build on this."
So when the Mumbai airport came up for bid, he put all his efforts into it.
Today, 60 per cent of the food outlets at Mumbai airport -- Burger King, Kentucky Fried Chicken, Subway, Punjab Grill, Street Foods, Zambar, Baker Street -- are under his belt.
Last fortnight, he bid for the newly opened Goa airport.
"Now, 12 new airports have come for bidding. We are pitching for all 12 and should hopefully get three or four of those good airports," he says.
The next stop is Metros and railway stations, "which are bound to turn into swanky terminals where people spend longer time," he says.
In the future, interstate highways that have dedicated stoppage points for food are also in his sight.
But he is steering clear of fine dining "where you pay Rs 3,500 to Rs 4,000 per person."
The number of people who go out in that segment is very less, he says.
"Besides, it is very difficult to sustain a fine dining restaurant outside of a hotel."
Some years ago, Burman also brought to India the Kuchh Nai scotch manufactured at Glasgow in England "by a Sikh gentleman," he says.
The name comes from the standard response of guests in India when you ask them what they'll have. "Kuchh nai (nothing), they invariably say. So you give them Kuchh Nai," he says smiling.
He also distributes Chilean and Italian wines, Silver Swan vodka, liqueur and cognac.
"But the tax on them, at 150 per cent per bottle, is way too high and I can't say we are making profit here, though it is self-sustaining," he says.
For now, his focus is on the poker league, which he hopes to take outside of India in two years.
The Season 1 final, meanwhile, would be available for viewing on Facebook and YouTube.