'It's clear to me that Ferrari have chosen their number one driver'
'They are pushing everything to make sure Sebastian will maximise on all of his weekends'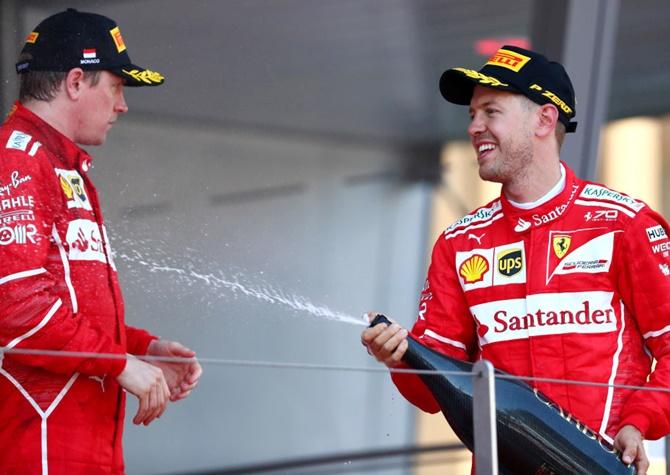 IMAGE: Sebastian Vettel of Germany and Ferrari celebrates his race win on the podium next to Kimi Raikkonen of Finland. Photograph: Dan Istitene/Getty Images.
Ferrari are giving Sebastian Vettel the Michael Schumacher treatment, according to the German's main title rival Lewis Hamilton.
F1: Vettel first Ferrari driver since Schumi to win Monaco GP
The Briton told reporters after the German handed Ferrari their first Monaco Grand Prix win in 16 years that the Italian team was clearly favouring the championship leader over his team mate Kimi Raikkonen.
Raikkonen, the 2007 world champion, had started on pole position but as a result of strategy ended up anchoring Ferrari's first one-two since 2010 instead of standing on top of the podium.
"It's clear to me that Ferrari have chosen their number one driver," said Hamilton, who finished seventh and is now 25 points adrift.
"They are pushing everything to make sure Sebastian will maximise on all of his weekends.
"It's very hard for the leading car to get jumped by the second car unless the team decide to favour the other car, so that is very clear."
Schumacher, the sport's most successful driver who won five of his seven titles with Ferrari from 2000-2004, famously built a team around him and was seen as the clear number one at Maranello.
Hamilton had started 13th after a nightmare in qualifying, with the Briton unable to get his car's tyres performing in the requisite window while Ferrari looked suddenly in a league of their own.
Vettel, a four-times world champion and first Ferrari winner in Monaco since Schumacher, has now won three of the six races to Hamilton's two. Finland's Valtteri Bottas also winning in Russia for Mercedes.
Despite the setback, Hamilton saw the glass half full.
"I really am happy," he said.
"Of course ultimately I lost a lot of points today but looking at it as one race, and as a whole today, I came here starting 13th. I could have been in a crash, could have damaged the car, blown an engine, come away with no points.
"I think I managed it nicely and as professionally as I could."
By the closing stages, he had turned the engine down -- happy to bank points on a circuit where overtaking was impossible and the racing processional, barring accidents.
It was the second race weekend of the season where Hamilton has struggled with his car's handling and he recognised something had to change.
"Of course I can't afford another weekend like this, at the going rate with the Ferraris quick," he said.
"But because you can't afford something doesn't mean it is not going to happen. There is no point dwelling on the fact that you cannot afford it.
"We have to work collectively as a team more than ever before to beat the Ferraris in the constructors' (championship). Who knows what is going to happen?"