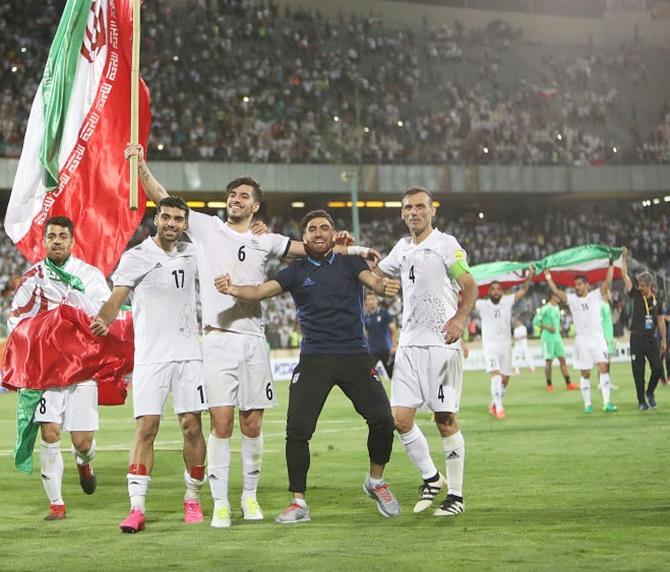 IMAGE: Players of Iran celebrate after the match during FIFA 2018 World Cup Qualifier match between against Uzbekistan. Photograph: Amin M. Jamali/Getty Images
Tehran's streets were filled with thousands of Iranians celebrating their men's national soccer team's qualification for the 2018 World Cup in Russia, defying threats by Islamic State to launch more extremist attacks in the country.
Young men and women poured into the streets in Tehran and other cities immediately after Iran secured its place in next year's World Cup finals with a 2-0 win against Uzbekistan.
Iranian President Hassan Rouhani joined the celebrations, saying on Twitter, "Congratulations to the nation and our national team for qualification for the 2018 FIFA World Cup in Russia. You made all of us proud."
The celebration came just after the release on Monday of an audio message purporting to come from the spokesman of Islamic State, who called on followers to launch attacks in various countries - including Iran - during the Islamic holy month of Ramadan, which began in late May and ends in late June.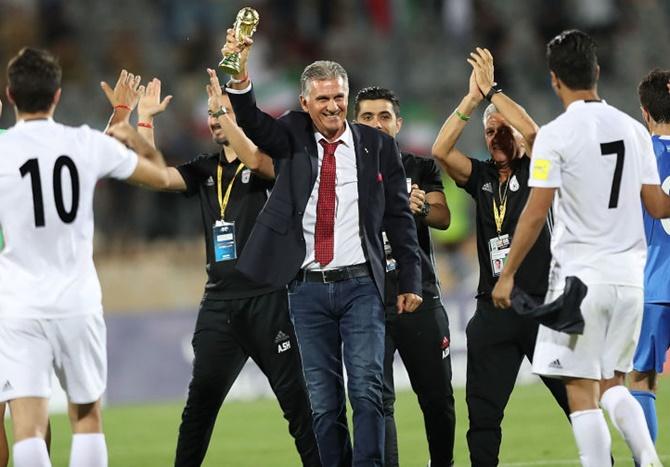 IMAGE: Head coach Carols Quieroz and players of Iran celebrate. Photograph: Amin M. Jamali/Getty Images
The Sunni militant group carried out twin attacks on Wednesday in Tehran that killed 17 people.
From across the country, social media sites showed online video clips of people dancing, waving flags and honking car horns. Some young people draped the national flag over their shoulders, cheering wildly in the streets and shouting "Iran, Iran!"
"Who cares about Daesh (Islamic State) threats? ... We are Iranians. No one can beat us," said 19-year-old Mohammadreza Salami in Tehran's northern Tajrish Square.
"Iran, Iran, we love you," he said by phone.
"This is the best day of my life. We are going to the World Cup. Thank you my heroes," said a young man in an online video on Twitter from the southern city of Abadan.
Iran blocks access to Facebook, Twitter and YouTube, but millions of Iranians easily get around that by using virtual private networks (VPNs).
Iran's semi-official Fars news agency reported heavy traffic in Tehran's streets because of the celebrations and Iranians abroad were also celebrating.
Iranian media reported on Sunday that authorities had stepped up security measures in the wake of the suicide bombings and gun attacks on parliament and the mausoleum of Ayatollah Khomeini in Tehran.
Iran, the three-time Asian champions became the second country after five-time world champions Brazil to qualify for the 2018 finals by securing a fifth World Cup appearance at the 32-team tournament.