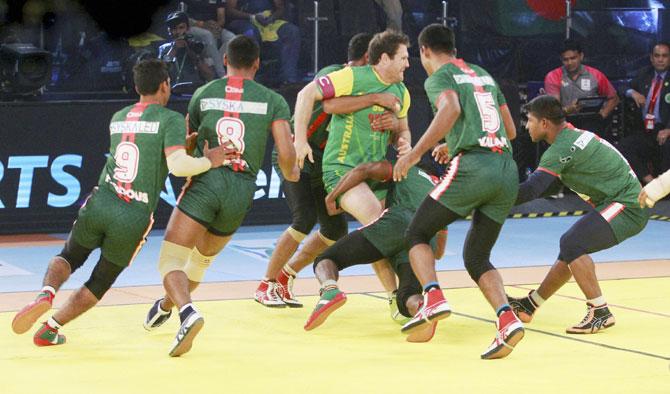 IMAGE: Bangladesh players catch Australian raider during the Kabaddi World Cup in Ahmadabad on Monday. Photograph: PTI
Iran's unbeaten streak in the ongoing Kabaddi World Cup came to a grinding halt after they were stunned by minnows Polland 25-41 in their league clash at the TransStadia in Ahmedabad on Monday.
Iran paid for their complacency as Poland outshone them for the entire 40 minutes.The crowd at TransStadia arena cheered Poland on as they marched towards a superb win.
Captain Michal Spiczko led from the front and scored 12 points to lead Poland to a memorable victory. Iran's mighty defence had a bad day at the office as they scored just six points -- only two in the second half -- and were made to pay by the Polish raiders. Iran were below par but that shouldn't take any credit away from Poland who outclassed them in all departments.
Poland made a good start as Piotr Pamulak scored with a two point raid in the third minute to give Poland a 4-2 lead. Iran leveled the game at 5-5 in the seventh minute. Poland were better than Iran in the first 10 minutes and weren't intimidated by the Iranian defence. Michal Spiczko scored three raid points as Poland led 9-7 after 10 minutes.
Jan Baranowicz scored with a two point raid in the 14th minute as Poland led 13-9 and Iran were reduced to just three men. Iran forced a super tackle in the 15th minute to trail 11-13. Iran's defence uncharacteristically made too many silly errors and Poland capitalized on them to lead 16-13 after 18 minutes. Spiczko, Baranowicz and Pamulak scored five points each for Poland in the first half. Iran just scored four tackle points in the half as they trailed 14-17 at the break.
Poland inflicted the first all out of the match in the 23rd minute to lead 23-15 as Spiczko scored two more points. Iran's defence scored their fifth tackle point in the 25th minute as Poland led 25-16. Iran's misery got compounded when Fazel Atrachali was forced off the court because of a shoulder injury.
Poland continued their impressive performance in the second half and extended the lead to 10 points after 30 minutes. Iran's captain Meraj Sheykh scored just one point as their defence continued to flounder with Poland leading 32-21 in the 34th minute.
Pamulak scored his ninth point of the match as Poland led 36-21 after 37 minutes. Poland inflicted the second all out in the 38th minute to complete Iran's humiliation as they led 40-21. Pamulak scored nine points and Baranowicz contributed eight raid points as Poland wrapped the game 41-25 to score the biggest upset of the 2016 Kabaddi World Cup.
If Thailand beat Japan in their last game of Group B, they will top the table and Iran could end up playing Republic of Korea in the semi finals. Poland ended their World Cup campaign on a memorable high and will take a lot of heart from their performances in the tournament.(ANI)
Bangladesh crush Australia by record margin
Bangladesh produced a terrific performance as they thrashed Australia by a record margin 80-8 in their league tie of the ongoing Kabaddi World Cup at the TransStadia Arena in Ahmedabad on Monday.
The victory margin of 72 points was the biggest at the 2016 Kabaddi World Cup.
Aruduzzaman Munshi scored 17 points for Bangladesh whereas Sabuj Mia scored nine tackle points. Australia suffered the ignominy of being the first team to not reach double figures in the World Cup.
Bangladesh still have an outside chance to make it to the semi-finals but will have to rely on England to upset India in their next match. Australia's World Cup journey ended on a low as they put on a disappointing performance.
Bangladesh made a solid start as they led 6-0 after three minutes and Australia were staring at an all out. Bangladesh duly inflicted an all out in the next minute to lead 9-0. Australia's raiders struggled to get a foot in the game. Aruduzzaman Munshi scored four raid points for Bangladesh in the first 10 minutes.
It took Australia nine minutes to open their account as their defence made a tackle to trail 1-14. Bangladesh were cruising to a comfortable win as they led 16-1 after 10 minutes. Australia suffered the second all out of the match in the 12th minute to trail 21-1. Neither Australia's attack nor their defence could cope with Bangladesh's intensity and crumble under pressure.
Not a single raider could score a point for Australia in 15 minutes as they trailed 1-25. Zia-ur-Rahman scored five points in the first half for Bangladesh. Australia earned their second point - a technical point --in the 18th minute but Bangladesh inflicted another all out in the 19th minute to lead 32-2. Australia suffered further humiliation as Bangladesh made a super raid in the 20th minute to lead 36-2 at the end of the first half.
Australia scored two points at the start of the second half as two Bangladesh defenders went off the court while making a tackle. Bangladesh inflicted another all out in the 24th minute to lead 43-4. Australia were yet to make a successful raid after 25 minutes as it was turning out to be the most one-sided match of the 2016 Kabaddi World Cup. In the 28th minute, Bangladesh inflicted another all out to lead 53-4.
Australia finally managed to get their first raid point in the 28th minute as Nicholas Cunningham scored as they trailed 5-56. Sabuj Mia achieved a high five for Bangladesh as they continued to dominate and led 60-6 in the 32nd minute. A sixth all out was inflicted by Bangladesh in the 34th minute to lead 67-6.
Nothing went right for Australia as Bangladesh continued to increase their point tally and led 69-6 with less than five minutes left on the clock. Bangladesh inflicted the seventh all out of the match to lead 75-7. Bangladesh scored 42 raid points and 18 tackle points to record a massive 80-8 win.