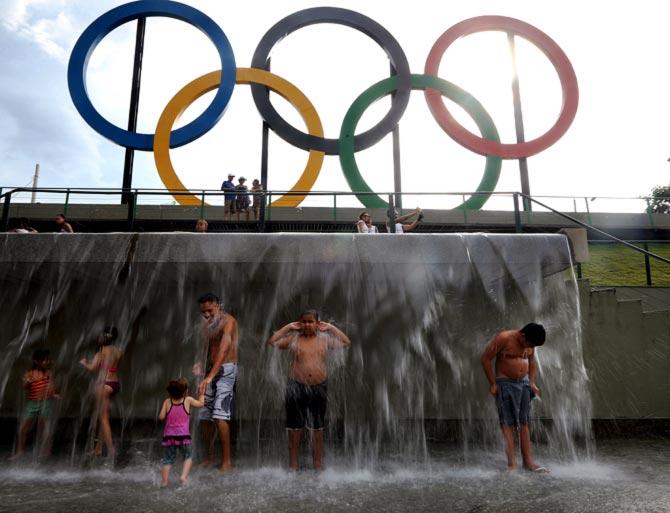 IMAGE: People cool off beneath a water fountain beneath the Olympic rings in Madureira Park in Rio de Janeiro, on December 30, 2015. Photograph: Mario Tama/Getty Images
The International Olympic Committee will issue guidelines this week aimed at protecting athletes and visitors from Zika, a mosquito-borne virus spreading rapidly across South America months before the Rio de Janeiro Games in August.

IOC president Thomas Bach said on Thursday a note would be sent to National Olympic Committees (NOCs) "today or tomorrow at the latest," as Rio prepares to host the world's biggest sporting event on South American soil for the first time.

"We will do everything to ensure the health of the athletes and all the visitors," Bach told reporters during a visit to Athens.

"We are in close contact with the World Health Organisation (WHO) as well as with the organising committee and the Brazilian authorities."

The WHO warned on Thursday that the disease, linked to birth defects in thousands of babies, is spreading "explosively" and could affect as many as four million people in the Americas.

Zika has been clinically linked to a foetal deformation known as microcephaly, in which infants are born with abnormally small heads and brains.

The virus, a close cousin of dengue and chikungunya, causes rash, mild fever and red eyes. Some 80 percent of those infected typically do not have symptoms, making it difficult for pregnant women to determine if they have the virus. No vaccine or treatment is currently available.

LOW-SEASON FOR MOSQUITOES

Rio 2016 organisers said the Games, from August 5-21, will be during Brazil's winter months when a "dryer, cooler climate significantly reduces the presence of mosquitoes".

They added Zika will be discussed at a meeting with NOCs at IOC headquarters in Lausanne from February 1-2.

"The Olympic and Paralympic venues will be inspected on a daily basis during the Rio 2016 Games to ensure there are no puddles of stagnant water and therefore minimise the risk of coming into contact with mosquitoes," organisers said.

Several countries are already warning their athletes about the virus.

Russia's Sports Minister Vitaly Mutko told local broadcaster Life News TV that athletes are particularly vulnerable to infectious diseases as heavy training reduces their immune system. "We are employing all protective measures," he said.

In Australia, officials are warning athletes of child-bearing age they need to be aware of the specific risks of microcephaly and team members are being advised to wear long sleeves around stagnant water and heavy vegetation.

The Australian team also recommended team members not leave windows or doors open when staying in Rio and use air conditioning instead.

"The health and wellbeing of all our team members is paramount, especially those females in the team of child bearing age," said Australia's Chef de Mission Kitty Chiller.

A British Olympic Association spokesperson said: "As part of Team GB's overall planning, our medical team has been liaising with specialists at the London School of Tropical Medicine, to ensure that team members are given the most up-to-date travel medicine advice, which includes information on bite prevention strategies.

"This information has already been shared with all sports and it will be continually updated prior to departure for the Olympic Games."