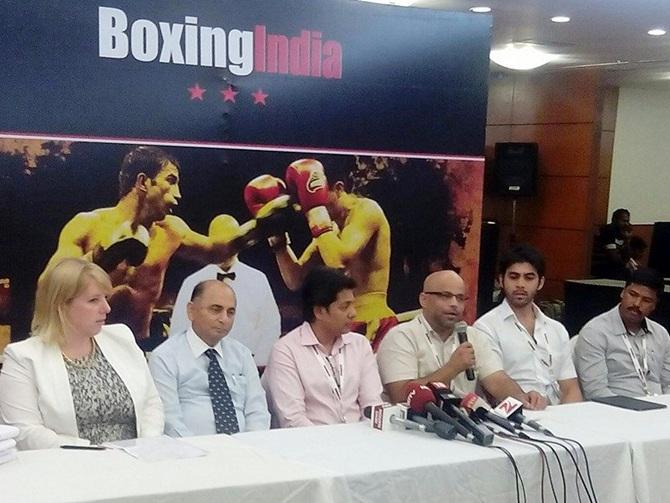 From left, AIBA's legal manager Cliodhna Guy, AIBA's India-based observer Kishen Narsi, Sandeep Jajodia, Jay Kowli Udit Sheth. Courtesy: Facebook

A new body is in place to run boxing in India but the turmoil in the sport seems far from over with the Indian Olympic Association sitting on Boxing India's request for recognition even as its ad-hoc committee invited entries for next year's National Games despite having no validity.
Boxing India (BI) was recognised by the International Boxing Association (AIBA) after elections in September which were held in the presence of an observer from the world body.
Since then, BI has conducted the National Women's Championships and has been invited by the Sports Ministry for every deliberation pertaining to Indian boxing.
"But the IOA is just refusing to give us recognition and not even telling us what's the reason behind it. Our numerous letters to them seeking clarification have found no response and it has become a frustrating wait," a BI said.
While refusing to grant BI recognition, the IOA continues to assert the functional authority of its ad-hoc committee which was formed to select teams for the Commonwealth and Asian Games after the Indian Amateur Boxing Federation was terminated by AIBA and derecognised by the Sports Ministry.
"It is a major concern for Boxing India because this unnecessary situation is only jeopardising their future," the source added.
The IOA has asserted that IABF remains registered with it as the recognised body for running boxing and has gone to the extent of calling BI a parallel body despite it getting the AIBA's approval.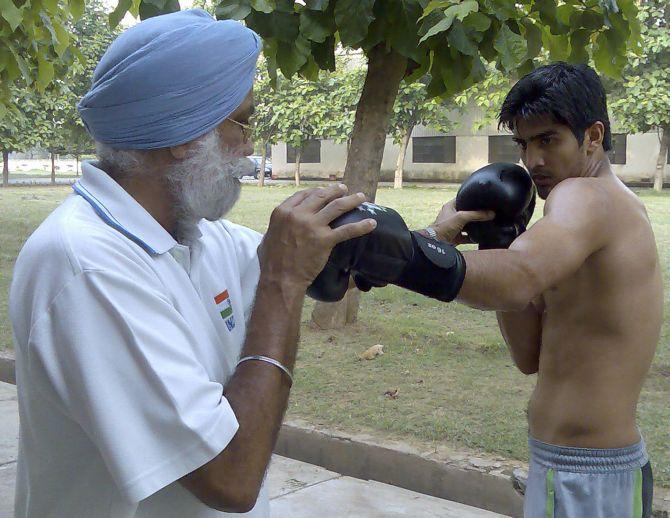 Gurubax Singh Sandhu with Vijender Kumar. Photograph: PTI
It is also learnt that BI's application seeking recognition is not in the agenda of the December 19 Annual General Meeting of the IOA in Chennai.
The IOA ad-hoc committee, which is chaired by veteran administrator Tarlochan Singh, had six members of which Kishan Narsi and national coach Gurbax Singh Sandhu have already resigned.
Interestingly, the committee is now inviting entries of teams for the National Games, scheduled from January 30 in Kerala.
"We have invited the teams for participation in 35th National Games Kerala with the vision that at any cost boxing should be conducted during the Games. We have come to know that few of the boxing family members are confuse and it is not clear to them whether BI should conduct the events at National Games or ad-hoc Committee," the ad-hoc committee has said in a letter circulated to the state associations.
"National Games are the sole property of Indian Olympic Association. Regarding participation in National Games IOA is the only authority to decide which Federation/faction will participate in National Games.
"Ad-hoc Committee was formed by IOA to select and send the Indian Team for International events etc. The said committee was not constituted by AIBA...ad-hoc Committee is still working. IOA has never dismantled ad-hoc Committee and no outer agency/organization can order IOA to do so. As IOA has its autonomous status and is responsible for the development of Sports in India," the letter asserted.