His Olympics debut four years ago at Athens resulted in a thrashing (16-37) at the hands of Frenchman Jerome Thomas. But he followed up the disappointment by beating Bongani Mahlangu of Botswana to win the gold medal at the Commonwealth Championships in Glasgow the next year.
A year later, at the 2006 Commonwealth Games in Melbourne, Akhil Kumar outpunched Louis Richard Bruno Julie of Mauritius 20-12 in the 54kg bantamweight category to secure India's second ever CWG boxing gold,  after Qamar Ali's light-flyweight gold at the 2002 Manchester Games.
But a wrist injury brought a halt to his conquests and threatened a budding career. He needed almost a year to recover and regain the punch, and was back at his best this February, when he beat the Athens Olympics silver medallist Worapoj Petchkoom of Thailand to win the gold medal at the inaugural Asian Olympic qualifying tournament in Bangkok, having already secured a quota place for the  Beijing Games by making it to the final.
For Akhil, the triumph capped a fantastic comeback from the career-threatening wrist injury, which kept him out of action for most of 2007. Now the 27-year-old pugilist from Bhiwani is raring to go.
In an exclusive interview with Special Correspondents Bikash Mohapatra and Harish Kotian, Akhil talks about his trials and tribulations, triumphs, leadership attributes (he is leading a high-on-hope Indian contingent) and expectations ahead of the Beijing jamboree. Excerpts…
The obvious question to start with: how do you rate the chances of India's boxers at Beijing, and your chances, in particular?
I think all of us have a good chance. There's only one medal to be won... and that is gold. We're doing enough practice and are confident.
All the other boxers will be equally prepared. No competition is easy, but I am pretty confident about my chances and looking forward to the Olympics.
We should win quite a few medals this time. I mean, it will certainly be more than one. We should never lose hope.
You suffered a career-threatening injury last year. (Interrupts…)
I have had two surgeries but have fully recovered from that. Now I am fully fit. The Mittal Trust has helped me a lot during this period and that is why I am back in the ring and giving good results since my comeback. The coaches and my teammates at the camp helped me a lot during that period.
But how difficult was that phase?
I was totally depressed during the injury lay-off. I had sleepless nights and was always thinking what would happen next. But I consider myself lucky. God has been kind. (Pauses before continuing…)
I have blind faith in God. But what you need most to move out of these situations is self-discipline and commitment. You can't get out of such a situation without discipline. My friends also helped a lot during this period.
But, on the whole, I give myself my mental strength the whole credit for getting out of the situation.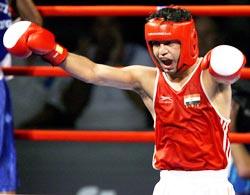 You said you owe a lot to the Mittal Champions Trust. Can you elaborate on that?
At one time my hand was completely damaged and no one even bothered to have a look at it. I thought my career was as good as finished. But they [Mittal Trust] helped me out with the treatment of my hand, once in Mumbai and once abroad, in South Africa. And it is because of this that I completely recovered from my injury.
Even now they have sent a physio, who stays with me throughout and helps with every aspect -- my diet, nutrition, exercise and rehab. So the Mittal Trust definitely has a big contribution in my comeback.
But didn't the federation come forward to help you during that time?
The federation has also been very cooperative. I have been selected thanks to them. They gave me a chance in the selection trials and I proved myself there. I have never ever faced any problems because of the federation.
What kind of relationship with you share with your fellow boxers?
I am the senior-most boxer in the Indian team, in terms of age and experience. Whenever the team needs me I am there and fully prepared for them. But, thankfully, we have a good coach who takes care of everything; my job as a team man is restricted. But I always pitch in with my bit when required.
But being the senior-most member also increases responsibility…
Yes, you are very right. A senior member of a team is like an idol the junior always looks up to while moving forward. It happened in my case. There was Dingko Singh and Bhushan Saini, boxers I looked up to during the initial phase of my career.
The last Olympics in Athens was a disappointment. (Interrupts…)
The last Olympics was too big an occasion for me. I did not know how it would be with so many stars there. It was my biggest tournament till then.
I was under tremendous pressure, having never before participated in an event of that magnitude. The Olympics was like a big burden. I had no experience. Besides, there was the desperation to win; it added to the pressure. This time I am more composed (josh aur hosh dono se kaam le raha hoon) and am certainly more experienced; the last experience is definitely helping me now.
How do you rate the Indian boxing scene over the years?
We have not won many medals. After Dingko Singh's gold, no more gold medals came our way. But we are improving now and certainly better than we were before.
Do you idolise Dingko Singh?
No. You can't say he is my idol. But you can definitely say he is a good senior. 
My idol is my own self. The way I fell and rose again, I consider myself my own idol!
So what lies ahead?
My performance in 2010 will decide if I am going to compete in 2012. If I win gold at the Commonwealth Games in New Delhi, I will definitely play in the London Olympics.
I don't want to quit boxing. It is my identity. If I am talking to you now, it is thanks to boxing. You don't know who I am, but you are talking to me because I am a boxer. So I don't want to quit as yet, until someone hits me so hard that I can't fight anymore. I am ready to fight any injury to continue in this sport for a long time.
Is boxing a good career option these days?
No, boxing is certainly not a good career option. It is not financially viable. Unlike cricket, where even if a player plays in the Ranji Trophy he is financially secure. I'm not comparing boxing with cricket but the latter is certainly well administered.
Any game that is good financially is a good career option. Sadly, in the case of boxing it is not so. There is no guarantee, no career security.
You need both appreciation and money. Everyone wants the two together. If anyone says he doesn't want both, he is lying. I am getting the appreciation, but where is the money?
Does it feel bad when people remember you only during the Olympics? (Interrupts…)
Not only the Olympics, Sir! Whenever any big sporting event comes, be it the Asian Games, Commonwealth Games or the Olympics, we are remembered. Before and after that no one really cares. If I fail to win a medal at Beijing I will be forgotten.
So how do you keep yourself motivated?
I believe a lot in God. And I have good friends who constantly motivate me.
Finally, what will be your preparations between now and the Olympics?
I am concentrating more on speed and working on my favourite combinations. I am repeating the daily routines rather diligently.  And, yes, I am praying. I regularly pray, but the proportion has increased these days.