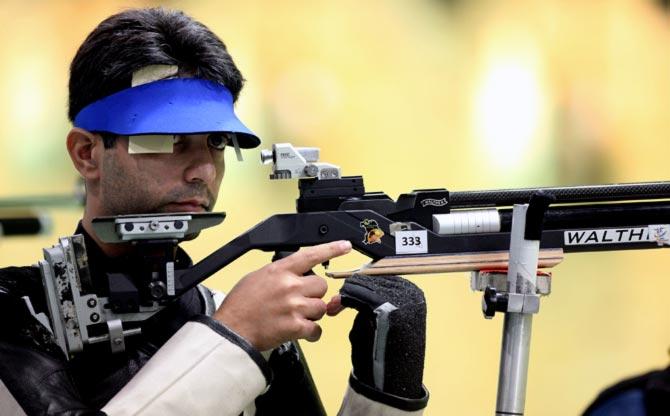 Abhinav Bindra of India. Graham Crouch/Getty Images
They may have been hitting the bulls eyes often in recent years but Indian shooters will still have their task cut out when they take to the range for the 51st World Championships starting in Granada, Spain on Monday, eyeing as many Olympic quotas as possible.

A total of 64 quota places for the 2016 Olympic Games will be up for grabs in the tough continental tournament, which will herald the beginning of the long and arduous journey to Rio de Janerio.

Over 2000 athletes from around 100 countries will be gunning for top honours in more than 50 events over the next 12 days of competitions at the CEAR Juan Carlos I shooting range in Las Gabias, on the outskirts of Granada.

The action from the first day of competition will feature among others, Beijing Olympic gold medallist Abhinav Bindra, Sanjeev Rajput and trap ace Manavjit Singh Sandhu.

The other Indian hopefuls in the tournament include proven performers such as Gagan Narang, Vijay Kumar, Jitu Rai, Anisa Sayyed, Rahi Sarnabot, Heena Sidhu, Lajja Gauswamy, Ayonika Paul and Prakash Nanjappa to name a few.

The established names like Samaresh Jung and Anjali Bhagwat lend experience to the strong 47-member squad, which is well aware of the expectations.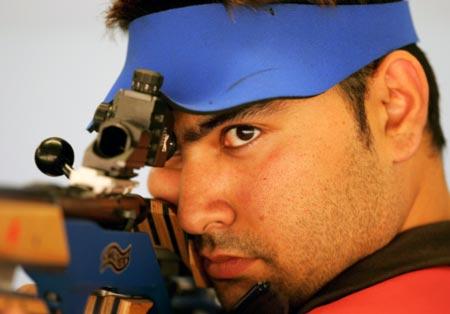 Gagan Narang of India. Cameron Spencer/Getty Images
The Indian shooters have raised the bar with their consistent showings in top international events over the past many years and it was no different at the 2014 Glasgow Commonwealth Games where the country won a staggering 17 medals, including four golds.

The shooters, though, are not reading too much into their achievements in Glasgow and rightly so, as the standard of competition is much higher at the World championships.

While the in-from Rai is optimistic about earning an Olympic quota and finishing on the podium, Rajput, who had also won a medal in Glasgow, is not looking beyond the competition day.

"The competition is very tough, even more difficult than Olympics. I am only focusing on my shooting. Yes, we can still win a few quota places as our shooters are doing very well in recent years," Rajput said.

On the other hand, Rai has already trained his eyes on Rio. The Lucknow boy's confidence stems from his dream run in recent times as he won medals, including two golds in World Cups and Commonwealth Games where he created a new Games record.

"I am hoping to do well and get an Olympic quota because that is my ultimate dream, and I will give my best shot there," Rai had said.