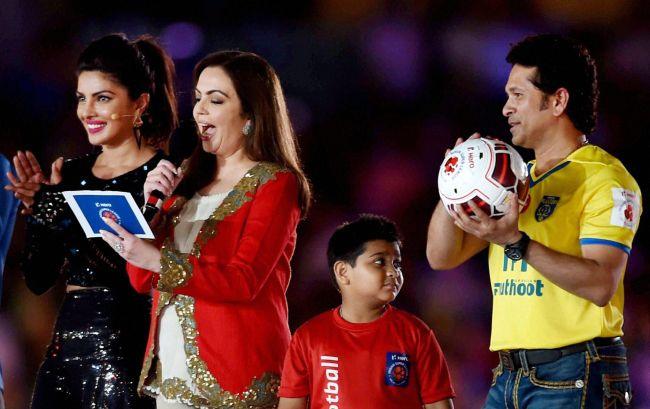 Nita Ambani formally declares the Indian Super League open. Photograph: PTI
It was an evening to remember for the people residing in 'Mecca of Indian Football' as a riot of colours lit the Salt Lake skyline with much awaited Indian Super League (ISL) doing everything possible to strike the right chord with the football aficionado.
Touching the hearts of the football-loving crowd, chairperson of IMG-Reliance and founding Chairperson of Football Sports Development (ISL) Nita Ambani formally declared open the ISL.
"Ami Indian Super League er Subho Suchona Korchi (I declare the auspicious opening of ISL) -- I formally declare the Indian Super League open," she said surrounded a rare amalgamation of Bollywood and cricket and world football celebrities who represented the eight franchises.
The fireworks lit up the sky in a full capacity Vivekananda Yuva Bharati Krirangan to conclude a 45-minute opening ceremony as the 70,000 capcity crowd were treated to some eye-catching visual extravaganza.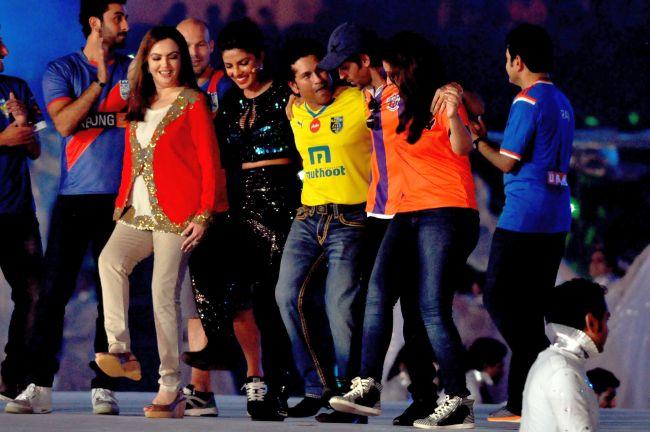 Kerala Blasters co-owner Sachin Tendulkar during the opening ceremony of the Indian Super League. Photograph: Dipak Chakraborty
Amid the confluence of Bollywood superstars, renowned sportpersons, corporate magnates and politicians, it was master blaster Sachin Tendulkar who drew the maximum applause.
With chants of 'Sachiiiiin, Sachiiiiin' reverberating the colossal stadium which had the earlier capacity of 120,000 now reduced to 72,000, crowd gave a standing ovation to the retired legend.
For a moment, it felt Tendulkar was once again going into the middle to take guard before the reality took over as clad in yellow t-shirt Tendulkar and his Kerala Blasters marquee player David James made the entry into the centre podium.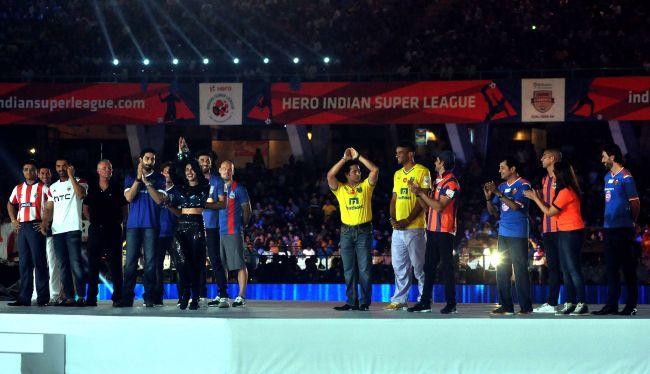 Priyanka Chopra during the opening ceremony of the Indian Super League. Photograph: Dipak Chakraborty
Bollywood diva Priyanka Chopra was the highlight of the show as she made a grand entry with Bollywood chartbusters.
Starting with Atletico de Kolkata, Priyanka called the team owners one by one on to the centre stage and quipped to Sourav Ganguly: "Dada chose to own a football team because he can remove jersey whenever he wants..."
Ganguly-Luis Garcia (Kolkata) were followed by Parineeti Chopra and Italian World Cup winner Alessandro Del Piero (Delhi).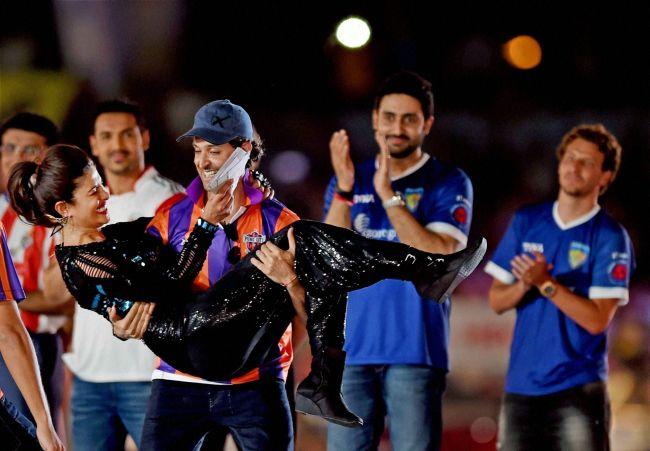 Hrithik Roshan and Priyanka Chopra during the opening ceremony of ISL. Photograph: PTI
John Abraham was parraded alongside New Zealand marquee manager Ricki Hebert (Guwahati), Dattaraj Salgaocar and Robert Pires (Goa), Abhishek Bachchan and marquee player Elano Blumer(Chennai), Hrithik Roshan and French World Cup winner
David Trezeguet (Pune), Ranbir Kapoor and Fedrik Ljungberg (Mumbai) and Tendulkar- David James (Kerala) were called one by one by star perfomer Priyanka.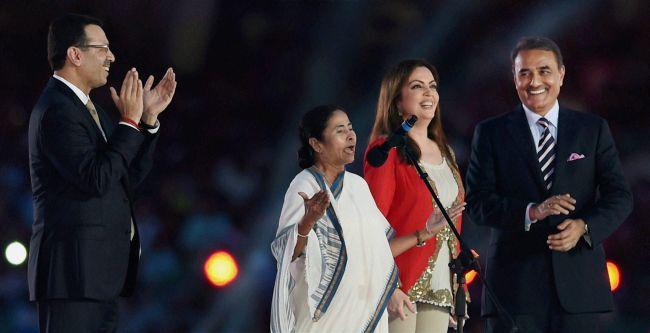 Mamta Bannerjee speaks at the opening ceremony of ISL. Photograph: PTI
The ceremony began at 5.20 pm with West Bengal chief minister Mamata Banerjee, ISL founding chairperson Nita Ambani, AIFF president Praful Patel and Atletico de Kolkata co-owner Sanjiv Goenka leading on the centrestage to convey their heartfelt thanks.
Urging the country to promote the sport, CM said: "Thank you so much for choosing Kolkata for the opening ceremony. Lets' love football, eat football, think football, sleep football and drink football."
Terming it a dream come true, Patel said: "This is a dream come true. It's a great opportunity for us to take this game to every corner of the city. Special thanks to Nita Ambani and IMG-Reliance.
"I will assure that we will not leave any stone unturned to make this ISL a super success.