It was heartbreak for India as ace shuttler Saina Nehwal crashed out of the Indian Open Super Series after a straight-game defeat to Japan's Ai Goto in the first round of the women's singles, in Delhi, on Wednesday.
The 21-year-old world No 4 committed several unforced errors and failed to read the game of the 24th-ranked Japanese, against whom she had a 3-0 record coming into the tournament.
The Indian ace was beaten 17-21, 19-21 in 34 minutes.
"I am very disappointed at the loss. I didn't play well. I was confused what strokes I should play. She was moving fast on the court and was playing a lot of drops and half smashes. She has improved a lot since the last time I played her," Saina said after the match.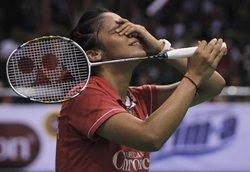 "I was not confident of my strokes. She was better prepared. Everything happened so quickly, I don't know what to say," added Saina.
In the first game, Saina trailed Goto from the start, and although she did well to catch up at 10-10, the Japanese opened a three-point lead at 13-10 before taking the game.
With her back to the wall, the Hyderabadi opened up a 3-0 lead in the second game but Goto drew parity at 8-all and moved neck and neck from there on to 16-17.
At 19-16, Saina blew a three-point lead as Goto wrapped up the match comfortably.
"I was focused to beat Saina. I knew she would be under pressure as she is playing at her home country," said Goto.
Though Saina's heart-breaking loss left her fans disappointed, two young shuttlers, Sourabh Verma and RMV Gurusaidutt, earlier gave India something to cheer about as they notched the biggest upsets of the tournament.
A hitherto unknown shuttler, Sourabh was the cynosure of all eyes as he sent Athens Olympics bronze medallist Sony Dwi Kuncoro of Indonesia packing 21-18, 21-19 in the first round.
Gurusaidutt eked out a hard-fought 22-20, 18-21, 21-19 victory over fourth seed Boonsak Ponsana to cause yet another upset on the second day of the tournament, at the Siri Fort Sport Complex.
India's top men's shuttler P Kashyap, however, didn't have to break a sweat as he cantered to a 21-7, 21-15 win over Slovekian Michal Matejka to set up a clash with world No 2 Taufik Hidayat, who notched a comfortable 21-13, 21-5 win over Anup Sridhar of Bangalore.
The 20-year-old Sourabh, who beat the former world No 3 and 37-ranked Indonesian in a hard-fought 41-minute match, rated this as the biggest win of his career.
"It is my biggest win. I didn't get intimidated by his stature. I just wanted to give my best and see how things pan out and I am glad I could pull off the victory," said Sourabh, who is playing the first Super Series of his career.
He will take on the winner of seventh seed Kenichi Tago of Japan and French Brice Leverdez in the second round.
Sourabh's win gains significance as Sony was a silver and bronze medallist in the World Championships in Kuala Lumpur in 2007 and Hyderabad in 2009, beside having the Indonesian, Japan Super Series and China Masters title to his name.
Saurabh, who belongs to Madhya Pradesh, has been training at the Gopichand Academy for the past two years and is among the talented group of young shuttlers.
"I have been training At SAG (special Area Games) but the training facilities were not that great; so after I moved into the Gopichand academy for the  Commonwealth Games camp I decided to stay there ever since," said Sourabh, who reached the semi-finals of the National Championships in Rohtak.
Sourabh won the All India Senior Ranking tournament, at Atul, Gujarat, in February. It was his first major ranking title on the senior circuit. He also reached the quarter-finals of the Scottish Open in 2009.
The day also saw Gurusaidutt put behind his series of close match defeats and rise to the occasion with a thrilling victory over the world number five.
"My hard work paid off finally. I have been losing so many close matches so it is nice. I have been waiting for this kind of a win as it boosts the confidence to another level. It is going to be much more tougher from here on and I know I have to put more and more hard work," Gurusaidutt said.
Among other Indians, Ajay Jayaram, Anand Pawar, Arvind Bhat put up a fight in the men's singles before crashing out of the US $200,000 event, the first Super Series in India.
In the women's singles, qualifiers PV Sindhu and Sayali Gokhale fought gallantly but couldn't cross the first hurdle, while Aditi Mutatkar and Truti Murgunde were beaten comprehensively by fourth seed Pui Yin Yip of Hong Kong and Indonesian Aprilla Yuswandari.
Ajay Jayaram too produced a gallant performance against world number one Lee Chong Wei of Malaysia before going down 21-19, 21-18 in a 37-minute match.
Up against Sho Sasaki of Japan, Anand Pawar fought hard before going down 19-21, 21-17, 21-12 in another men's singles match.
Young qualifiers Sai Praneeth B lost 19-21, 12-21 to Wing Ki Wong, while HS Prannoy suffered a 14-21, 12-21 loss to Wan Ho Shon of Korea in the men's singles.
Among other Indians, Akshay Dewalkar and Pradnya Gadre beat Japanese pair of Noriyasu Hirata and Miyuki Maeda 21-17, 21-17 in the mixed doubles category but their colleagues were not so lucky, crashing out after contrasting defeats.
Ye Na Jang and Min Seo Kim of Korea put paid to Meenakshi Nair and Mohita Sahdev's hopes, beating them 21-10, 21-13, while Pranav Chopra and Tarun Kona lost 17-21, 16-21 to the Indonesian pair of Yohanes Rendy Sugiarto and Afiat Yuris Wirawan in the men's doubles.
Eighth seeds Shintaro Ikeda and Reiko Shiota of Japan were too hot to handle for Arun Vishnu and Aparna Balan as the Indian pair's fight ended with a 18-21, 21-17, 14-21 defeat in another mixed doubles category match.
PC Thulasi and Siki Reddy also found the going tough and lost 7-21, 11-21 to Eei Hui Chin and Pei Tty Wong of Malaysia.
Among the international stars, third seed Peter Hoeg Gade survived a scare before winning 13-21, 22-20, 21-8 against Kazushi Yamada, while sixth seed Sung Hwan Park beat Arvind Bhat 21-14, 21-16.
Seventh seed Kenichi Tago notched a 25-23, 21-13 win over Brice Leverdez to reach the next round.