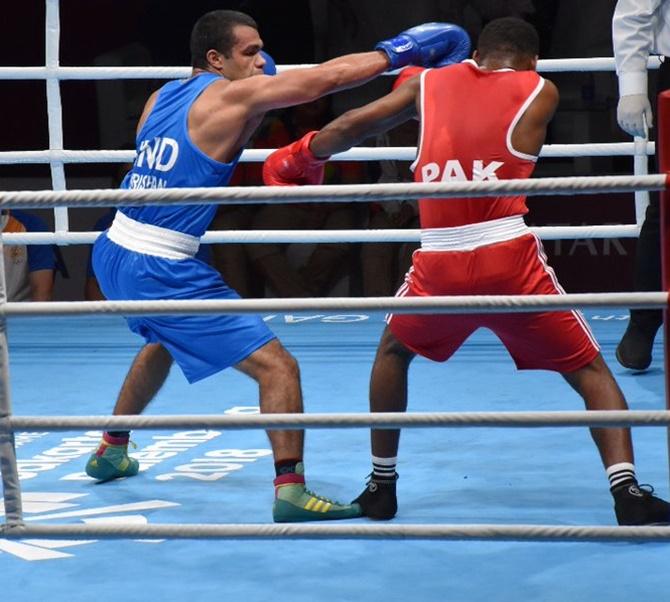 Commonwealth Games medal-winning duo of Vikas Krishan (75kg) and Amit Panghal (49kg) today advanced to the quarterfinals of the Asian Games boxing competition after clinching comprehensive victories, in Jakarta, on Monday.
Vikas out-ounched Pakistan's Tanveer Ahmed in his pre-quarterfinal bout before Amit recovered from a rusty start to outwit Mongolia's Enkhmandakh Kharhuu -- both the wins being unanimous verdicts.
Joining them in the last eight was was national champion Dheeraj Rangi (64kg), who defeated Mongolia's Nurlan Kobashev.
However, Commonwealth Games bronze-winner Mohammed Husammuddin (56kg) lost a close contest against Kyrgyzstan's Enkh-Amar Kharkhuu to bow out of the competition in the pre-quarterfinal stage. The Indian lost 2-3 and also sustained a cut on his forehead.
Vikas, who won a gold in 2010 and a bronze in the 2014 Asiad, opened the proceedings for India, producing a dominating performance in which his right hooks stood out.
The Indian's powerful punches were mostly met with feeble counters by the Pakistani, who received one standing eight count during the bout and was left quite shaken at the end of it.
The Commonwealth Games gold-medallist Indian also sustained a cut above his left eye during the bout but did not seem too affected.
He will be up against China's Tuoheta Erbieke Tanglatihan in the quarterfinals on Wednesday. Tanglatihan defeated Turkmenistan's Nursahet Pazzyyev in his last-16 stage bout.
If Vikas goes on to win a medal at the Games, he would become the first Indian boxer with a hat-trick of podium finishes at the mega-event.
In the evening session, Amit came back strongly after being rattled a bit by Kharhuu in the opening round.
The CWG silver-winner found his bearings in the second round, using his left jabs to telling effect. The Haryana-lad forced his rival into a shell guard but even that could not save the Mongolian from the pounding that came his way.
One of the Indian's left jabs on counter-attack jolted Kharhuu in the third round, leading to a standing eight count before the misery ended for him with the ring of the finalbell.
Amit will face North Korean Kim Jang Ryong in the quarters on Wednesday. Ryong defeated Iran's Omid Ahmadisafa in his pre-quarterfinal bout on Monday.
In the last Indian bout of the day, Dheeraj also recovered from a slow start to get the better of Kobashev.
The Kyrgyz was the dominant one in the opening round but ran out of steam eventually and even ended up getting a warning for bending too much in the third round.
Squash: India make winning starts in team events
India began its campaign on a winning note with both men and women recording 3-0 victories in the group stage of the squash team events.
The men beat Indonesia 3-0 in the morning before overwhelming Singapore by the same margin. The women, who had only one match, beat Iran 3-0.
The only familiar player missing for India was Saurav Ghosal but his absence did not put any extra stress on compatriots Harinder Pal Sandhu, Ramit Tandon and Mahesh Mangaonkar as all of them won their matches without conceding a game.
In the women's section, both Joshna Chinappa and Dipika Pallikal were on view with Tanvi Khanna taking the third spot.
In the men's team, India is seeded second and has Malaysia, Qatar, Singapore, Indonesia and Thailand in its group.
In the women's section, third seed India is clubbed alongside Hong Kong, China, Iran, Indonesia, Thailand. Top two teams qualify for semifinals from each group.
Results:
Men: India bt Indonesia 3-0 (Harinder Pal Sandhu bt Tastaftyan Muhammad Nur 11-9, 11-6, 11-7; Ramit Tandon bt Laksana Satria Bagus 11-4, 11-2,11-5; Mahesh Mangaonkar bt Hasanudin Andi 11-6, 11-2, 11-5); bt Singapore 3-0 ( Harinder Pal Sandhu bt Leong Yew Sing Timothy 11-7, 11-4, 11-7;Ramit Tandon bt Kang Samuel Shan Mu 11-1., 11-3, 11-6; Mahesh Mangaonkar bt Pang Ka Hoe 11-3, 11-3, 11-1)
Women: India bt Iran 3-0 (Joshna Chinappa bt Sharafpour Ghazai11-7, 11-5, 11-6; Tanvi Khanna bt Farzad Hadis 12-10, 11-7, 11-2; Dipika Pallikal Karthik Eghtedari Fereshteh 11-2, 11-6, 11-4).
Volleyball: India women's team loses to China to end campaign
The Indian women's team ended its campaign at the 18th Asian Games, losing 0-3 to China in the last Pool B match of the volleyball competition.
In a 67-minute match, India lost 18-25 19-25 9-25 to China, who remained unbeaten in the pool stage.
It was India's fifth straight loss at the Games.
The Indian men's team will take on Pakistan in the quarterfinals for 7-12 classification places on Tuesday.
The Indian men's team finished in the second spot in pool F after winning against Hong Kong and Maldives.
They lost only to Qatar in the league stage.
Sepaktakraw: India beat Nepal 2-0 in men's regu
Already out of reckoning, Indian men ended their campaign on a positive note, beating Nepal 2-0 in the last group B regu match of Sepak Takraw competition at the 18th Asian Games.
India, comprising Rupesh Sunar, Dipesh Jung Thapa, Govinda Magar, Sanjeet Dhimal and Rabin Bhattarai, beat Nepal 21-5, 21-15 in the Group B match.
India had lost to Korea and Malaysia before beating China 2-1 in earlier preliminary matches.
Last week, Indian men's regu team had won a historic bronze medal in the Asian Games after losing in the semifinals.
Sepaktakraw is a volleyball-style sport in which players use their feet, head, knees and chest to hit the ball across the net. They are not allowed to use their hands.