India won a first-ever archery World Cup medal in the compound women section when Trisha Deb, Gagandeep Kaur and Lily Chanu P beat their Italian opponents in the bronze medal play-off in Shanghai on Saturday.
According to information received, India avenged last year's defeat, beating Italy 228-223 to open the account with a bronze medal on the penultimate day of the archery World Cup State 1.
India have two gold medal winning chances Sunday with Deepika Kumari in the finals of the recurve individual women's category and in the recurve mixed team along with Jayanta Talukdar.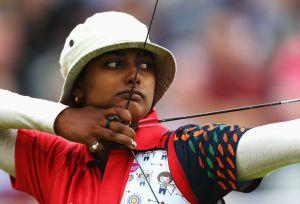 The Italian team made up of Katia d' Agostino and former Shanghai individual champions Laura Longo (2011) and Marcella Tonioli (2012) trailed the Indians by two points after the first end.
D'Agostino shot a seven in the second end, allowing India to increase their lead to four points at the halfway mark.
A final 8 by India in the third end reduced the gap to three points: 171-168.
Shooting first in the last end, Italy suffered two 8s, while India concluded the match with 8-9-10-10-10-10 for their first ever World Cup medal in the compound women category.
India had gone down to Italy 217-230 in the last year's playoff.
Photograph: Paul Gilham/Getty Images