India finally managed to earn their first points in the World Cup Hockey as they held Spain to a 1-1 draw as custodian PR Sreejesh effected at least four brilliant saves.
The Indian goalkeeper fought gallantly to effect numerous saves as Spain's strikers often broke past the jittery Indian defence only to find Sreejesh standing like a rock.
India went into the lead, for the first time in this World Cup, courtesy a penalty stroke conversion by Rupinder Pal Singh in the 28th minute.
Roc Olivia equalized for Spain with a low flick just one minute before half-time after Sreejesh had blocked two earlier shots at the goal.
Spain forced the first penalty corner in the seventh minute, but Sergi Enrique's drag flick was stopped by Indian custodian Sreejesh.
At the other end, Rupinder Pal's long diagonal ball found striker Lalit Upadhyay, but his deflection was way off the target.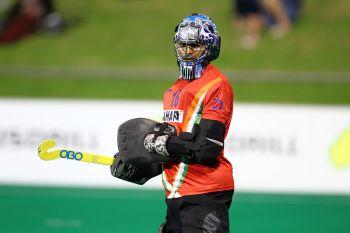 The Indian goal came under threat in the 17thminute when Salvador Piera was in a one-on-one position with goalkeeper Sreejesh, who padded away the shot.
Sreejesh was again in action to block the second Spanish penalty corner conceded by erratic Indian defence. India went into the lead on a penalty stroke which was awarded when Dharamvir Singh's diagonal assist was picked up by Mandeep Singh on top of the circle.
He was tripped from behind by Spanish defender Ramon Alegre as he created space for a shy at the goal. A lapse in their own territory by the Indians allowed Spain to get the equalizer.
Defender VR Raghunath lost the ball allowed the Spaniards to build an attack with the Indian half-line out of their positions. Couple of tries by the Spanish strikers were brilliantly parried by Sreejesh before Olivia slotted the ball into the goal.
The Indian citadel came under intense pressure from the Spaniards in the second half and Sreejesh had to block three shots, including a penalty corner, before the Indian strikers got anywhere near the rival circle.
India forced their first penalty corner in the 52nd minute and it led to another penalty corner, but this time the push was not taken well and posed no pressure on the Spanish defence.
India created two good chances on raids from the right flank, but could not capitalise on the openings. Gurbaj Singh 51st minute charged up and sent in a cross that was pushed out by Yuvraj Walmiki.
In the 65th minute, Dharamvir picked up a pass from S.V. Sunil and came into a one-on-one position with the goalkeeper, but his shot from a narrow angle was padded away by Spanish custodian Quico Cortes.
India's last chance came in the 67th minute when they forced their last of their three penalty corner, which was taken by Raghunath, but the defenders held their ground.
In the other matches of the day, favourites Australia beat Belgium 3-1 while England beat Malaysia 2-0.
Image: PR Sreejesh
Photograph: Will Russell/Getty Images