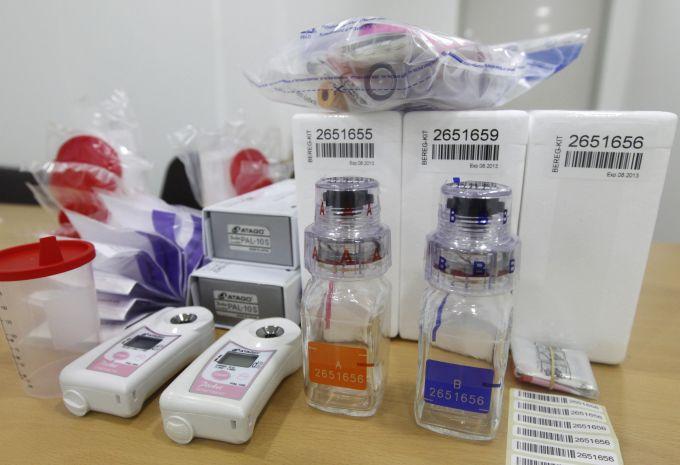 Anti-doping control kits are pictured at an anti-doping control centre at the stadium in Daegu, southeast of Seoul. Photograph: Lee Jae-Won/Reuters
The World Anti-Doping Agency (WADA) said on Friday its Independent Commission will urgently launch an investigation into widespread doping allegations against international athletics.
Yet the organisation said it "deplored" the way the blood test data, which has led to the doping allegations, was obtained, leaked to the media and analysed.
Stressing its determination to protect athletes' confidentiality, WADA added that implications of doping from the data were "irresponsible and potentially libellous" and insisted that some data "could not possibly be considered doping".
The allegations, which have caused turmoil within the sport just weeks before the world championships start in Beijing on Aug. 22, stem from the TV documentary "Doping – Top Secret: The Shadowy World of Athletics", released by German broadcaster ARD on August 1.
ARD and Britain's Sunday Times newspaper obtained a leaked database, belonging to athletics' governing body, the International Association of Athletics Federations (IAAF), which contained more than 12,000 blood tests from around 5,000 athletes in the years 2001 to 2012.
Their investigations resulted in claims that the data showed more than 800 athletes had suspicious results which were not followed up by the IAAF.
The governing body strenuously rejected that they had turned a blind eye to doping, describing the allegations as "sensationalist and confusing".
WADA has now backed the IAAF, while criticising the TV and newspaper investigation.
"WADA deplores the manner in which this data was obtained, leaked to the media and analysed," WADA president Craig Reedie said on Friday.
"To suggest or imply doping with respect to any athlete whose data is contained within the database is, at the very least, irresponsible and potentially libellous.
"WADA is committed to protecting the confidentiality of athletes; and, therefore, has asked its Independent Commission to commence its investigation with urgency.
"We are confident that the IAAF, which has formally agreed to full cooperation with the Commission, is equally committed.
"I ask that any athlete, or anti-doping organisation, concerned that their rights are being eroded or inappropriately challenged refer those concerns to the Commission, which intends to commence its work immediately."
WADA Director General David Howman added: "A portion of the data within the database pre-dates the Athlete Biological Passport (ABP), which was introduced in 2009.
"This data could not possibly be considered doping, legally or otherwise.
"In addition, atypical blood data, which may be within this database from 2009 – 2012, is not necessarily indicative of doping."
The IAAF said in a statement on Friday that it "warmly welcomes" WADA's comments regarding the veracity of its anti-doping programme.
The federation also confirmed it had agreed to send its full database with pre-2009 data to WADA and would fully co-operate with the agency on the analysis of its contents.
Kersee wants same-day testing by event for top athletes
Long-time US sprint coach Bob Kersee wishes anti-doping protocols were changed to ensure athletes were equally tested, he told Reuters in a telephone interview on Friday.
"I've always said that if you were going to test one of my athletes who was competitive in the sport, that everybody else (in that event) should be tested on the same day," said Kersee, who has coached numerous Olympic champions, including his wife Jackie Joyner-Kersee, the retired heptathlon world record holder.
"For example, if Jackie was going to be tested in the long jump, and she was in the top eight, the top eight athletes should be tested on the same day."
Kersee, who is preparing Olympic 200 metres gold medallist Allyson Felix for the 400 at the Aug. 22-30 IAAF world championships in Beijing, also said there should not be a wide variation globally in the number of times an athlete is tested.
"I have had athletes such as Jackie, such as Allyson, to name a few, that were tested and tested and tested and I have worked with a couple of foreign athletes," he said.
"In the same period of time, we (his U.S. athletes) were tested three times and they (the foreign athletes) haven't been tested yet.
"If you are asking me is the testing protocol fair? I don't believe it is, not internationally. Why that is, I don't know. It might just be the roll of the dice, but I don't know."
Kersee said he would welcome anti-doping officials testing his athletes at any time.
"As you well know, I have been through allegations (in past years) of being a doping coach but... (it's) 40 years later (and) everybody has passed the tests and has represented the United States and other countries."
As long as global officials are doing their job, clean athletes everywhere have nothing to worry about, he added.
"Our sport should say, 'If you are cheating, then we are going to try to catch you'," Kersee said, "and those athletes will pay the consequences."