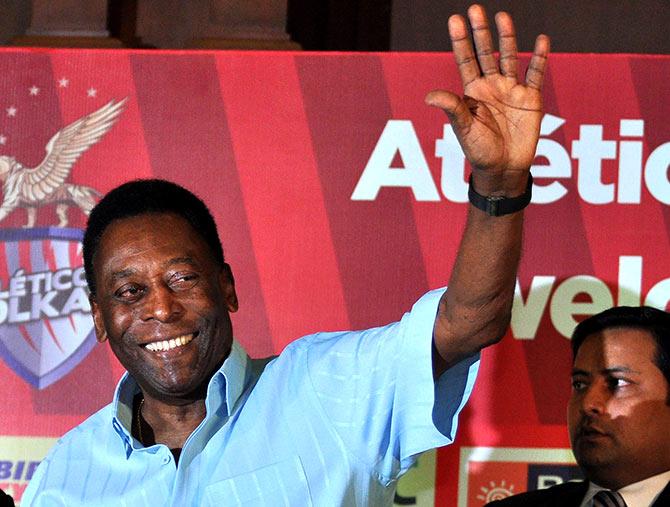 IMAGE: Football legend Pele waves to fans in Kolkata. Photograph: Abhiroop Dey Sarkar
Football legend Pele has termed Argentine forward Lionel Messi as the "best in last 10 years", but also spoke highly of his fellow Brazilian Neymar and
Portugal's Ronaldo.
"It's very difficult to make a comparison of players of different generations. But in last 10 years Messi was the best. Ronaldo plays forward and tries to score while Messi plays with a different style. In my team I would love to have both... We have Neymar who also has good future," the only footballer to have won three World Cups said in his first news conference during his one-week sojourn in India.
The 74-year-old agreed that the sport has become highly competitive, but Pele said he would have been successful had he played in this generation.
"No doubt football today is more tough than before but when God gifts you to play football it's the same in any generation. Football is all about skill. I'm sure Beto would have been equally successful had he played in this era."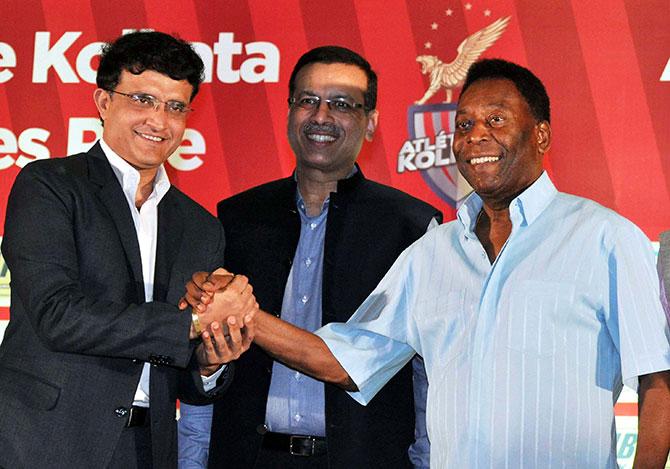 IMAGE: Former Indian captain Sourav Ganguly with football legend Pele. Photograph: Abhiroop Dey Sarkar
Refusing to answer queries on FIFA, which is engulfed in crisis post Sepp Blatter controversy, Pele however said he has "no intention to contest for the post of president". Post-World Cup where they were thrashed 1-7 by Germany, the once heavyweights Brazil may not be the same force to reckon with and Pele blamed it on the team atmosphere.
"We have not lost passion for football. We have the best players for Brazil but unfortunately, we don't have time to prepare the team.
"Individual players are important but have to have a good team you need to play together well as a team. That's the big problem.
"Individually we have the best players but as a team we've a lot of problem. In my time the players used to belong to the clubs but today players are managed by their agents." It sounded a bit surprising but Pele never named his Argentine rival Diego Maradona and rather picked English World Cup winner Bobby Moore when talking about contemporaries.
"I had the opportunity to play with a lot of excellent players Like Bobby Moore but I believe in last 10 years Messi was the best."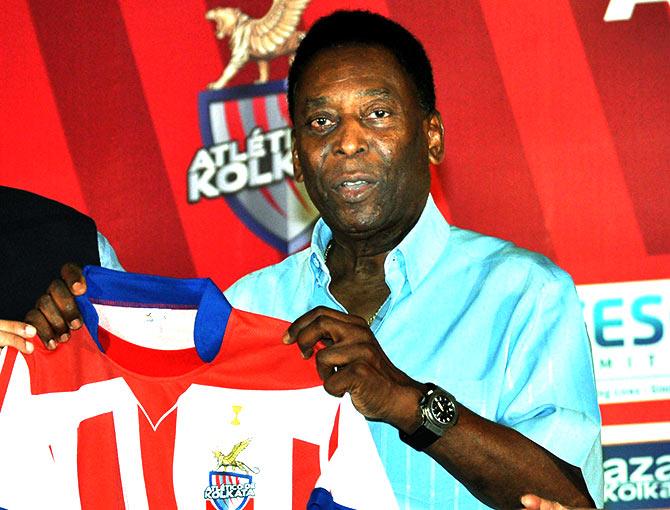 IMAGE: Football legend Pele with an Atletico de Kolkata jersey. Photograph: Abhiroop Dey Sarkar
Asked about the greatest Brazilian player he's seen, Pele said: "It's not fair to name just one. I played with a lot of excellent players when I started to play at an age of 17. Everybody said Pele was fantastic. There was Didi (Waldyr Pereira), Vava (Edvaldo Jizídio Neto), Garrincha... It's difficult to say who was the best player.
"Later there was Zico. When I played for New York Cosmos, there were players like Franz Beckenbauer, Cinaghlia. It's difficult to pick one." On the best coach, Pele named his 1970 World Cup winning Mario Jorge Lobo Zagallo, who also won as a player in 1958 and 1962.
"Best coach wants to have the best team sometime coach is good but team does not win. Luck is a very important factor. Zagallo with whom we won the World Cup was good but it's hard to name one."
Pele is in Kolkata on a three-day visit where he's a host of programmes lined up as next he will fly to the national capital to be the chief guest in the Subroto Cup final.