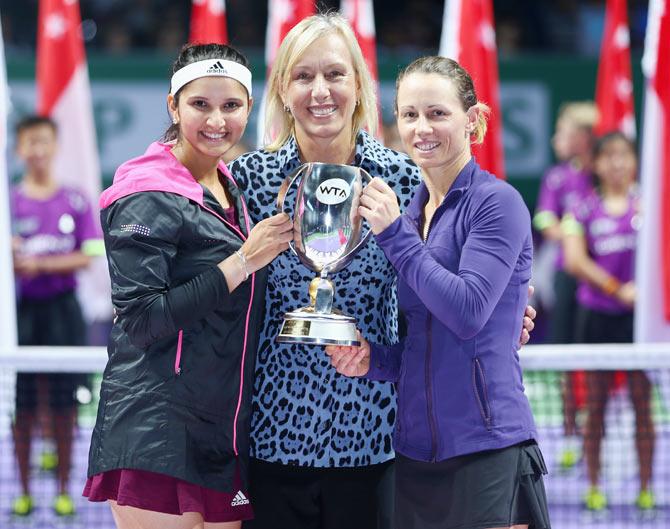 Sania Mirza of India and Cara Black of Zimbabwe pose for a photograph with Martina Navratilova after their straight sets victory at the WTA Finals at Singapore Sports Hub on Sunday. Photograph: Clive Brunskill/Getty Images
On a high after winning the WTA Finals doubles crown and a clutch of prestigious titles this year, Indian tennis ace Sania Mirza says she is now bracing up for the International Premier Tennis League where she would play in the same team as World No 2 Switzerland's Roger Federer.
"I think it is going to be great for this region to have such great tennis players come out and play. I think I am personally excited to be in the same team as Roger Federer. I am looking forward to that. I think it is a great format and hopefully it is going to click," she told PTI.
The IPTL features four franchise teams, including India, and is scheduled to start towards the end of next month. The IPTL matches will be played between star-studded teams comprising the likes of Roger Federer, Novak Djokovic, Andy Murray, Pete Sampras among others.
Talking of her 'extraordinary career' so far, the 27-year-old said her achievements have been a dream come true.
"It's definitely been an extraordinary career for me. If someone told me I was going to achieve all this, 10 years ago, I would have taken it with both hands. It's been a dream come true. It is still going on. I am living my dreams. So, I feel very blessed," she said.
She said she would like to work towards becoming World No 1.
"It should never be enough. As athletes, we should never be satisfied. There is so much out there to win. I definitely want to achieve a lot more. I definitely want to get number one hopefully before I retire. But also, try and win a women's doubles Grand Slam next year. There is so much left to achieve. Till I have that hunger, I will keep trying," Sania said.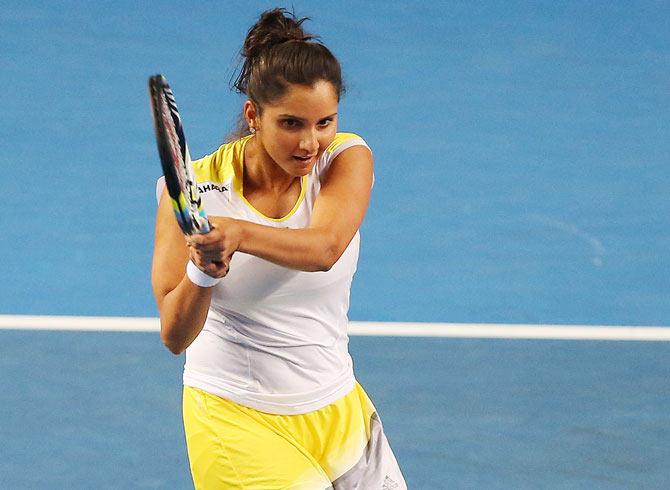 Sania Mirza of India plays a backhand. Photograph: Getty Images
Sania said the tennis scene in the country is looking up, especially in the men's category with several talented youngsters coming to the fore.
"I think it is improving. It definitely has. I think the interest has gone up. The infrastructure is better. As you can see, we have an academy like (Sania Mirza Tennis Academy on the outskirts of Hyderabad). It was never there when I started playing.
"But, we still have a long way to go to compete with the world's best. This is the most global sport in the world, probably the most competitive. You have to keep working. There is no easy way out. I hope there is some other woman before I retire who comes out and takes my place.
"I think the men are in a better position than we are. We have a good set of boys who are playing well. In the Asian Games, we went with the second string teams in the men and we still came back with five medals. They have Yuki (Bhambri), they have Somdev (Devvarman), who is of course a bit older now. There is Sanam Singh, there is Saketh (Myneni). There are a few good guys" she said.
Sania expressed happiness over Prime Minister Narendra Modi wishing her after the WTA Finals triumph.
"He (Modi) has wished me a few times in the recent past. He is definitely very encouraging towards athletes and sports people. I had the opportunity and honour to meet him a couple of times. He was very encouraging both the times. He wants sports to grow in the country. That is very good news for India," she said.