Illegal betting is as big a threat to the integrity of sports as doping and could one day hit the Olympics, International Olympic Committee president Jacques Rogge said on Thursday.
Rogge, opening a symposium to discuss illegal betting in sport, announced that the IOC was calling a summit on March 1 with governments and sporting bodies to hammer out a joint approach to the problem.
"Illegal and irregular betting is a major threat for sport, probably at the same level as doping," he said.
"We will call upon the support of governments the same way we did in 1998 to create the World Anti Doping Agency.
"The sports world cannot solve the problem alone. We have to work with governments, with the lotteries, with bona fide betting companies and everyone concerned about having clean sport," he added.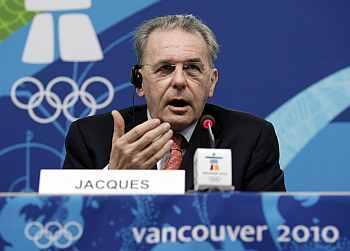 At the symposium, organised by the International Sports Journalists' Association (AIPS), Rogge said the IOC had been monitoring the problem for some time and had noted nothing to suggest it had affected the Olympics so far.
"But we should not be so naive to think it will not happen to the Olympics some time in the future, possible even in London (next year)".
Other speakers at the symposium said illegal betting was a multi-billion-dollar industry used by organised crime to launder money. The rise of live betting during matches and spread betting had enlarged the problem of corruption in sport well beyond the traditional headache of match-fixing.
Rogge said individual sports needed to put firm sanctions in place against offenders and praised soccer, cricket and tennis for taking early action but said some other sports were lagging behind.
UEFA director of communications Alexandre Fourtoy said the European soccer governing body monitored 29,000 matches across its 53 member nations over all divisions in 2009 and found illegal betting patterns in 0.7 per cent of them.
He said 100 million bets were being analysed on a daily basis.
But he said strange betting patterns did not prove match-fixing or corruption and it was still hard to get proof and sanction offenders.
Thomas Spoering of FIFA's Early Warning System monitoring body for global soccer said betting had changed over the past 15 years and live betting during games had risen from 0 percent to 60 per cent of the market.