Chelsea's new striker Fernando Torres believes he will recover his best form at the west London club after his British record transfer from Liverpool.
"The last month and a half or two months I have played close to my best and am recovering my top form..." the 26-year-old told reporters at the club's training ground on Friday.
"I feel really good now and I think from now to the end of the season I will get my best form again. I hope so. I need to get it back to compete for a place in the first eleven."
Torres is set to make his debut against his old club in their Premier League clash at Stamford Bridge on Sunday but Carlo Ancelotti has yet to decide if he will start.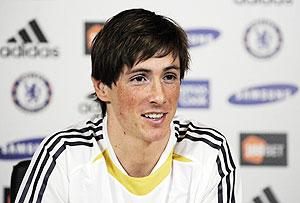 "Fernando is in good condition and is fit,' said the Chelsea manager. "He has no problem and trained very well... I don't know if he will start or maybe come on during the game. I will take the decision before 4pm on Sunday."
The Spain striker was officially unveiled on Friday after his 50 million pounds ($80.61 million) move to the west London club just before the transfer window shut on Monday.
However, Torres dismissed the pressure of being Britain's most expensive player and said he was "really excited" about playing with top players at last year's double winners.
"I have been in this situation before when I signed for Liverpool with big expectations so it's nothing new for me. I'm ... looking forward to a new era," said the Spaniard, who scored for Liverpool against Chelsea earlier this season.
SHOWING RESPECT
Torres said he decided to leave Anfield and join Chelsea midway through the January transfer window, adding: "As soon as I knew that Liverpool and Chelsea were talking about that, I told them that the decision was made. I was the first one to go to the manager and tell them."
The World Cup winner, looking relaxed and confident, said he was keen to show "respect" to his former team mates and the fans who adored him at Anfield during his prolific spell at the club.
"I only have good things to say about Liverpool people," he said. "They made me feel really good there for three-and-a-half fantastic seasons. I understand they will be angry...
"I'm not asking them to understand me but I'm sure over time they will see what I did there," said Torres who scored 81 goals in 142 games for the Reds after joining from Atletico Madrid.
Asked if he would celebrate a goal against Liverpool, Torres said: "First I have to play, and then I have to score but I have big respect for Liverpool fans so I don't think I will."
The Spaniard is used to scoring against Chelsea, having netted seven times in eight meetings, including his first competitive goal for Liverpool in a draw at Anfield in 2007.