Salgaocar Football Club stunned defending Champions Churchill Brothers with a surprise solitary goal victory in the opening match of the I-League at the Duler Stadium, Mapusa, on Saturday.
Scottish striker Darryl Duffy scored in the 42nd minute to give coach Derrick Pereira a winning start.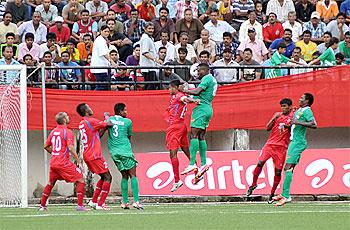 Both teams took quite some time to get into the groove but as the match progressed it was Salgaocar who dominanted.
With Duffy and Frenchman Claude Gnakpa combining well upfront, the Churchill defence were always on their toes. Then there was the threat of Francis Fernandes, who had the first real chance of the match in the 12th minute when he played a nice one-two with Duffy only to see his flick sail inches past the post.
It was Duffy, though, who created and missed most of the chances in the first session. The first came when young Clifton Dias sent him through only for Arindam Bhattacharya to come up with a brilliant save.
Arindam, however, ended up being the villain for Churchill in the 42nd minute after he spilled a regulation collection, allowing Duffy to score Salgaocar's opening goal from close range.
Churchill had just one chance in the opening 45 minutes and it was messed up by Bineesh Balan just in front of goal.
In the second session, Churchill looked determined to wipe out the deficit but did not really test rival goalkeeper Karanjit Singh.
Salgaocar could have killed the game in the 81st minute but Karma Tsewang could not control his tap when fed on the platter by a delightful Gilbert Oliveira cross.
Photograph: AIFF