Current I-League champions Mohun Bagan have decided to move court against title sponsors United Spirits Limited and will file a creditors' liquidation suit to recover their dues since November last year.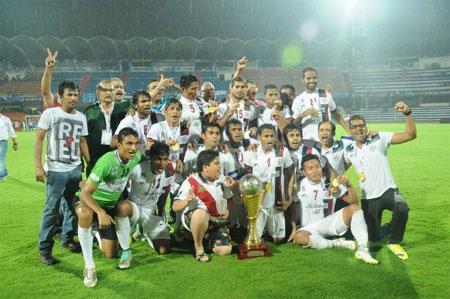 "USL owes us Rs 4.5 crore from November to March apart from the rest of this year. We will file a case of creditors' liquidation against USL within the next couple of days," club secretary Anjan Mitra said on Monday.
"In spite of repeated reminder and personal persuasion they're not paying Mohun Bagan club's dues. So the executive committee has decided to take the legal step."
According to Mitra, United Mohun Bagan Football Team Pvt Ltd had executed a sponsorship agreement with United Spirits Limited dated June 11, 2013 for 10 years to provide financial assistance of Rs 8 crore per year.
"The sponsorship fund was deposited to our account every month, but since November 2014 the fund was unilaterally stopped by USL without any prior intimation," stated a Mohun Bagan release.
Mohun Bagan subsequently found out that shareholders did not approve the said deal in their EGM dated November 28, 2014.
"But we continued to our commitment as mentioned in the agreement. Since then we have constantly tried to resolve the issue on the basis of our cordial relationship with USL but all our effort was unfruitful."
Mitra further said there were two basic legal issues the club is facing.
"First is the non-payment of dues. Second is the implementation of the 10-year contract we had signed with USL in June 2013.
"We have complied with all their demands. We use their logo but this inaction is completely unacceptable," he added.
Image: Mohun Bagan players celebrate after winning I League
Photograph: AIFF media