'Roger is playing maybe the best tennis of his career at the moment, having a great season'
'Twelve months ago I was one point away from winning a match over here against him. Definitely, I believe in my own abilities to win it'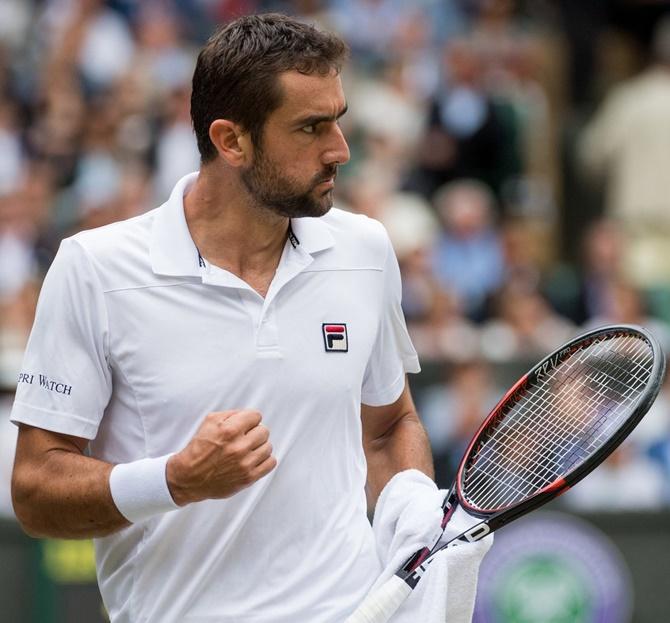 IMAGE: Marin Cilic looks determined. Photograph: Wimbledon/Twitter
Wimbledon finalist Marin Cilic said he had a 'big mountain to climb' to defeat seven-time champion Roger Federer, but that winning the title would mean the world to him.
The Croatian seventh seed beat American Sam Querrey in the last four on Friday to reach the final, where he will meet Federer who swept aside Tomas Berdych.
"It would be a dream come true to win Wimbledon here," said Cilic, who has previously won one grand slam, the US Open in 2014.
"It would mean the absolute world to me."
"When I won the US Open, it just opened so many possibilities in my mind for the rest of my career. To be able to do it again would mean even more."
The 28-year-old acknowledged he faced a formidable challenge in the final to defeat 18-times grand slam champion Federer, who has yet to drop a set at this year's tournament.
"Over here in Wimbledon, I believe this is his home court, the place where he feels the best and knows that he can play his best game," he said.
"It's a big mountain to climb. Roger is playing maybe the best tennis of his career at the moment, having a great season."
Cilic went up against the Swiss maestro in the quarter-finals last year, when he snatched defeat from the jaws of victory by squandering a two-set lead and match points.
He said the experience of coming so close to beating Federer at Wimbledon would stand him in good stead in this year's final.
"I would say that I'm now in a little bit of a better form, maybe just slightly mentally stronger, maybe have learned a few more lessons, valuable lessons," the Croat added.
"Twelve months ago I was one point away from winning a match over here against him. Definitely, I believe in my own abilities to win it."