'I had initially gone to join the British army in Dharan, which is located in eastern Nepal.'
'I joined the Indian army in 2006 and only took up shooting a few years later, in 2008. When I joined the army I had no idea about the sport of shooting.'
Commonwealth and Asian Games gold medallist Jitu Rai talks to Harish Kotian about his journey from a farmer in a remote village in Nepal to the Indian army to emergence as a World champion shooter.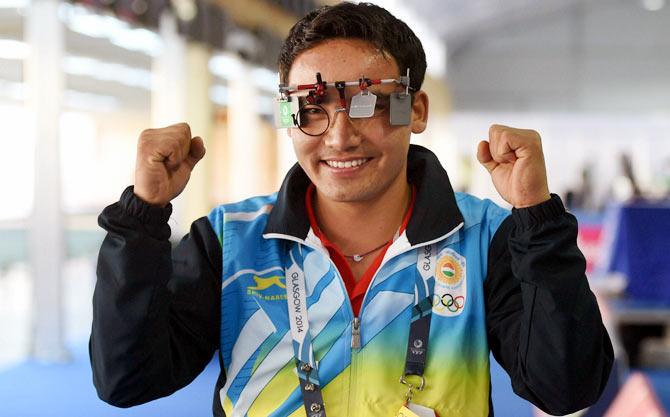 India's Jitu Rai celebrates after winning the gold medal in the 50m pistol event at the 2014 Commonwealth Games in Glasgow. Photograph: PTI
Move over Abhinav Bindra, Gagan Narang and Rajyvardhan Rathore. Jitu Rai is now the hottest name to reckon with in the sport of shooting.
The 27-year-old marksman created history earlier this year, winning three World Cup medals in the space of nine days as he claimed silver (10 metre air pistol) in Munich followed by another silver (50 metre air pistol) and gold in (10 metre air pistol) in Maribor, Slovenia.
The Nepal-born Indian armyman then consolidated on those successes with gold medals in the 10m air pistol at the 2014 Commonwealth Games in Glasgow and 50m pistol at the recently-concluded AsianGames in Incheon.
Indeed, it was not surprising that his remarkable rise coincided with him signing up with Olympic Gold Quest, which was responsible for four of the six medals India won at the 2012 London Olympics.
Interestingly, Rai, who is based at the Army Marksmanship Unit (AMU) in Mhow, joined the armed forces by chance. He looked after his family's traditional occupation of farming after completing studies till Class X before attempting to enroll for the British Army. However, as fate would have it, he ended up joining the Indian army.
In an exclusive conversation with Rediff.com's Harish Kotian, the ace shooter reveals how he rose from a farmer in a remote village in Nepal to an Indian armyman to one of world's best shooters.
You have been on a gold medal-winning spree in the last seven months, having triumphed at the World Championships, Commonwealth Games and Asian Games. How was it possible to make such an impact in your first year in international shooting?
I have been doing well since 2013, when I started off in international competitions, but didn't win any medals. My scores were quite good; I made it to two or three finals but did not win medals. This year things have gone to plan. I was successful and managed to win gold medals.
What is the secret of your consistency? Don't you feel pressure, especially in the final round when you are competing against the world's best shooters?
There is always pressure; it is not only on me, but everyone. You have to learn to control yourself and concentrate in tough situations. Even the top shooters of the world feel the pressure. I believe it is the same for everyone out in the middle.
A person who is scared or runs away from a pressure situation will never do well. You should take on pressure situations and give your best shot. I competed in some finals last year so I had the experience and never let the pressure affect me.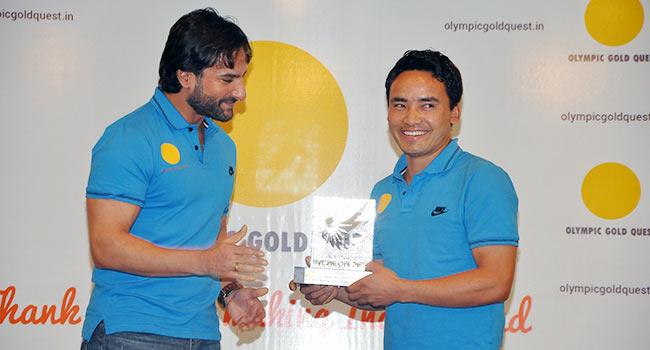 Jitu Rai (right) with Indian film actor and producer Saif Ali Khan. Photograph courtesy: Olympic Gold Quest
You must also be feeling the pressure of expectation. Every time you compete in big tournaments people want a gold medal from you…
There is nothing like that. I have been fortunate to win so many gold medals in the last few months. It is not that I will win a gold medal every time I take part in an event. Shooting is a very different sport and there are a lot of factors that go into winning a medal. I try and do well whenever I compete.
Is it difficult to maintain consistency in a sport like shooting, where even a very small mistake can make a difference between winning a medal and not winning one?
It requires a lot of hard work to keep your good form going. You need to focus on a lot of things, like your diet, physical training and shooting.
You won gold medals at the World Cup, Commonwealth Games and now the Asian Games. Only a medal from the Olympics is left for you to win. Do you believe you can win gold in Rio in 2016?
I will definitely try my best to win the Olympic gold medal in 2016. I promise to work hard and try my level best in the next few years to win more medals for the country.
Has being in the Indian army enhanced your shooting career?
It has definitely helped. I learnt a lot being in the Indian army… like discipline and being on time. The army has made me mentally and physically strong. We have all the facilities in the army and as a sportsperson you cannot ask for anything more. It has definitely helped me improve as a shooter.
Tell us about your association with Olympic Gold Quest. Since joining them your performance has improved a lot…
It has made a huge difference to my shooting. They help me with everything I need. A shooter needs a lot of things, like weapons, diet, good coaching. OGQ makes sure I get everything that helps improve my performances.
Anything I need they give it instantly; they make sure I don't face any problems with regard to my shooting.
I want to thank the OGQ team because they have done a lot for me in the last few months. I will continue to work hard and try and win more medals.
Did you join the Indian army because you wanted to take up shooting, or was it by chance?
I joined the Indian army in 2006 and only took up shooting a few years later, in 2008. When I joined the army I had no idea about the sport of shooting. Frankly speaking, I had no interest in it. But after 2008 I started shooting as part of the army training. Initially, I started with 9mm pistols. In the army, once a year we have a selection trial where shooters from every centre are shortlisted; they then undergo extensive training and the best among them are selected.
You were born in Nepal and brought up there. Why did you decide to join the Indian army?
My father was in the Indian army. When I was small I heard a lot of stories about him… that he fought in wars for India, including against China and Pakistan. He was honoured with two stars for taking part in those wars.
After hearing from him how he battled the enemy I also wanted to be a part of the army. Since I was small I wanted to be part of it. It's been nine years since my father passed away, but it was he who inspired me to join the army.
But you nearly ended up joining the British army, isn't it?
Yes, that is true. I had initially gone to join the British army in Dharan, which is located in eastern Nepal. They gave me the gate pass and told me to come back after a month. When I went back I saw that registrations for the Indian army were open while that for the British army was closed and would open the next day.
Since applications for the Indian army were open I went ahead with filing mine and fortunately it was accepted. I was called to Darjeeling for another trial and was successful.
Before joining the Indian army what did you do?
I used to do farming in my village in Nepal; we used to grow potatoes, rice and corn in my field. We also reared animals, like buffaloes and goats. There was nothing else to do because I stayed in a small village; agriculture was our only means of livelihood.
You were twice sent back from the army camp because of poor performances?
I twice got the RTU (Return to Unit), in 2007 and 2008, because I didn't fare well. But all sportspersons have ups and downs. If you don't fail you will never learn. It is important to learn from your failures and get better. Army logic is simple: if you perform well you stay; if you fail you will be sent back!
How did your family react after your recent gold medals?
When I informed them they were very happy. I spoke to my mother and she was also very happy. She told me that the whole village celebrated when I won gold medals at the Commonwealth Games and Asian Games. Everybody is congratulating my family and telling my mother that her son has achieved something big.
Did they watch you on television competing at the Asian Games or Commonwealth Games?
No, they did not watch me shooting. They only got to know the news through the newspapers the next day.
How long has it been since you visited your family in Nepal? Is it true that it takes around 2-3 days of walking to reach your village in Sankhuwasabha District, which is located in eastern Nepal?
I have not visited my family for a long time now. I went there earlier this year, I think a month before I won the gold medal at the World Cup in Maribor [in June] when I got a holiday from the Indian army. But after that I have been too busy competing in different parts of the world, because of which I have not got the time to visit my family in Nepal. After winning the medals I have not met my family; I have only spoken to them on the phone.
Yes, to reach my village you have to walk a lot. Previously, I used to first go to Bagdogra by the train and the entire journey would take me around five-six days. Now I can afford to take the flight which will help me reach in around two-three days.
You had to walk for nearly a day or two to reach my village. Now they have made some mud roads which has reduced the walking time. Hopefully, they will build more roads and it will take less time to reach my house.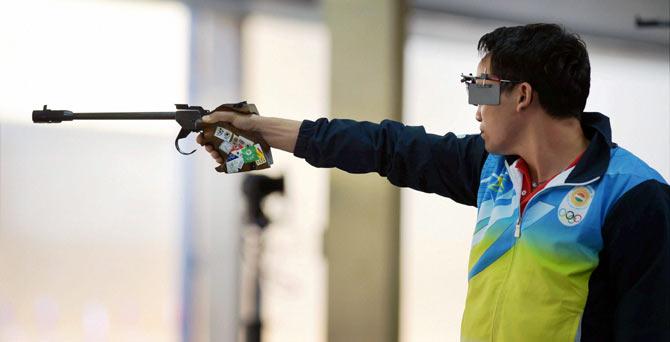 Jitu Rai in action at the 2014 Commonwealth Games in Glasgow. Photograph: PTI
Aren't you planning to shift your family to a city like Kathmandu?
No. Me and my family are very happy to stay in the village. I was born there and like the atmosphere in the village. We don't feel like shifting out of the village. Things in the village are also changing for the good. Earlier this month, our village finally got electricity, which some people never witnessed in life before.
Did you play any sport in your village when growing up?
I used to do the high jump and play volleyball when I was a growing up.
Are you planning to contribute something for your village?
I am planning to improve the school in my village. This is one major thing I want to do for the kids in my village. With proper education they will be able to do so much in their life. It is one of my dreams to help the children in my village.
Do you believe that with proper infrastructure and government support athletes from Nepal can also make a mark at the international level?
You don't get such facilities in Nepal. Sportspersons there don't get anything; they have to arrange everything on their own because the government does not provide any funding. The people there play cricket, football and boxing; other than that there is no other sport. Shooting is a very expensive sport so people will find it hard.