'It is one of the best seasons I have ever had. I won two Grand Slam titles back-to-back'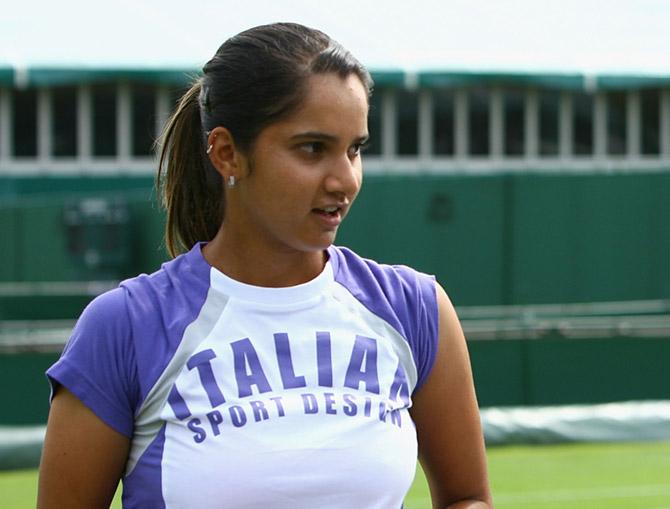 IMAGE: Sania Mirza during a practice session at Wimbledon. Photograph: Ryan Pierse/Getty Images
Having always found her stupendous success on court go hand-in-hand with controversies off it, Sania Mirza is hardly bothered about what a few people have to say about her.
Call it coincidence, but both US Open titles were preceded by unwanted controversies.
Her US Open women's doubles title two days back came after a court petition by an athlete, who questioned her selection for the prestigious Khel Ratna award.
Last year too, before her US Open mixed doubles title with Bruno Soares, a politician had opposed the move of making her the Brand Ambassador of the newly-created state of Telangana.
"I actually don't care," Sania told PTI during an exclusive interview on arrival from New York on Tuesday.
"I don't read newspapers very often. I just try and play tennis. I try to perform the best and that gives me the pleasure. That's what I know how to do best. I am fortunate enough to be good at what I do, so I come back with victories.
"Besides that I don't pay attention to what a few people have to say; I know that rest of the country loves me," the Hyderabadi added.
'Hard-court is my favourite surface'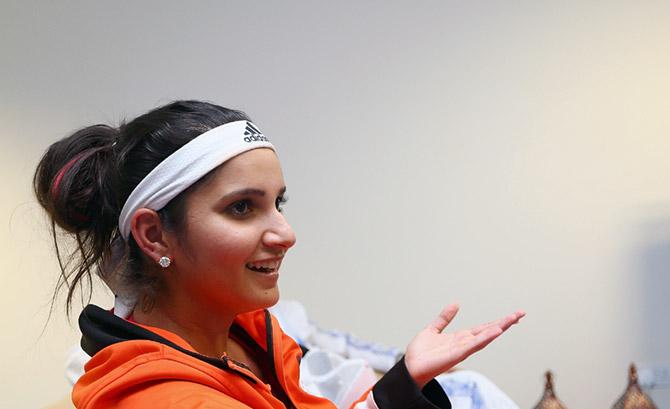 IMAGE: Sania Mirza relaxes at the player lounge. Photograph: Clive Brunskill/Getty Images for IPTL 2014
In the past too she has endured many controversies, several needless ones.
Sania has enjoyed a lot success with Martina Hingis since joining forces this March and she says her partnership with the Swiss great will continue in the next season.
"Yes, we are going to play next year as well," she said, but was not sure whether she would like to continue playing mixed doubles with Brazilian Bruno Soares, with whom she won the 2014 US Open.
"At this point I am not sure about Bruno; we have to see a few things."
Talking about their dominating run in the US Open, where they did not drop a single set en route to the title, Sania said, "We have been playing well. Hard-court is something we both like playing; it's my favorite surface. We kept getting better at every match and that is how we won the tournament."
'We are already the number one team and I am number one individually'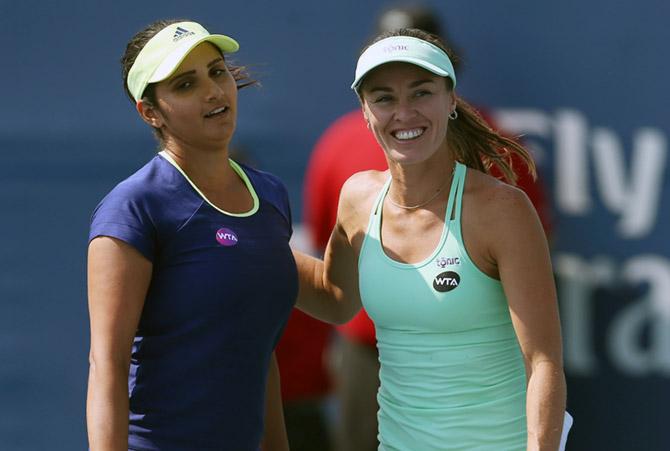 IMAGE: Sania Mirza of India and Martina Hingis of Switzerland congratulate each other. Photograph: Vaughn Ridley/Getty Images
Sania and Martina have won four titles this season and have not lost many sets. They have consistently gone deep into the main draws of several other tournaments.
Asked what still can be added to their partnership, the 28-year-old-said, there are a few things.
"I can definitely improve my net play and Martina can improve from the back of the court. We are already number one team and I am number one individually as well but there is always room for improvement."
Practically, Sania has now titles from all Grand Slams (Mixed doubles in Australian and French Open, women's doubles at Wimbledon and US Open) and also medals at the Asian Games and Commonwealth Games.
'It will be amazing, if I can defend my title with Martina'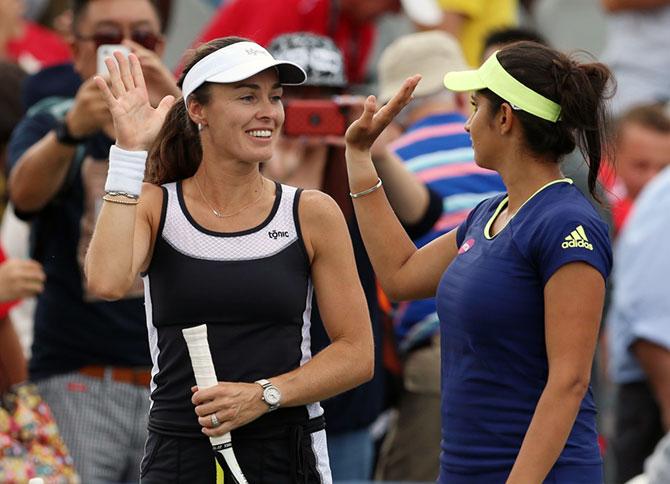 IMAGE: Martina Hingis of Switzerland and India's Sania Mirza celebrate victory. Photograph: Vaughn Ridley/Getty Images
Next year, at 29, she will have a good chance to win a medal at the Rio Olympics.
Asked who she would like to partner at the Games, since there was a lot drama before the London Games, Sania said a decision on her partner will be made close to the event, but is sure India have a realisitic chance to win a mixed doubles medal.
"Mixed doubles is our best shot to win a medal at the Rio Olympics; obviously, a realistic chance.
"But we will wait and watch. Lot of considerations have to be taken into account. We will decide the best team at that time. It's one year away, not thinking about it (team). Once it becomes near we will have a clear idea."
Sania has now trained her eyes on defending her Year-end Championship title, which she won last year with Cara Black.
"It has been a great year for me. It will be amazing if I can defend my title with Martina. Before that, I have to do well in Beijing, Shanghai and Guangzhou. It is one of the best seasons I have ever had. I won two Grand Slam titles back-to-back, so it has been a great season."