'I am trying to be best in the world but I know it's difficult every year.'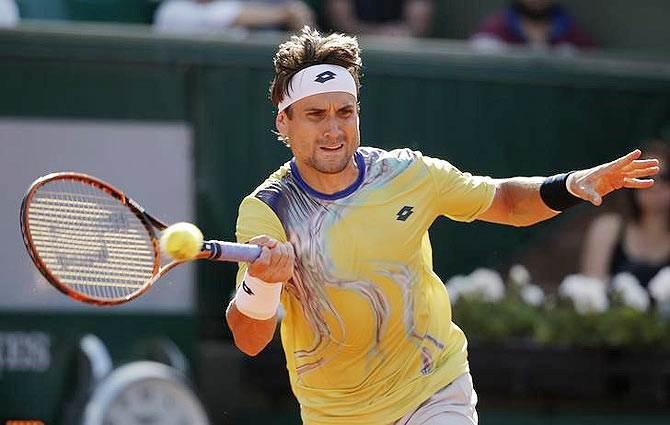 IMAGE: David Ferrer has a staggering record of 685 singles victories, 13th in the all-time victory list, in a successful 16-year career, but Grand Slam success has eluded him. Photograph: Gonzalo Fuentes/Reuters
David Ferrer is candid about himself; there's no pretence or airs.
He has a staggering record of 685 singles victories, 13th in the all-time victory list, in a successful 16-year career, but Grand Slam success has eluded him.
Only three active players -- Novak Djokovic (1080), Nadal (804) and Roger Federer (742) -- have more singles victories than him in world tennis.
All this means that he has won the most number of matches on the ATP Tour without a Grand Slam title.
Before him, American Brian Gottfried held the record for 22 years, with 680 victories.
The best Ferrer came close to winning a Major was when he reached the 2013 French Open final, but lost that summit clash to Davis Cup teammate Rafael Nadal.
Ask him if he sees himself breaking that jinx, and, with all honesty, he replies: "It's "difficult."
But he startles you when he states that he does not deserve it.
"I don't have a Grand Slam, but tennis is very justice (he meant a leveller and fair). I don't have it because I don't deserve it," declared Ferrer, during an interaction after slugging it out in a training session ahead of this week's upcoming Davis Cup tie against India.
The 34-year-old, though, does not feel his career will be any less without that elusive Major.
"Anyway, I am proud of my career. I have tried to do (my) best and I am happy for that," he said.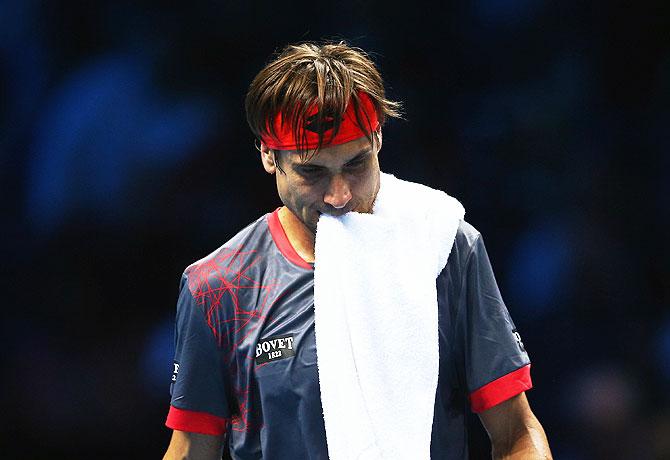 IMAGE: Spain's David Ferrer enjoyed one of the best seasons of his career in 2015, during which he won five titles, including three ATP 500. Photograph: Clive Brunskill/Getty Images
The Spaniard, ranked No 13, enjoyed one of the best seasons of his career in 2015, during which he won five titles, including three ATP 500 - Vienna, Acapulco and Rio de Janeiro.
However, he has struggled this season, unable to make it to a single final and had three semi-final exits at ATP 250 level.
Ferrer is of the view that men's tennis is getting tougher with the advent of many youngsters.
He lost to 22-year-old Lucas Pouille in an intense three-setter at the Miami Masters in the second round and also suffered defeat against 23-year-old tennis prodigy Dominic Thiem from Austria.
"This year I was inconsistent because it is very difficult to play good every year. There are more younger players and... nothing else. I am trying to be best in the world but I know it's difficult every year. I will try to finish this season as best as possible. Next year I will try again."
He is arguably one of the fittest players who rule the baseline play and considered the marathon man of world tennis, but he
Shun praise with all modesty.
"No no... I am not, don't know," he said, when lauded for his supreme fitness.
Ask him about his training that makes him so fit and he replies there is nothing great about it.
"It's like everyone, normal, nothing special. Every player is different. Some players need different practice, I practice for two hours. If I feel good I practice more, there are no fixed hours."
It will be a great learning experience for India's Saketh Myneni and Ramkumar Ramanathan when they play him in the singles rubbers of the World Group Play-off tie on Friday.